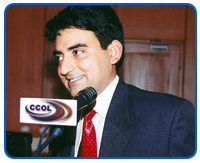 Zahid Ikram
S/O Mian Ikram-ul-Haque

Birth
Born on Thursday 26th November 1970 (27th Ramzan) in the Village 247 G.B. Marosi Pur, Tehsil Gojra, District Toba Tek Singh (TTS) Faisalabad Division, Punjab Pakistan. He is Sagittarius.
His parents shifted to Gojra in his childhood.
Gojra is a Pakistani city located near Faisalabad. It is located at almost 50 Km from Fasialabad. Some of the other surrounding cities are Jhang, Toba Tek Singh and Sumandri. It has a population of more than 100,000 and is known for hockey.
Primary Education
He received his early education in Gojra. He passed his primary school certification with scholarship from M. C. Jadeed Primary School, Gojra. He attained his Matriculation from M. B. High School Gojra. He was also a Scout Leader.
After passing the entrance examination, he joined Government Degree College, Gojra. for F.Sc. (with Pre Engineering Subjects), During his College life he joined NCC Army Training Course and also remain Scout Leader.
Higher Education
Activities/Hobbies:
His Job Experience in Singapore
He joined Worked Silkrich (S) Private Limited in 1997 as Software & System Engineer and developed Singapore Online.

Services in Pakistan
He Founded CYBER CITY ONLINE [CCOL] on 17 MAY 1998 (Formerly CYBER CITY) in Beverly Center, Blue Area Islamabad and began operations to create a perfect e-Business environment for fellow organizations.
Now CCOL is serving its clients and members worldwide. More than 50 Million Visitors around the globe visit CCOL Network every year.
He is a Webmaster/Developer of CCOL Network:
Government of Pakistan Projects:
PTDC (Pakistan Tourism Development Corporation):
Developed & Sponsored Multilingual Web Site & PTDC Motel Reservation System, including Tourist Information Centers (TICs), Tourist Itineraries by PTL, Tourist Destinations, Tourist Guide, Maps, Cities of Pakistan, People & Culture, Festivals, Events, Picture Gallery, Slide Shows, Video Clips, Web Links etc.
This project www.tourism.gov.pk was launched by Fedral Minister for Culture & Tourism, Colonel Retd. S. K. Tressler on 23rd Nov 2000, this event was broadcast on all Pakistani media including TV, Radio and News Papers.
The Minister appreciated the services of Zahid Ikram in the press conference, who undertook this venture on complementary basis in order to render a national service.
Minister announced a cash award Rs. 50,000 & 5 Years Free Stay in PTDC Motels for Zahid Ikram CEO CYBER CITY ONLINE.
Pakistan Post:
e-Post System, Seminar on IT to Pakistan Post's Top Management & Executives.
Rescue 15 & CTP:
Developed & Sponsored web sites of CTP & Rescue 15, IT Training Seminars to Women Police, Islamabad.
Spider Internet Magazine place this site in Top 5
EDB (Engineering Development Board):
Developed and Sponsored Multilingual Web Portal.
This Project www.engineeringindustry.info was officially launched by Commerce Minister Razzak Dawood on Thursday 31 10 2002, this event was broadcast on all Pakistani media including TV, Radio and News Papers.)
BOI (Board of Investment):
Developed Multilingual Web Site.
This Project www.pakboi.gov.pk was officially reviewed by Federal Ministers Hamayoon Akhter, Abdel Hafeez Sheikh & Chairman BOI Waseem Haqui on Thursday June 2003 this event was broadcast on all Pakistani media including TV, Radio and News Papers.
EAC (Expert Advisory Cell):
Developed Multilingual Web Site
Other developments:
Industrial Projects:
General Fan Company (GFC)
METRO Motorcycle & Fans
Whistler Telecom
ATM Links UK
Panasonic Multimedia Projectors
Toyota-Cars
Telefonix Global UK
Business Projects:
Explore Asia ORG
Star Vision System
Star Holidays
Leather Shine
Design Makerz UK
Estateman Properties International
Alamco Diplomatic Warehouse
Loot Publications
Tender News
Business Super News
Chinese Connections
Saleemsons Freight Services Asian Fruits
Familee Travels
Paris Gift Club
Classic Car
Get Well Medical Center
Rotary Club of Islamabad Metropolitan RCIM
Chinese Automobile Manufacturers Association International CAMAI
The Dental Clinic
SPL-USA
Jannat CITY
CosmoSeis UAE & Canada
Amar Construction Islamabad
Aslamsons Islamabad

NGOs:
HUMANE GOVERNANCE
Canadian Relief Foundation
Atap International Risks UK
Sultana Foundation
Action for Gender Equality
Global Peace
Ibex Youth Foundation
Education Sector:
CISC Chinese International Students Councile
Chendge Medical University China
North Coal China Medical University
University of Oradea Romania
Study MBBS in China
ISLAMABAD CADET COLLEGE
Qilu Hospital China Shandong Medical University
Shandong University China
Abbottabad Public School & College
E-Publications:
Nuclear & Particle Physics in Quran
Communication & Transportation
Contact ZAHID IKRAM
Web: www.findpk.com/zahid
YouTube: www.youtube.com/zee1707
Face Book: www.facebook.com/zahid.ikram

Personal E-mail Address:
zee1707@gmail.com
zee1707@hotmail.com
zee1707@yahoo.com

Official E-mail Address:
ceo@cybercity-online.net
admin@findpk.com
admin@ccol-host.com
admin@studymbbsinchina.com


Cell Phone: +92 322 515 7887
Office Tel: +92 51 22 41 41 8
Office Tel: +92 51 435 52 44
Office Tel: +92 51 250 91 88

Web Sites
www.findpk.com
www.cybercity-online.net
www.cybercity-online.biz
www.cybercity-online.net/hussn
www.ccol-host.com
www.studymbbsinchina.com
http://groups.google.com/group/How-To-Save-Pakistan?hl=en