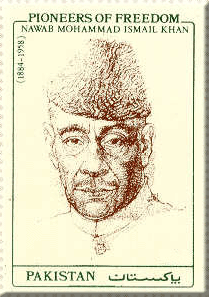 NAWAB MOHAMMAD ISMAIL KHAN
Grandson of Nawab Mustafa Khan Shaifta, who was a renowned poet and a friend of Mirza Ghalib and son of Nawab Mohammad Ishaque Khan, Nawab Mohammad Ismail Khan was born in Meerut in August 1884. He was educated at Cambridge and London. For sometime he also practiced law.
He joined politics early in life and rose to great prominence. He soon became a trusted and reliable lieutenant of the Quaid-e-Azam.
In 1910, he became Member of the All India Muslim League Council as well as of its Working Committee. He was for sometime a Member of the Congress and a Member of the U.P. Legislative Assembly. In 1923 he was elected unopposed to the Central Legislative Assembly. In 1930 he presided over the Khilafat Committee, the All Parties Muslim Conference, the U .P .Muslim League and Unity Board and was also the Chairman of the All India Muslim Civil Defence Association and the All India Muslim League Committee of Action.
In 1934, he become the vice Chancellor of the Aligarh Muslim University, holding the post till 1936; his second term of the Vice Chancellor ship of this University was in 1947-48. After independence he did not migrate to Pakistan and chose to fight for the rights of the Muslims left in India. He became a Member of the Indian Constituent Assembly. His services to the cause of the Muslims of the lndo-Pakistan Su-continent are memorable.
He died on June 28, 1958 at Meerut.