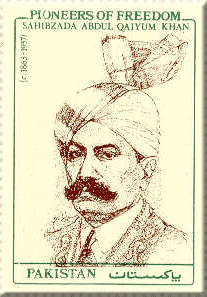 NAWAB SAHIBZADA ABDUL QAIYUM KHAN
Nawab Sahibzada Abdul Qaiyum Khan was born circa 1863 in a religious family of village Topi in Tehsil Swabi, situated at a distance of about 70-75 miles from Peshawar, which was then a very backward area. The Sahibzada family has its lineage traceable to the Royal Lodhi dynasty-a prince amongst whom had settled in the Swabi Area.
In 1883, he passed the English Middle School Examination and in 1885 the Punjab and Calcutta University Entrance Examination.
Sahibzada Saheb started his career as a civil servant but eventually turned into a great educationist and statesman.
In 1887, Sahibzada Abdul Qaiyum was appointed Naib Tehsildar and subsequently held several administrative portfolios i.e. Tehsildar , Chief Political Officer of Hazara, Revenue Assistant and Treasury Officer, Extra Assistant Commissioner, Superintendent of the Commissioner's Vernacular Office, Assistant Political Officer Khyber, ' Assistant Political Agent' of Chitral, and then of Khyber and 'Political Agent' of Khyber during the period from 1891 to 1919.
Sahibzada Abdul Qaiyum was deeply concerned over the educational plight and political deprivation and economic backwardness of the Muslims of the North-Western Frontier Province of the Indo-Pakistan Sub-continent He realized that their only solution lay in acquiring higher education to face up to the astounding complexities of tomorrow.
On October 1, 1913, he established the famous Islamia College at Peshawar, the very first institution of its kind in the region. lie was titled 'SIR SYED of NWFP' for this contribution.
After his retirement, Sahibzada Abdul Qaiyum played an important role in the Khilafat and Hijrat Movements. His contribution was recognized by the government in his successive nominations to represent his Province in the Central Legislative Assembly of India from 1924 to 1932.
In 1930, he represented his Province in the Round Table conference, where he spoke so eloquently that the demand for the Montague- Chelmsford Reforms was accepted. This was his great victory.
Sahibzada Abdul Qaiyum was elected as Chief Minister of NWFP in 1937. But after a few months Dr. Khan Saheb of the 'Congress Party became the Chief Minister after passing a vote of "No Confidence' against the Ministry of Sahibzada Saheb.
After 3 months on December 3, 1937, he left this mortal world and was buried in the mosque that he had constructed cJose to his Topi residence.