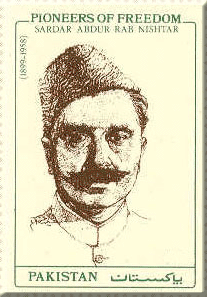 SARDAR ABDUR RAB NISHTAR
Sardar Abdur Rab Nishtar was born on June 13, 1899 at Peshawar. He belonged to Kakar tribe. He was educated at Edwards College, Peshawar, Punjab University, Lahore and Muslim University Aligarh. In College days, he joined Khilafat Movement In 1927. He took an active part in the boycott of Simon Commission. For some time he remained in the Indian National Congress; but soon left it to join the All India Muslim League for good. In 1936, he was appointed a Member of the All India Muslim League Council.
One of the most trusted and closest associates of the Quaid-e-Azam, Sardar Nishtar was elected to the Provincial Assembly in 1937. In 1943, he became the Finance Minister in Sardar Aurangzeb's Muslim League Cabinet in the North-West Frontier Province. In 1946, he was elected to the Constituent Assembly of India and became Minister for Communications in the Interim Government
After independence he worked indefatigably for the fledgling Country. He was a member of the first Constituent Assembly of Pakistan. He held the portfolios of Federal Minister for Communications, Governor of the Punjab, and the Federal Minister for Industries from 1947 to 1953. Later, when he left the Government, he led Pakistan Muslim League, the then the biggest party of the Country, as its President, he believed in 'neat politics through neat politicians'.
He was also a gifted poet. His poetry reflects the highest human values and a sincere urge for social reforms.
He died on February 13, 1958 and was laid to rest in the courtyard of Quaid-e-Azam's mausoleum.