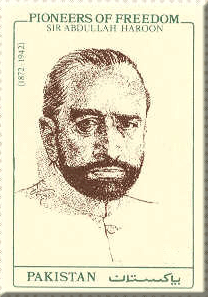 SIR HAJI ABDULLAH HAROON
Sir Haji Abdullah Ramon was born in 1872 at Karachi. He lost his father at an early age. He was brought-up and educated under the most trying circumstances by his great mother who was a pious and deeply religious lady. He deeply believed in the dignity of labour and himself started his career in business in 1896 on a very small scale and soon was to outshine all his contemporaries in the world of trade and commerce and came to be known as 'Sugar King'.
He entered politics in 1913 and was elected a Member of the Karachi Municipal Corporation. In 1917, he joined the Indian National Congress, and began taking part in the Independence Movement. In 1919, he became President. Khilafat Committee of Sindh.
Sir Haroon was an elected Member of the Bombay Legislative Council from 1924 to 1926. He was also a Member Central Legislative Assembly and was re-elected twice in 1930 and 1934. He was a member of various Committees of the House.
Sir Haroon was disenchanted with the policies of the Congress and joined the Muslim League and remained its staunchest ally till his death. He was asked by the All India Muslim League body to revive and reorganise the provincial branch of the League in Sindh in April lQ14
In 1938 Sir Abdullah Haroon was elected President, Sindh Provincial Muslim League. He was among those personalities who spoke and endorsed the 'Pakistan Resolution' at the historic 27th Session of the Muslim League at Lahore on March 23, 1940.
At the Madras Session of the All India Muslim League, held in April 1941, Sir Abdullah Haroon was appointed Member of the Committee to workout on a five years plan for the educational, economic, social and political advancement of the Muslims.
Sir Abdullah Haroon was not only a great statesman but also one of the leading philanthropist of his time. He contributed to many charitable institutions. Sindh Provincial Muslim League was entirely dependent upon his contributions. He founded the 'Islamiya Orphanage for Boys', which incorporated a school in 1923 and made endowments for its maintenance and established the 'Cutchi Memon Madrasa-e-Binat for Girls' in memory of his great mother. He built 'Muslim Gymkhana' and playground at personal expense in Karachi and also built numerous mosques at various places in Karachi and Sindh. He contributed immensely toward the improvement of the Muslim lot in economic, educational, social and political fields.
Sir Abdullah Ramon died on April 27, 1942 at Karachi.