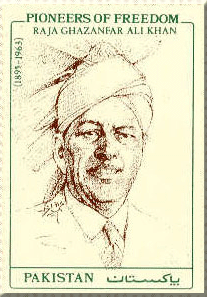 RAJA GHAZANFAR ALl KHAN
Raja Ghazanfar Ali Khan was born on August 16, 1895 in Jhelum and educated in Lahore. He remained Member of the Indian Legislative Assembly from 1923 to 1927 and re-elected in 1927. He was Minister of Alwar State in 1928 and remained Member Council of State from 1933 to 1937. He was Member Punjab Legislative Assembly from 1937 to 1945 and re-elected in 1946 and remained Parliamentary Secretary, Government of Punjab Revenue and Irrigation Departments. He was one of the five Muslim League members in the Interim Government of India as Minister for Health (Oct. 1946).
Ghazanfar Ali Khan attended the annual sessions of the All India Muslim League and actively participated in its proceedings. As Member All India Muslim League Council, he was asked to revive and reorganize the League in Indian States in 1934.
He was Member Subjects Committee League Legislators Convention, Delhi held in April 1946. Speaking on the occasion he said, "The Muslim League was the greatest democratic institution, and it was man's worth and conviction that counted, not the manner of his dress, for instance, which was so important to Congress".
He condemned the militant and aggressive attitude of Pandit Jawaharlal Nehru. In the Muslim League Council Meeting held in July 1946 at Bombay he said that the Congress with its over whelming majority in the Constituent Assembly hoped to crush the Muslim League. Muslims could not rely on the promises of the British; they should develop their own inherent strength and fight for the achievement of Pakistan and advocated for "direct action",
After Independence, he became Minister for Food, Agriculture and Health, Government of Pakistan. He was Ambassador to Iran from 1948 to 1952, Ambassador to Turkey from 1952 to 1953, High Commissioner to India from 1954 to 1956 & Ambassador to Italy from 1956 to 1957.
He died in 1963. He was an able statesman and a trusted lieutenant of the Quaid-e-Azam.