Let's Rebuild
&
Excel Pakistan
اردو ترجمہ کے لئے کلک کریں
By Zahid Ikram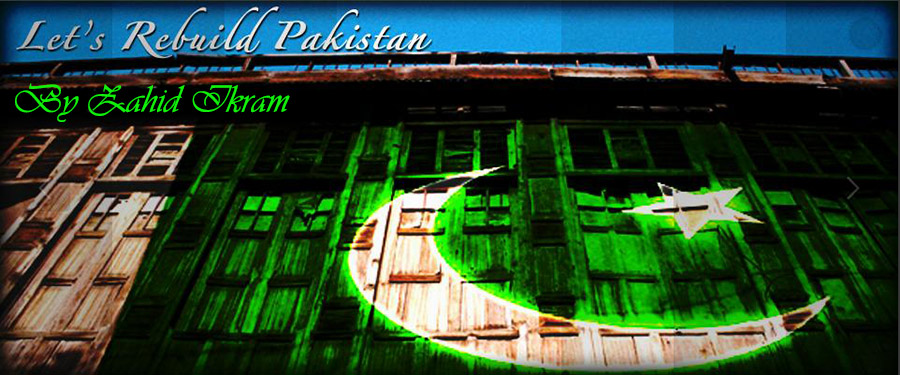 الَّھُمَّ صَلي علي مُحَمَّدٍ وَعَلي آلِ مُحَمَّدٍ کَماَ صَلَّيتَ عَلي اِبْرَاھِيمَ وَعَلي آلِ اِبْرَاھِيمَ اِنَّکَ حَمِيدُ مَجِيد
اَلَّھُمَّ بَارِک عَلي مُحَمَّدٍ وَّعَلي آلِ مُحَمَّدٍ کَمَا بَارَکتَ عَلي اِبرَا ھِيمَ وَعَلي آلِ اِبرَاھِيمَ اِنّکَ حَمِيدُ مَّجِيد
O Allah! Shower blessings upon Muhammad (S.A.W)
and on the family of Muhammad (S.A.W)
as you showered blessings upon Ibrahim (A.S)
and on the family of Ibrahim (A.S)...
Surely, You are the Praiseworthy, Glorious.


O Allah! Bestow favours upon Muhammad(S.A.W)
and on the family of Muhammad (S.A.W)
as You bestowed favours on Ibrahim (A.S)
and on the family of Ibrahim (A.S)...
Surely, You are the Praiseworthy, Glorious.
Preface!
Dear Fellow Pakistanis,
Assalam-o-Alikum!
I cordially thank all of you with the utmost sincerity, for the time you have spared for "To Rebuild & Excel Pakistan". To achieve this target, we need determination not a huge budget.

Pakistan Established on the Sacred day of "Shab-e-Qader" 27th of Ramzan on the Name of Islam, Pakistan Ka Matlab Kia "لآ اِلَهَ اِلّا اللّهُ" and " مُحَمَّدٌ رَسُوُل اللّهِ" but unfortunately, until now we have not established it as Islamic Welfare State yet. Most of the western powers wish to see a Secular Pakistan and they are creating hurdles to establish Islamic State. Pakistan as an Islamic State shall be a Real Welfare State. If a Modern Country like Singapore have Implemented Very Strict Laws & Punishments, then why not Pakistan?

It was Dream of Dr. Allama Muhammad Iqbal and Quaid-e-Azam Muhammad Ali Jinnah along with Great Freedom Fighters and Leaders got us an Independent State "Pakistan" and that was not the end of this Movement in itself. After Freedom of Pakistan, the People of Pakistan are the means to get the real goal which is Prescribed in the Quran and ordained by Allama Iqbal and M. A. Jinnah to all of us to Implement and Establish on this Sacred Land. The task of Human Freedom is still pending.
Quaid e Azam M. Ali Jinnah has formed only one department after independence of Pakistan in August 1948 is called "The Department of Islamic Reconstruction". Under the supervision of Allama M. Asad, there were Four aims given to this department:
<![if !supportLists]> 1. <![endif]> To Make the Islamic Constitution for Pakistan.
<![if !supportLists]> 2. <![endif]> <![if !supportLists]> <![endif]>To Make the Islamic Economic System for Pakistan.
<![if !supportLists]> 3. <![endif]> <![if !supportLists]> <![endif]>To Make the Islamic Education System for the Pakistan.
<![if !supportLists]> 4. <![endif]> <![if !supportLists]> <![endif]>To Make the Islamic Social System for Pakistan
<![if !supportLists]> <![endif]>
The ultimate aim of this department was to help community to transform its life on Islamic Lines and therefor it has been named as "The Department of Islamic Reconstruction". I is for the first time in the modern age the word "ISLAMIC" has appeared in the designation of any Government Department. Quaid-e-Azam passed away on 11 September 1948, In August the report was being processed by this department but very unfortunately after M. Ali Jinnah has been passed away some culprits burnt this report. This was the major Dishonesty with Pakistan and Islam.
We are Not Free until unless the implementation of "Riasat-e-Madina" A Welfare Islamic of Pakistan where the State Constitution for Humanity "Quran" is established. Remember that is the Higher Goal of Humanity as a whole. Every effort of every human towards the establishment of the Just System of Quran is the real effort because this will be beneficial towards the whole humanity.
We have to come out of mindset of slavery as under colonial era and step into a real Freedom under Islamic Rule of Law.
Once Chinese Nation planned to build The Great Wall of China, they carried out implementation of their plan for next 500 Years, they faced lots of ups & downs during this period, even many Governments have changed, but the determination of Chinese Nation Won!

Ladies and Gentlemen,
Beside the lack of true leadership after Allama Iqbal & Quaid-e-Azam, Pakistani Nation has one major drawback behind its failure to Excel, we are not determined yet and we don't try to change ourselves according to plans instead we keep changing the plans.
خدا نے آج تک اس قوم کی حالت نہیں بدلی
نہ ہو جس کو خیال آپ اپنی حالت کے بدلنے کا
God has never changed the lifestyle of any Nation till today
who do not think to change themselves (ALLAMA IQBAL)
We are facing many Challenges Such as Injustice, Corruption, Poverty, Lack of Merit, Across the Board Accountability, Pollution, Health and Education Facilities etc. We are yet to Achieve our Goals of Welfare Society as an Islamic State. I would like to share my ideas to Excel Pakistan without spending huge budgets but we need determination and true leadership.
Dear Fellows,
I'm from a middle class family and belong to a General Public. By the Grace of Almighty Allah after getting my basic Education from Pakistan, for my Higher Studies I have been Studying Abroad "Computer Science" & "Software Engineering" on self-sponsorship in Malaysia, Singapore and distance learning from United Kingdom. I had served my first Job as "System & Software Engineer" in Singapore.
In the past years, I have visited many Asian Developed & Progressing Countries to learn their Law & Order, Justice System, Art & Culture, Religion & Faith, Travel & Tourism, Business, Trade, Investment & Economy, e-Governance, Democracy & Politics, Health & Education, Armed Forces, Civil Defense, Agriculture, Energy Resources, Transportation, Community Police, Community Centers, Traffic System, Internet & Latest Technologies, Electronic, Print & Social Media, Censor Board, Tax Culture, Discipline in Youth and Modern Living & Modern Lifestyle etc.
In 1998, after leaving my Job in Singapore for good I returned to Islamabad in order to serve my homeland. I introduced Information, Internet & Web Technologies for Government, Local Business Organizations and Social Life. I was the trend settler of Cyber Cafes in Pakistan.
I have sponsored many Government Organization's Web & IT Projects that include Pakistan Tourism PTDC, Engineering Development Board of Pakistan EDB, Expert Advisory Cell EAC, Business Support Center BSC. Board of Investment Pakistan BOI, Capital Territory Police CTP, Rescue 15, Pakistan Post, Pakistan Steel, SAARC Energy Centre SEC, National Quality Centre NQC, Many International NGOs like Atap International Risks AIR-UK, Canadian Relief Fund CRF, Human Governance USA and so Many Local NGOs, Couple of Embassies & Foreign Diplomats etc., which has been presented time to time by our National Electronic & Print Media. I have delivered many Lectures as Guest Speaker at some Universities and Institutes, also delivered many IT Training Seminars & Short Courses to many Government and Business Organizations. I have been awarded by Different Ministries for my Contribution towards Progressing Pakistan.
Beside Let's Rebuild & Excel Pakistan" I'm also the Author of "Science in Quran" and "بحرِ بیکراں" You may visit my website at www.findpk.com/zahid and my Facebook official Page at www.fb.com/Zahid.Ikram.Official On 15th April 2017, I was invited in Saudi Arab as Guest of Honor by "The Holy Quran Exhibition" and on 19th April 2017, by "Asma-ul-Husna Exhibition", both Exhibitions are located at Masjid-e-Nabwi (PBUH) Madinah Munawrah. On 21st April 2017 Official Urdu Facebook Social Media Page of نمائش مسجد نبوی Published about my Visit at: https://web.facebook.com/Exhurdu/posts/1188045777985359?pnref=story
While sitting at Roza- e-Rasool Pak (PBUH) I have planned for "The Holy Quran Exhibition Park, Research & Development Project" for Pakistan where a Person enters to learn The Message of Holy Quran. All Quran Topics upon Allah has invited Mankind to Ponder may explained with Modern Sciences in the Light of Quran, especially Allah's Portents in our Observable Universe and within Ourselves. This would be a unique life changing and thought-provoking Interactive Exhibition in 3d Modeling, 7d Holograms Technology, Multimedia (Audio &Video), Pictures & Graphics, Touch Screens, all Explained in Multilingual (English, Urdu and Other International & Domestic Languages) with QR Logo Scan for Browsing & Sharing Exhibition Information over Smart Phones, ever seen by Mankind. This Exhibition shall accomplish its goal in the true spirits of Islam, educating all Muslims and non-Muslims as well our Future Generations. Insha Allah!
During my professional career among the many countries that I have visited & observed in the past years, Singapore and Malaysia are my favorite Countries and Singapore is my best role model, though it is a non-Muslim Country yet it has established the most of Islamic Laws. Singapore is just a small dot on World Map, but a global financial center with a tropical climate and multicultural population. In 2016, it's Population was 5.607 million, GDP per capita 52,960.71 USD and Gross National Income 476.9 billion dollars PPP (Purchasing Power Parity) with Total Area of 719.1 Sq. km.
Lee Kuan Yew (16 September 1923 – 23 March 2015), was the first Prime Minister of Singapore, governing for three decades. Lee is recognized as the nation's founding father, with the country described as transitioning from the "third world to first world in a single generation" under his true leadership. Singapore has the Cleanest & Green Environment, Strict Law & Order, Justice Equality, Use of State of Art Technologies, Singaporeans are well Educated, well disciplined, Well Mannered and Most Peaceful Nation. I have learnt a lot from Singapore and there are so many reasons that Singapore fascinated me a lot.
We have to fulfill the dreams of Hazrat Allama Iqbal to play a leading role in this world.
سبق پھر پڑھ صداقت کا، عدالت کا ، شجاعت کا
لیا جائے گا تجھ سے کام دنیا کی امامت کا
Read again the lesson of truth, of justice and valour!
You will be asked to do the work of taking on responsibility for the world.
(ALLAMA IQBAL)
I have humbly shared some of the possible solutions to our national issues that I have learn from Quran and other advance countries specially Singapore. I sincerely believed that this would be a start of a Positive Change in our Society (Insha Allah). Please simply go through my ideas and contribute your own innovative ideas according to your Intellect, give your valuable feedback and suggestions and if you like my ideas Please Support and Share them with your Family, Friends and Colleagues.
Note:
This e-Book has been launched since June 2017. Since than I have been keenly aware of the public demands on social media and consistently keep updating my book. I would like to give credit to Public opinion for producing this book.
Thank you so much indeed.
Pakistan Zindabad!
Zahid Ikram
List of Innovative Reforms For The Progress of Pakistan
Smart e-Solutions for Pakistan