PARKS & GARDENS IN PAKISTAN
HAZARGANJI CHILTAN NATIONAL PARK
In the Hazarganji Chiltan National Park, 20 kms south-west of Quetta, Markhors have been given protection. The park is spread over 32,500 acres, altitude ranging from 2021 to 3264 metres.
Hazarganji literally means "Of a thousand treasures". In the folds of these mountains, legend has it, that, there are over a thousand treasures buried, reminders of the passage of great armies down the corridors of history. The Bactrains, Scythians, Mongols and then the great migrating hordes of Baloch, all passed this way.
ISLAMABAD
ROSE AND JASMINE GARDEN
This 20,360 sq. meters rose garden is famous for its roses. It has 250 different varieties of roses as well as a dozen types of Jasmines, Flower shows are occasionally held here, particularly during spring. Nearby is the Tourist Camping Site.

SHAKARPARIAN HILLS
Shakarparian hills are situated near Zero Point, at a height of 609 meters. Its terraced garden offers pleasant and sweeping vistas of Margalla and Murree hills, Rawal Lake, Rawalpindi and Islamabad, Snack Bar facilities are available.

DAMAN-E-KOH
This low hill over looking Islamabad, known as Daman-e-Koh, offers panoramic view of Islamabad. Snack bar facilities are available at PTDís Daman-e-Koh Restaurant. The place is ideal for afternoon and evening outing with family and friends.
MURGHZAR MINI ZOO AND CHILDRENíS PARK

Murghzar Mini Zoo is located at the foot of Daman-e-Koh viewpoint. A display corner of Pakistan Museum of Natural History and a Japanese style childrenís park have also been established near the Zoo. The Park is a gift to Pakistani children from the children of Japan.

RAWALPINDI
Liaquat Memorial Hall and Garden
This hall was built in memory of late Mr. Liaquat Ali Khan, the first Prime Minister of Pakistan. It has a large auditorium and library. Art exhibitions, cultural shows and stage plays are performed here frequently. A well-laid garden with sports facilities and childrenís park has been developed near the hall.
Ayub National Park
Ayub National Park is located beyond the old Presidency on Grand Trunk (G.T.) Road. It covers an area of about 2,300 acres and has a play-land, lake with boating facility, an aquarium, a garden-restaurant and an open air theater.
Rawalpindi Golf Course
Situated near Ayub National Park, Rawalpindi Golf Course was completed in 1926 by Rawalpindi Golf Club, one of the oldest golf clubs of Pakistan, founded on 2nd November 1885. The facility was initially developed as a nine-hole course. After several phases of development, it is now converted into a 27-hole course. The successive Presidents of Pakistan are patronizing the club. From the elegant clubhouse, one can have a wonderful panorama of Faisal Mosque, the twin cities of Islamabad and Rawalpindi and the Golf Course itself. Major national golf tournaments are held here regularly. For more information, please contact the Assistant Secretary, Rawalpindi Golf Club, G.T. Road, Rawalpindi (Tel: 56131346).
Rawalpindi Public Park and Cricket Stadium
Rawalpindi Public Park is located on Murree Road near Shamsabad. The Park was opened for public in 1991. It has a playland for children, grassy lawns, fountains and flower beds. A cricket stadium was built in 1992 just opposite the Public Park. The 1992 World Cup cricket matches were held on this cricket ground. The stadium is equipped with all modern facilities.
BAHAWALPUR
Lal Suhanra National Park: This park is ideal for recreation, education or research but shooting is forbidden. This park, 36 Km to the east of Bahawalpur, is a combination of a natural lake and forest on 77,480 acres of land and spread over on both sides of the Bahawal canal. It has watchtowers, catching ground, tourist huts, rest houses, camping grounds and treks for the visitors and lovers of nature. Tourism Development Corporation of Punjab (TDCP) owns and operates a Motel with six double rooms (A.C.) near the park (Ph. No. 0621-871144).
Birmoglasht
Historically, Birmoglasht used to be the Summer Residence of the Mehtar of Chitral. Situated at approximately 9000 feet above the sea level, the area has been declared a National Park in which 4 acres of land was acquired by PTDC in 1975.
The climate is very pleasant in the summer and many tourists visit the area because of its scenic beauty. The forest around the area add to the charm of the place.
Ayubia National Park
Murree and the Galiat Hill Tracts have long been Pakistanís most important domestic tourist destinations. Between the Hill stations of Murree and Nathiagali lies Ayubia, 90 km from Islamabad and 26 km from Murree, situated at an elevation of 8000 feet above sea level. Ayubia is an ideal place to have a quiet holiday away from the sweltering heat of summer plains.
The PTDC Motel is located near the famous Ayubia Chairlift. Surrounded by magnificent green hills, meadows and forests of Pine, the Motel overlooks the picturesque Khanspur Valley.
Its comfortable rooms and fine restaurant make it an ideal resting place. Satellite TV, Telephone, Rent-A-Car and Laundry facilities are also available here. A variety of excursions are available for tourists in and around Ayubia.
Apart from the thrilling chairlift ride, one can visit Nathiagali and climb either of the two peaks of Mushkpuri and Miranjani. Alternatively, one can visit Murree and Bhurban or walk along the famous water supply pipeline, passing through Ayubia National Park.
WILD FLOWERS AND BROWN BEARS OF DEOSAI
The Deosai Plains are 32 km south of Skardu. This plateau is the habitat of the greatly threatened Himalayan Brown Bear and many other wild animals. At an average elevation of 3500 metres, Deosai is now a National Park and protected area for wildlife.
The rolling grassland here supports no trees or shrubs and the area is snow covered for seven months of the year. Spring comes to Deosai in August when millions of wild flowers begin to bloom all over the lush green grassland. This is a time when Deosai looks like a paradise with a landscape full of wild flowers on green rolling hills and crystal clear water streams with snow covered peaks in the background.
An adventure jeep safari will take you right across the beautiful mountain ranges of the Himalayas and the Karakorams Travelling on KKH, you will enjoy the most spectacular scenery on earth. Before reaching Deosai, you will also witness the magical views of Nanaga Parbat (8126 m), the ninth highest peak of the world. At Deosai, you first stop will be at Sheosar Lake. This place offers beautiful views of south fact of Nanga Parbat and a panoramic view of Deosai Plains. At Bara Pani, you can spend one day and visit the core of the National Park for Bear watching or you may enjoy fishing in the cold waters or Barwai Stream. From Deosai, you can travel back via Skardu and Gilgit to enjoy the most thrilling drive along the Indus River.
Hazarganji Chiltan National Park
20 km south-west of Quetta, rare animals like' Markhors' have been declared a protected species. The park is spread over 38,429 acres
Shalimar Gardens Lahore
Five kilometers east of Lahore are the famous Shalimar Gardens laid out by the Mughal Emperor Shah-Jehan in 1642 A.D. The Gardens are spread out in typical Mughal style and are surrounded by high walls with watch-towers at the four corners. Originally, the gardens were spread over seven ascending terraces, but only three remain now which cover an area of about 42 acres. The brick-work of the floors of the three terraces have been repaired according to their original designs which differ on all three terraces. There is a marble pavilion under which water flows and cascades down over a carved marble slab creating a water-fall effect. Across the water-fall is a marble throne. At the end of the second terrace is a beautiful structure called Sawan Bhadon, a sunken tank with niches on its three sides. Water cascades down from it in sheets in front of the niches, producing the sound of falling rain. In the olden times, small oil lamps were placed in the niches which reflected myriad colours, through the water.
Shalimar gardens have the proud privilege of being the stage of all important state receptions. Outside its walls the annual festival of Mela Chiraghan is held every year during the year of March. Special lights on the first and second terraces of the Gardens have been installed and the area is illuminated half-an-hour after sun-set.
Chhanga Manga
Chhanga Manga is a man-made forest 68 kms from Lahore. There is a lake, and a miniature railway which winds its way through its forest. Chhanga Manga has 12,510 acres of plantations. It is a popular picnic spot spread over 50 acres with a lake and row boats, motor boats, children's park, swimming pool, cafeteria, canteen and rest-houses.
Jallo Park
The Park is 28 kms from Lahore. It can be visited by road and by rail. A rail-car leaves for Jallo Railway Station every half hour. Spread over an area of 450 acres, It has expanses of lawns, a forest research centre, a children's park, zoo, a small museum and a gift shop.
Khunjerab National Park
It begins 30 kilometres (19 miles) from Sost. The hills move back from the road, the valley opens out and the Khunjerab River dwindles to a tiny mountain stream
Wah Gardens
Once a major campsite of Mughal rulers, Wah Gardens is located 12 km west of Taxila on G.T. Road. The gardens were developed with magnificent trees and water channels by successive Mughal emperors. Tapering cypress trees, loved by the Mughals, line the canals through which cool waters once flowed between elegant Romanic pavilions and cascading into large reflecting basins. The gardens are being restored to their original beauty, by the Department of Archaeology, Govt. of Pakistan. Entry fee is Rs.4 per person.
Swat Garden
The Lush-green valley of Swat, with its rushing torrents, icy-cold lakes, fruit-laden orchards and flower-decked slopes is ideal for holiday-makers intent on relaxation. It has a rich historical past, too.
This is "Udayana" (the "Garden") of the ancient Hindu epics; "the land of enthralling beauty" where Alexander of Macedonia fought and won some of his major battles before crossing over to the plains of Pakistan. This is "the valley of the hanging chains" described by the famous Chinese pilgrim-chroniclers, Huain Tsang and Fa-Hian in the fifth and sixth centuries.
BAGH-E-JINNAH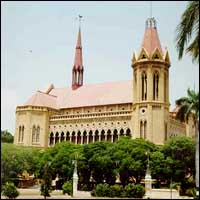 Surrounded by the green Bah-e-Jinnah, Liaqat Hall, originally the frere hall was once the Town Hall where inc colonial days, concerts and social events were held reqularly. This two-storied Venetian Gothic building now houses the Liaqat Municipal Library on the ground floor and an art gallery on the upper storey. Named after one of Pakistan`s renowned artists, Sadequain the gallery displays a permanent collection of the artists`s work, Sadequain spent the last years of his life painting a huge mural on the ceiling of the gallery but, sadly, did not lived to complete it.
Lal Sahanra National Park is 36 km east of Bahawalpur, an ideal place for recreation and research. A natural fresh water lake and thick green forest add beauty to the place.