QUAID-E-AZAM`S MAUSOLEUM
This white marble Mausoleum with its curved Moorish arches and copper grills resets on an elevated 54 sq. meters platform. The cool inner sanctum reflects the green of a four-tiered crystal chandelier gifted by the peoples Republic of China. The memorial slab framed with silver rallings dawas people from far and wide who come to pay their respects to the father of the Nation and to watch the impressive changing of guards cermony that takes place everyday. Today the Quaid-e-Azam`s Mausoleum is a prominent and impressive landmark of Karachi. Nearby are the graves of the "Quaid-e-Millat". Liaqat Ali Khan, the first Prime Minister of Pakistan and the Quaid`s sister, Mohtarma Fatima Jinnah.
ALLAMA IQBAL'S TOMB
Outside the Badshahi Mosque, near its steps, lies the tomb of Allama Iqbal, the poet- philosopher of the East. The mausoleum is a mixture of Afghan and Moonsh styles of architecture and is constructed entirely of red sandstone.
BADSHAHI MOSQUE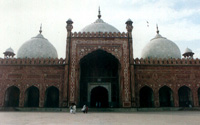 The Royal or the Badshahi Mosque is across the courtyard from Alamgiri Gate of the Lahore Fort. The Mosque, which is made up entirely of red sand-stone was built by Emperor Aurangzeb, the last of the great Mughals, in a record time of two and-a-half years. Its construction was completed by 1674 A.D. It has a beautiful gate-way which measures 21.33 metres in length and a courtyard that measures 161.5 x 160.6 metres and is said to be the largest mosque courtyard in the world for outdoor prayers.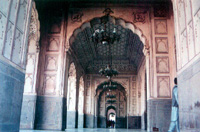 The marble domes cover seven prayer chambers. Four lofty minarets stand at the four corners of the mosque, each with an outer circumference of 20 metres, soaring up to 54 metres. In the chambers above the Gate of the mosque, are housed relics attributed to the Holy Prophet of Islam Peace be upon him, His Daughter and His son-in-law and are said to have been brought to the South Asia by Amir Taimur. Within the Mosque almost all the colours have been used for painting the floral designs but the overall effect remains one of sobriety, piousness and simplicity
THE GOLDEN MOSQUE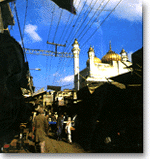 Golden Mosque is situated in the Kashmiri Bazaar inside the old city. It was built in 1753 A.D. by Nawab Syed Bhikari Khan, who was Deputy Governor of Lahore. It is a remarkably beautiful mosque with three golden domes.
MAUSOLEUM OF EMPEROR JEHANGIR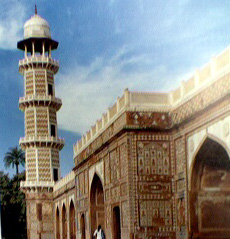 The tomb of the fourth great Mughal Emperor, Jehangir, lies 5 km north-west of Lahore across the River Ravi. It has a majestic structure made of red sand-stone and marble. The outer entrance to the tomb opens out into a court-yard which was used as a caravan Serai during Mughal times. An entrance to the right leads into a Mughal garden with exact geometrical patterns balancing each side. The marble tomb is approached from four corridors leading from the garden. Three of these corridors are closed by intricate marble screens. The marble grave is elaborately inlaid with floral designs and the 99 Attributes of Allah are inscribed on its two sides. On the top is a verse from the Holy Quran. The tomb was built by Queen Noor Jehan and the Emperor's son Shah-Jehan, around 1637 A.D.
NOOR JEHAN'S TOMB
The Empress Noor Jehan, "Light of the world" was the only Empress whose name appeared on the coins of the Mughal empire. She was buried in 1645 A.D. at Shahdara (Lahore) outside Jehangir's mausoleum across the railway line.
Her tomb once had a marble cenotaph which she had built herself during her life time. After the decline of Mughal rule, the tomb suffered extensive damages along with her husband's tomb at the hands of Sikh marauders when they gained power during the early part of nineteenth century. Both were stripped of most of its original beauty and splendour. All treasures and tiles, it is said, were carted off to decorate the Golden Temple at Amritsar India.
ANARKALI'S TOMB
The tomb of Nadira Begum, alias Anarkali, is situated in a corner of the Civil Secretariat of Punjab Government at Lahore.
The tomb is circular in shape and rooted with a vast and lofty dome supported from inside by eight massive arches 12 feet 3 inches thick. It is a masterpiece of solid masonry work of early Mughal period and is neatly and beautifully fitted up.
The tombs of the ex-rulers of Bahawalpur and their families are located in Derawar Fort:. The tombs have nice glazed blue tile work. Prior permission of the senior Amir of Bahawalpur is required to enter the fort.
Shrines of Channan Pir
The Shrine of Channan Pir is located 45 Km from Derawar Fort. Channan Pir was a disciple of Makhdoom Jahanian Jahangasht. The annual Urs is held at the beginning of March. A colourful fair known as 'Mela Channan Pir' is held here. Devotees gather on the night of full moon to offer "Fateha" at the tomb of the saint.
Shrines of Bahawalpur Division are that of Khawaja Noor Muhammad known as Qibla-e-Alam at Chishtian, Shrine of another saint at Chachran and the shrine of Hazrat Mohkam Din known as 'Sahib-us-Sair' (great traveller) at Khanqah Sharif, 20 Km from Bahawalpur.
Mosque at Bhong: Bhong is in Rahim Yar Khan district, about 200 Km from Bahawalpur. Rais Ghazzi, a local landlord of Bhong, built this mosque. Gold leaves have been used for the intricate decorative work and stylish calligraphic work in the mosque, which has made it famous for its beauty.
Hasan Abdal & Gurudwara Panja Sahib
Hasan Abdal is 48 km from Rawalpindi. It is a beautiful, quiet place and a convenient halting point on G.T. Road enroute to Peshawar or Abbottabad.
This town has a particular association with Mughals and Sikhs. It was mentioned by Emperor Jehangir in his memoirs and frequently visited by successive Mughal Kings, on their way to Kashmir. It remained a holy place for various religious groups through the ages. It has a Sikh Gurdwara (temple) known as Panja Sahib having a scared rock with the hand print of their religious leader, Guru Nanak. Twice a year, Sikh pilgrims visit this Gurdwara from all over the world.
On the nearby hill, at an altitude of 714 meters, there is a meditation chamber related to a 15th century Muslim Saint, Baba Wali Qandhari, popularly known as Baba Hasan Abdal. The saint stayed in Hasan Abdal from c.1406 - 1416 AD but died and buried in village Baba Wali near Qandhar (Afghanistan). The devotees and visitors climb over the steps leading to the hill, for offerings and to have a panoramic view of Hasan Abdal.
Just opposite the eastern gate of Gurudwara Panja Sahib, there is a small mosque and 'chilla gah' (meditation cell) of Baba Wali Qandhari. Behind the mosque is a fresh water pond with big Mahasheer fish. Adjacent to the pond is a building called Maqbara Hakeeman. Two Royal Hakeem (doctor) brothers namely, Abual Fateh Gilani (died 1589 AD) and Hamam Gilani (died 1595 AD) are buried here on the orders of the Mughal emperor Akbar. Both, the fish pond and the tomb, were built by Khawaja Shamsuddin Khawafi, Akbar's minister, between 1581 - 1583 AD. A paved path leads from the fish pond to a small, walled garden. The garden has two graves, one in the centre and the other in a corner. The central grave is wrongly attributed to a so-called Mughal Princess, Lala Rukh. However, it is not known that who is buried here.
Shrines in Multan
The devastation of Khorasan and Western Iran was to the benefit of this part of Pakistan, for it led to the settling in this city of a large number of pious and learned men and noble families like Gardezi Syeds and Qureshis from Khwarizm, amongst whom Sheikh Bahauddin Zakarai is a famous saint. About the same time Pir Shams Sabzawari from Sabzwar and Kazi Qutbuddin from Kashan came to Multan. Baba Farid Shakar Ganj was born in a village of Multan, and settled in Pakpattan. Khawaja Qutbuddin Bakhtiar Kaki passed through Multan to Delhi and Syed Jalal, the spiritual leader of many families in Multan, Muzaffargarh and Bahawalpur came to Uch. Sultan Sakhi Sarwar's father also emigrated from Bukhara to Sarwar Shah Kot in Multan district. These venerable men contributed greatly to spreading Islam in this area. The saints and shrines of Multan have been attracting a large number of devotees all the year round.
One of the foremost scholars of Islam, Shaikh Baha-ud-din Zakria's shrine is located in the fort. He was born in 1170 A.D., Studied in Turan and Iran and received instructions from Shaikh Shahab-ud-Din Suharwardi at Baghdad. The saint built himself his Mausoleum himself. It has a unique style of architecture of that period. It also houses the graves of most of the eminent members of the Qureshi family, including that of Nawab Muzaffar Khan.
The Mausoleum of Shah Rukn-e-Alam, the grandson of Shaikh Bahauddin Zakaria, is also located near the main gate of the Multan fort. He was also a man of great religious and political influence during the Tuhglaq reign and was in Multan when it was visited by Ibn-e-Batuta. The Mausoleum was originally built by Emperor Ghayasud Din Tughlaq but was given up by his son Muhammad Tughlaq in favour of Shah Rukn-e-Alam. Besides its religious importance, the Mausoleum has a unique architectural value. Its some is considered to be the second largest in the world. The Mausoleum has recently been given the Agha Khan award for the best Muslim architecture. Some of the interesting statistics of its architecture are:
| | | |
| --- | --- | --- |
| | | (a) Total height above the road level is 150 ft |
| | | (b) Total height of building is 100 ft |
| | | (c) Octagonal upper structure diameter is 26 ft |
| | | (d) Octagonal lower structure diameter is 52 ft |
| | | (e) The dome on top has a diameter of 58 ft |
The Mausoleum has very rich geometrical patterns, calligraphy and colourful floral, mosaic and glazed tile work. Devotees visit the shrine all the year round.
The shrine of Hazrat Shams Sabzwari is located near Aam-Khas Garden. A descendant of Imam Jaffar, he was born in 1165 A.D. The saint died in 1276 A.D. and his shrine was built by his grandson in 130 A.D.
Other Shrines: Other Shrines in Multan include those of Mohammad Yousaf Gardezi near Bohar Gate, Musa Pak Shaheed inside the Pak Gate, Totla Mai near Haram Gate, Shah Ali Akbar, a descendant of Shah Shams Sabzwari, in Suraj Miani and Baba Safra near Eidgah.
The famous mosques of Multan are Wali Mohammad Mosque in Chowk Bazar built by Ali Muhammad Khakwani in 1758 A.D., Mosque Phulhatt in Chowk Bazar built by Emperor Farrukh Siyar, Baqarabadi Mosque built by Baqar Khan in 1720 A.D. and the beautiful Eidgah Mosque built by Nawab Abdul Samad Khan in 1735 A.D.
Shrines of Channan Pir: The Shrine of Channan Pir is located 45 Km from Derawar Fort. Channan Pir was a disciple of Makhdoom Jahanian Jahangasht. The annual Urs is held at the beginning of March. A colourful fair known as 'Mela Channan Pir' is held here. Devotees gather on the night of full moon to offer "Fateha" at the tomb of the saint.
Shah Faisal Mosque, Islamabad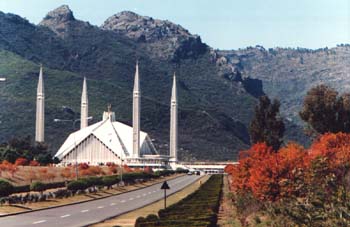 This beautiful mosque was designed by a renowned Turkish Architect, Vedat Dalokay and named after the late King Faisal of Saudi Arabia. It is spread over 1,89,705 sq.metres with 88 meters high minarets and 40 meters high main prayer hall. The main prayer hall can accommodate 10,000 persons while the covered porticos and verandahs can take over 24,000 worshipers. The main courtyard has space for 40,000 people.
Shrine of Shah Abdul Latif (Bari Imam)
Noorpur Shahan, a village situated at the foot of Margallah Hills, near Qaid-e-Azam University, Islamabad, is famous for the mirror-studded shrine of Hazrat Shah Abdul Latif Kazmi, popularly known as Bari Imam. The shrine was originally built on the orders of Mughal emperor Aurangzeb. The death anniversary (Urs) of Bari Imam is observed in the first week of May beginning Monday through Thursday with lot of festivities representing the Potohar culture and attracts people from all over the country.
There is a cave in the Margallah Hills on the back of the shrine where Bari Imam used to sit for meditation. A mosque, where he preached and acted as Imam, is located on Hill Road. The tomb of his father is located on the Shahrah-e-Kashmir opposite the Aabpara Market. Bari Imam is said to have predicted that a new city would be built near his tomb, which will greatly serve the cause of Islam.
Shrine of Syed Meher Ali Shah
The shrine of Syed Meher Ali Shah of Golra Sharif is located 18 km from Rawalpindi, in sector E-11 of Islamabad. He was descendant of a Syed family and had links with Syed Abdul Qadir Gilani of Baghdad. He was born in 1859, preached and spread the message of Islam during the turbulent times in South Asia. He also wrote beautiful prose and poetry in Persian, Arabic and Punjabi languages, mostly in praise of God and Muhammad (peace be upon him). He died on May 11, 1937. His mausoleum was recently reconstructed comprising of a dome, and a high minaret built with marble. Devotees assemble here on the occasion of annual Urs.
Shrine of Data Sahib
Close to the junction of the Lower Mall and the Circular Road, Lahore is the shrine of Data Sahib. Data Sahib was a great sufi saint whose well-known work, "Kashf-ul-Mahjub" has been translated from the original Persian into several European languages and is considered a classic. Attached to the Shrine is a beautiful mosque
Qutbuddin Aibak's Tomb
He was appointed Governor of India in 1191 AD by Muhammad Ghauri. He established the Slave Dynasty on the death of Muhammad Ghauri in 1206 when he assumed independence of his reign and was followed by nine other slave kings. He was a patron of the building art and is known to have erected some monumental stone buildings in Delhi and elsewhere. A very avid player of polo, he died in Lahore in 1210 AD while playing the game. His tomb can be visited in Anarkali Bazaar.
Asif Khan's Mausoleum
In the courtyard near Jehangir tomb lies buried his brother-in-law, Asif Khan, father of Shah Jehan's beloved Queen Arjumand Bano. He lies in a tomb today shows little of its former splendour.