Nankana Sahib

Nankana Sahib (Shahmukhi:, Urdu: ننکانہ صاحب ), formerly known as 'Rai-Bhoi-Di-Talwandi' is a city in the Pakistani province of Punjab. Located at 31°26'51N 73°41'50E - about 80 kilometers south west of Lahore and about 75 kilometres East from Faisalabad,[1] with a population of approx. 60,000, it is also the capital of Nankana Sahib District and Tehsil. Because Nankana Sahib is the birthplace of Guru Nanak Dev, the central figure in Sikhism, it is a city of high historic and religious value and is a popular pilgrimage site for Sikhs from all over the world.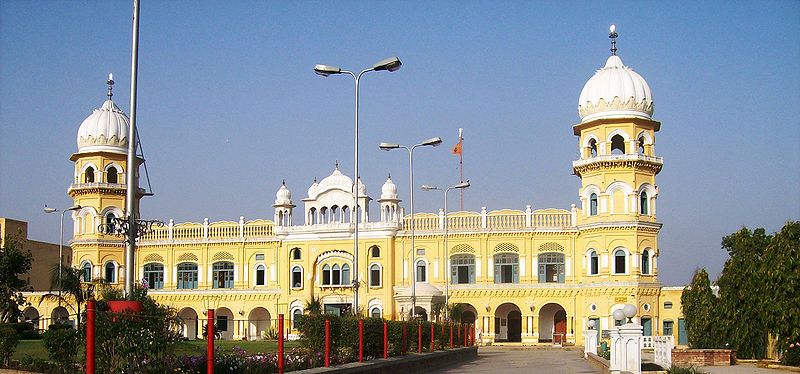 Nankana Sahib being most sacred Sikh place; the location of the birth of the Sikh founder, Guru Nanak is one of the fastest growing towns in Punjab, Pakistan. It is a popular place for Sikhs from all over the world. At the time of Guru Nanak's birth the town was called Rai Bhoe's Talwandi and was also referred to as Raipur. Rai Bular Bhatti was the ruler of this area and Baba Nanak's father was Rai Bular's employee. The divine qualities of Baba Nanak were first discovered by his sister Nanaki and Rai Bular Bhatti. Rai Bular gifted approx. 20,000 acres (81 km2) of land all around the city of Talwandi to Guru Nanak and the town began to be called Nankana Sahib. The town currently has nine gurdwaras including the Gurdwara Janam Asthan which marks the birth place of Guru Nanak Dev. Each of the gurdwaras is related with important events in Guru Nanak's life. Annually, approximately 30,000 Sikh pilgrims visit the town, with about 15,000 gathering during the peak season around the birthday celebrations of Guru Nanak.

In 2006 a bus service between the Sikh holy city of Amritsar in India and Nankana Sahib was inaugurated by Manmohan Singh, India's Prime Minister, who himself is a Sikh. Sahibwala village is the road on Nankan Sahib Shahkot Road 13 KM both sid near a Goghara Branch canel. Dardar Murade of Hazrat Nousho Pak Sarkar. Mian Muhammad Akram. most of the pepol is educated and service in WAPDA.School Teacher former. village have 2 x primery school 1 x of Girls and 1 x boys. needs to be upgrade for batter education.a football ground for playing of men.
Hasan Abdal & Gurudwara Panja Sahib

Hasan Abdal is 48 km from Rawalpindi. It is a beautiful, quiet place and a convenient halting point on G.T. Road enroute to Peshawar or Abbottabad.
This town has a particular association with Mughals and Sikhs. It was mentioned by Emperor Jehangir in his memoirs and frequently visited by successive Mughal Kings, on their way to Kashmir. It remained a holy place for various religious groups through the ages. It has a Sikh Gurdwara (temple) known as Panja Sahib having a scared rock with the hand print of their religious leader, Guru Nanak. Twice a year, Sikh pilgrims visit this Gurdwara from all over the world.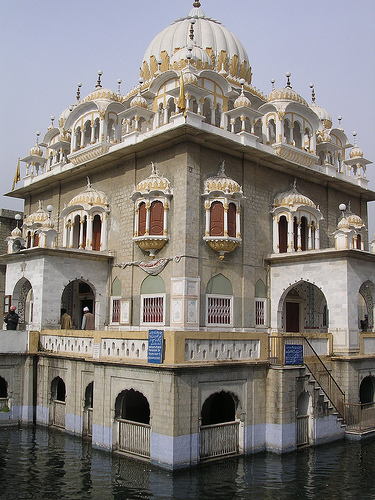 On the nearby hill, at an altitude of 714 meters, there is a meditation chamber related to a 15th century Muslim Saint, Baba Wali Qandhari, popularly known as Baba Hasan Abdal. The saint stayed in Hasan Abdal from c.1406 - 1416 AD but died and buried in village Baba Wali near Qandhar (Afghanistan). The devotees and visitors climb over the steps leading to the hill, for offerings and to have a panoramic view of Hasan Abdal.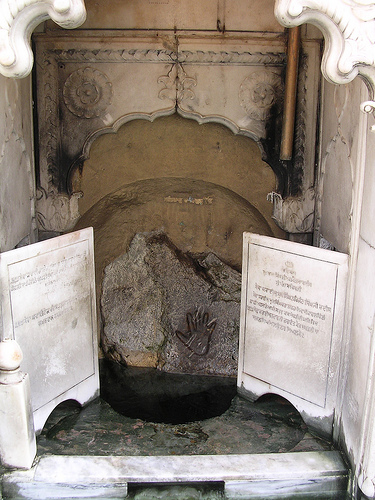 Just opposite the eastern gate of Gurudwara Panja Sahib, there is a small mosque and 'chilla gah' (meditation cell) of Baba Wali Qandhari. Behind the mosque is a fresh water pond with big Mahasheer fish. Adjacent to the pond is a building called Maqbara Hakeeman. Two Royal Hakeem (doctor) brothers namely, Abual Fateh Gilani (died 1589 AD) and Hamam Gilani (died 1595 AD) are buried here on the orders of the Mughal emperor Akbar. Both, the fish pond and the tomb, were built by Khawaja Shamsuddin Khawafi, Akbar's minister, between 1581 - 1583 AD. A paved path leads from the fish pond to a small, walled garden. The garden has two graves, one in the centre and the other in a corner. The central grave is wrongly attributed to a so-called Mughal Princess, Lala Rukh. However, it is not known that who is buried here.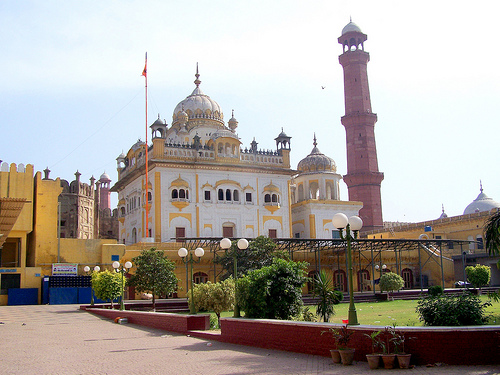 Gurdwara Dera Sahib Panjvin Patshahi, Lahore Pakistan

Gurudwara Dera Sahib Panjvin Patshahi - Shrine of Guru Arjan Dev (1563- 1606 A.D) Lahore : Gurudwara Dera Sahib is situated opposite Lahore Fort near Badshahi Mosque. This is the place where Sat Gur Arjun Dev Ji was martyred in the River Ravi facing the tortures inflicted by Chandu on 30th May 1606 AD.

The Gurudwara was built by Maharaja Ranjit Singh in the memory of Guru Arjan Dev, the fifth Sikh Guru who complied the Adi Granth, the principal part of Sikh scriptures. This shrine has a highly gilded attractive dome. The followers of Guru Arjan Singh assert that it is the same spot where Guru Arjan Dev miraculously disappeared in 1606 A.D. in the waters of river Ravi. The site where Guru Arjun Dev was martyred a Thara (platform) Sahib was built at by Guru Hargobind Ji in Samvat 1919 when he came to Lahore visiting Gur Asthans.

Samadhi of Ranjit Singh, Lahore.

The Samadhi of Ranjit Singh is the mausoleum of the Sikh ruler Maharaja Ranjit Singh. It is located near the Lahore Fort and Badshahi Mosque in Lahore, Pakistan. Construction was started by his son, Kharak Singh on the spot where he was cremated, and was completed by his grandson, Duleep Singh in 1848.

The tomb exmeplifies Sikh architecture, it is gilded fluted domes and cupolas and an ornate balustrade round the top. Ranjit Singh's ashes are contained in a marble urn in the shape of a lotus, sheltered under a marble pavilion inlaid with pietra dura, in the centre of the tomb. Other tiny urns contain the ashes of his four wives and seven concubines who threw themselves on his funeral pyre.