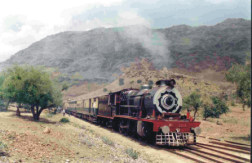 The Khyber Steam Safari is a unique train ride through the legendary Khyber Pass, by antiquated steam mechanism. Two steam locomotives, Hgs 2-8-OS, one in the rear and one up front, haul the carriages through the Khyber. Every burst of steam or whoop of the whistle echoes the history and myth to the Khyber. The train threads it way through 34 tunnels, crossing 92 bridges and culverts and climbs up to 12000 meters. The British built the railroad in 1900 at an enormous cost of Rs. 2 million. Two or three coaches are pulled and pushed by two 1920 model steam engines. At one point, the track climbs 130 meters in less than a kilometer, by means of the famous Shagai Spur, a section of the track shaped like a "W" with two reversing stations.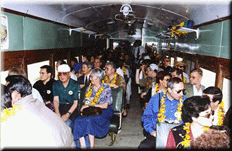 The legendary Khyber Pass begins at a distance of 18 kms, west of Peshawar near the Jamrud Fort. Jamrud, entrance to the Khyber Pass witnessed the Iron Kiss in 1901 and 1905. The trade was passed up the Kabul (gorge) before turning west, up the Loi Shalman Valley. Enemity the Afghan War sparked the incentive again. The section from Jamrud to Landikotal was opened on 3rd November 1925. On 23rd April 1926, the line was finally opened as far as Landi Khana just two miles short of the Durand Line. The railway track is a great feat from the engineering point of view. It has ruling gradient of three percent between Jamrud and Landikotal, 3494 feet above sea level, a rise of nearly 2000 feet in twenty one miles. The track then drops 872 feet in seven kms to Landi Khana. There are four reversing stations, thirty-four tunnels, ninety-two bridges and culverts, six ordinary watering stations. Originally, the Khyber Railway was designed the movement of the troops and supplied in emergencies. The line between Landikotal and Landikhana has been closed since 1932 on the insistence of the Afghan Government. However, until the Russian invasion in Afghanistan, a passenger train used to operate between Peshawar and Landikotal, every week but due to security reasons, it was stopped.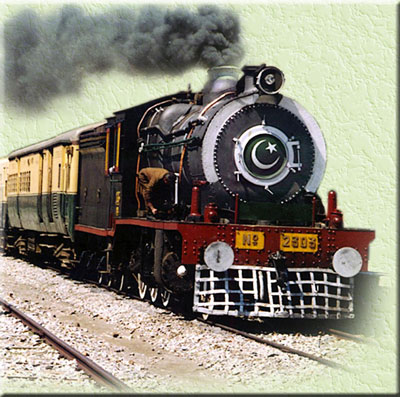 Since 1998, Sehrai Travels Peshawar, the leading tour operators in N.W.F.P. and steam enthusiasts at heart, has been organizing monthly scheduled departures in collaboration with Sarhad Tourism Corporation and Pakistan Railways. Besides scheduled service, the Steam Safari can be chartered and availed on demand at any time during the year.