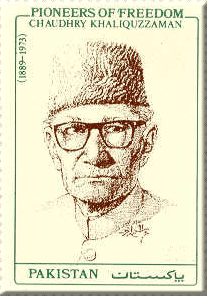 CHAUDHRY KHALIQUZZAMAN
Chaudhry Khaliquzrnman was born in Chunar, District Mirzapur in 1889. He belonged to a landowning family of Awadh. He did his Matriculation in 1907 from Jubilee School Lucknow and B.A., LL.B. in 1916 from MAO College, Aligarh.
He started practising law in Lucknow in 1917 and was appointed Joint Secretary All India Muslim League. He became a very active worker of the 'Khalifat Movement' and 'Non-Co-operation Movement'. He even gave up his practice and was arrested in November, 1921 for organizing a public boycott of the visit of the Prince of Wales to Lucknow and released from Jail in December, 1922. For a brief period he was associated with the All India Congress and remained as one of its front rank leaders but gave it up it to join the Muslim League.
Chaudhry Khaliquzzaman supported the amendment that made the attainment of 'Swaraj' one of the aims of the League (13th Session, All India Muslim League, Nagpur, December, 1920). He was a Member of the Muslim League Committee to frame a constitution for India (15th Session, Lahore, May, 1924). He was Muslim League Delegate to All Parties Convention (20th Session. Calcutta. December. 1928).
He was a Member of All India Muslim League Parliamentary Board 1937 and became Muslim League Member of the UP Legislative Assembly in the 1937 Elections and sat in the Opposition Benches as its Leader. Chaudhry Khaliquizaman worked whole heartedly for the All India Muslim League and supported its policies and programmes. He seconded the Pakistan Resolution (27th session, Lahore March, 1940). He proposed a resolution for the appointment of Committee for the protection of the life, honour and property of Muslims (29th session, Allahabad, April, 1942). He moved a resolution on setting up an .Action Committee' to prepare the people for the achievement of Pakistan (3lst Session, Karachi, 1943) and in the same Session he was also elected President, All India Muslim League Parliamentary Board. He was Muslim League Member UP Legislative Assembly in 1946, defeating Syed Ali Zaheer. Later the same year he became the Muslim League Member of Indian Constituent Assembly (1946-47). He was also elected as a Member Subjects Committee, League Legislative Convention. Delhi. 1946.
After Independence Chaudhry Khaliquzzaman led the Muslim League Members in the Indian Constituent Assembly. He migrated to Pakistan in November, 1947 and was appointed the Chief Organizer of the Pakistan Muslim League in February 1948 and later served as its President till August 1950. He was the Governor of East Pakistan from April 1953 to May 1954 and later served as Ambassador to Indonesia and Philippines in Nov. 1954.
Chaudhry Saheb's Memoirs 'Pathway to Pakistan' is a rare treasure house of information on the Freedom Movement.
He died in 1973