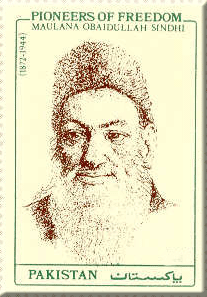 MAULANA OBAIDULLAH SINDHI
Maulana Obaidullah Sindhi was born on March 1, 1872 as Buta Singh in a Sikh family of District Sialkot. His father Rana Singh died before his birth and he was brought up by his maternal uncle at Jampur (District Dera Ghazi Khan). Here he was deeply influenced by the writings of muslim scholars and embraced Islam at the age of 15. He left his home and settled in Sindh, where he became a disciple of a sufi, Hafiz Mohammad siddiQ Barchondvi.
In 1889. he joined the famous Dar-ul-U1oom of Deoband from where he graduated with honours. At Deoband Shaikh- ul-Hind Maulana Mahmudul Hasan and some other teachers influenced him. He started his career as a teacher
In 1908, he came back to Deoband and was entrusted with the programme of Jamiat-ul-Ansar, the organization started by the Shaikh-ul-Hind
In 1913, he was asked to go and work in the Nizarat-ul-Moarif at Delhi. He taught the Holy Quran to English educated youth in the Fatehpuri Mosque.
In 1915, he went to Afghanistan with the object of promoting a Muslim attack on India which would synchronize with a Muslim uprising against the British Rule in Indo-Pakistan Sub-continent. Maulana Obaidullah was actively involved in the historic 'Reshmi Roomal (Silk Letter) Movement'.
From Afghanistan he travelled to Turkey and Russia. All his attempts were directed towards forging international Muslim unity i.e., unity of the Muslim Ummah irrespective of the barriers of nationalities and linguistic differences.
He returned to India in 1939, where he established a religious school at Denpur (Disbict Khanpur).
He died on August 21, 1944.
He wrote his autobiography in Urdu titled 'Zaati Diary'. His oilier works are 'Safarnama-i-Kabul', 'Shah Waliullah Aur Unki Siyasi Tahreek', 'Shah Waliullah aUf UnkaFalsafa' and 'Khutbat-i-Maulana Obaidullah Sindhi'