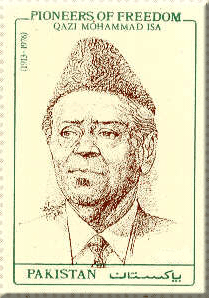 QAZI MOHAMMAD ISA
Qazi Mohammad lsa was born at Pishin in 1913. He studied at Quetta and then left for England for higher studies. After completing his Bar- at-Law he returned home and met Quaid-e-Azam Mohammad Ali Jinnah in Bombay. He was so impressed with his ideas and personality that on his return to Baluchistan he founded the All India Muslim League in his province. He dedicated his whole life to the cause of the Muslims of the'. Sub-continent.
Qazi Mohammad lsa was one of the trusted lieutenants of Quaid-e- Azam and played a pivotal role in the Pakistan movement He spoke on the Pakistan Resolution in 1940, as a representative of Baluchistan. He had the honour of being the youngest member of the working committee of the All India Muslim League. As President of the Baluchistan Provincial Muslim League, he organised the party throughout the province rapidly and also played a prominent role in the historical referendum of the North- West Frontier Province and the Vote for Pakistan in Baluchistan.
In 1945, he presented to Quaid-e-Azam a historic sword of Ahmad Shah Abdali. In 1946, he was made Chief of the Publicity committee of Muslim League for the forthcoming elections. From 1940 to 1947, he travelled more than 300,000 miles to campaign for Pakistan Movement. In February 1948, he was made Chief Advisor, Council of the Agent to the Governor General of Pakistan in Baluchistan. He had been a Member of the Pakistan Delegation at the United Nations. In 1950, 1954 and 1974, he was a Member of the Committee on Minorities in the Constituent Assembly.
He died on June 19, 1976.