The local population comprises hardworking people, accustomed to the extreme climatic and arid conditions of the land. They are ethnically diverse people of Pathan, Baloch and Barohi origin, intermingled with other migrant races who have been attracted by the mining prospects in the province.

Balochistan is richly endowed with mineral resources and major occupations are in iron and coal mining and oil and gas explorations.
The country's largest natural gas reservoir is located here at Sui, which, when discovered in 1952, was the largest in Asia.

Balochistan is famous for its exotic fruits. Many varieties of fresh and dry fruits are supplied to the teeming bazaars of Quetta, the provincial capital, as well as around the country. Handicrafts of beautiful and intricate craftsmanship are produced here the most typical of the region being the exquisite mirror work, embroidery, fine quality precious stones and marble works.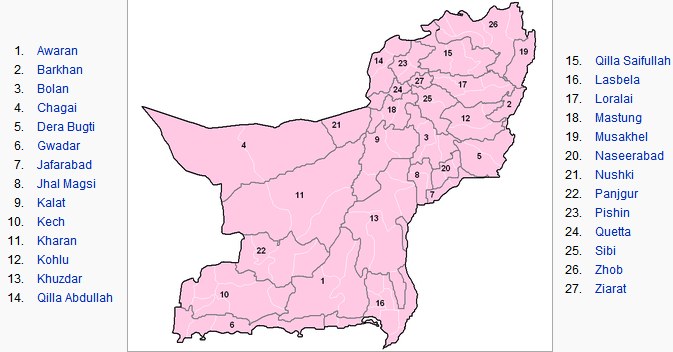 Cities of Balochistan
Four Provinces of Pakistan
For more Information
Photo Gallery and Map of Baluchistan , Pakistan.