The River Indus and its five tributaries flow through the lush green plains of the Punjab, giving the province its name (the word Punj means five, ab means water).

The Punjab is the most populous province and the most productive agricultural region of the country.
Verdant fields and vast orchards produce bumper harvests of staple foods such as rice, wheat, cotton, fruits and vegetables.

Punjabis are a hardy race, strong on tradition and dignity. Many of the sons of this soil serve the nation as brave and devoted soldiers in the armed forces.

Lahore, the provincial capital, retains the strongest impression of the grandeur of the Mughal era. The famous Mughal emperors loved this city and bequeathed to it a magnificent architectural legacy in mosques, mausoleums and stately gardens. These monuments of the past are well-preserved as popular tourist attractions.

Lahore is also the cultural centre of Pakistan and continues to provide the nation with eminent philosophers, poets, writers and sportsmen.

Gifted craftsmen create traditional handicrafts with a skill and inspiration that is passed on from generations. Centuries of tradition are interwoven in the intricate designs of the famous carpets and dhurries of Lahore, in the exquisite ceramics of Multan and the many varieties of handicrafts produced in cottage industries throughout the province.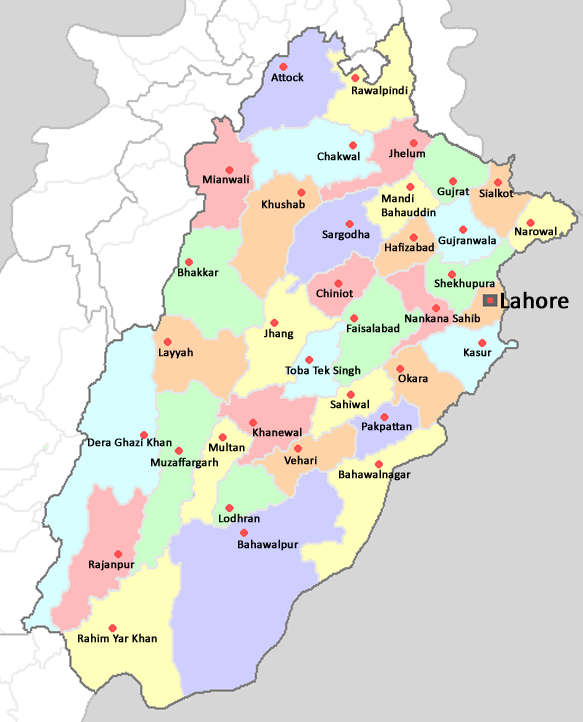 Cities of Punjab

Four Provinces of Pakistan

For more Information

http://www.punjab.gov.pk
Photo Gallery and Map of Punjab, Pakistan.