Sindh is a land of many contrasts, steeped in the mystique of Sufi traditions, preserving remnants of an ancient civilisation at Moenjodaro, and yet with the definite mark of urbanity in its bustling cities.

This contrast is visible in the land itself from the vast coastline of the Arabian Sea, to the great deserts of Thar and Kohistan, and small fertile belts along the River Indus.
There is a riotous mix of the old and the modern in Karachi, the capital of the province, where crude camel and donkey carts and horse carriages jostle with motor vehicles and imposing modern constructions exist beside the crumbling facades and splendid architecture of the British era.

Apart from Sindhis, a large proportion of the population are ethnic and religious minorities. Hindus, Christians and Zoroastrians add to the colourful cosmopolitan flavour of the province.

The handicrafts produced in the region have a distinct local character. Expert craftsmen enfuse the magic of traditions in exquisite creations of clay, pottery, carved furniture, and traditional embroidery work.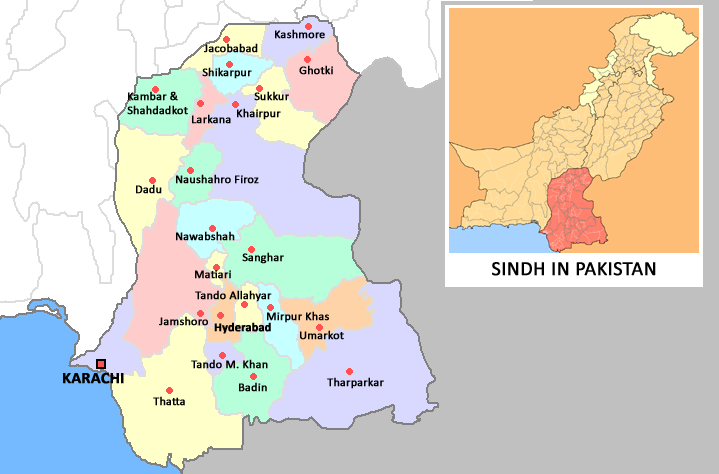 Cities of Sindh

Four Provinces of Pakistan
For more Information

http://www.sindh.gov.pk
Photo Gallery and Map of Sindh, Pakistan.