Let's Rebuild & Excel Pakistan
By Zahid Ikram
اردو ترجمہ کے لیے کلک کی جئے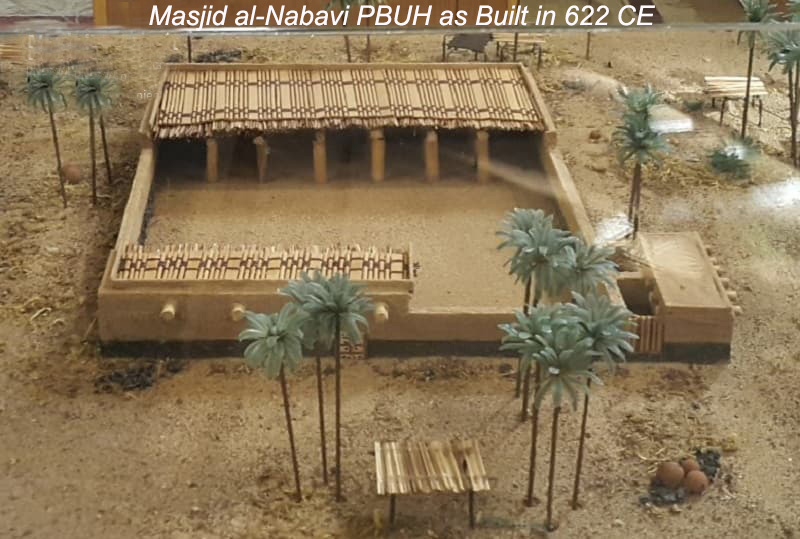 Mosques as Community Development Centers
When Prophet Muhammad PBUH migrated from Makkah to Madinah, the first and immediate task relating to his community building mission was constructing the city's principal mosque. Every other undertaking, including building houses for the migrants a majority of whom were poor and practically homeless, had to be deferred till after the Prophet's Mosques was completed.
The first urban element The Mosque institution which functioned as a Community Development Center was built in 622, Holy Prophet Refusing to "accept the land as a gift", He PBUH bought the land and it took seven months to complete the construction of the mosque. The roof which was supported by palm trunks was made of beaten clay and palm leaves. The three doors of the mosque were Bab-al-Rahmah to the south, Bab-al-Jibril to the west and Babal-Nisa to the east.
When completed, the form of the Prophet's Mosque was extremely simple. Its unpretentious form not with standing, the Mosque since its inception served as a Genuine Community Development Center, quickly evolving into a multifunctional complex.
The Mosque was meant not only for performing prayers at formally appointed times, but also for many other religious, social, political, administrative and cultural functions.
In our society now a day, Mosque is still a Center of our Faith and Worship but it is no more a Genuine Community Development Center and does not serve as other religious, social, political, administrative and cultural functions. A Muslim visit mosque Five Times a day. We are also spending more time on Friday Prayer. Our Children also have daily visits to Mosques/Madrasas for learning Quran. During the month of Ramadan-e-Kareem we offer our Namaz-e-Traweh, Mahafil-e-Shabinas and last 10 days of Itkaaf and Namaz-e-Eidain as well some other congregations on some religious days celebrations etc.

But all of these are not sufficient if we cannot emerge as a Islamic Welfare State. All religious and Community development issues shall be organize at the Mosque. Beside Salaat and Zakat, Education, Justice and many other may manage at Mosques, as it is mentioned in Holy Quran many Times "Wa Aqimus Salata wa 'atuz zakata warka'u ma'ar-raki'in".
It shall also serve as Educational Institute for Deen. The Mosque should be a place for Community developmeny and open to men and women. Indeed, The Mosque should be a true picture of
حي على الصلاة (Come to Prayer) and حي على الفلاح(Come to Welfare).
A Mosque, beside offering Prayers, in its capacity as a Community Development Center, may performe Social Roles and functions such as:
A Community Mosque shall have an office of Local Body of Government, Local Court, Basic Education Center and Bait-ul-Maal.

A Center for Religious & Social Activities;

An Islamic Values such as Human Rights, Concept of Hilal & Haram, Cleanness, Social Behavior & Responsibilities, Honesty in Business and other life matters etc. Learning Center;


A Local Community Issues Resolving Center;

A Community Welfare and Charity Center;

A Rehabilitation Center for Poor, Widows, Street Childern and Disable Persons;

A Place for First Aid Medical Treatment and Nursing;

A Place for Children Activities and Play Area.

A Place for Compititions and Infotainment Activities.

The Mosque committee shall control the Local Markets and have a check on Unfair Profit Making, Less Weightage, Debasement and Low Quality Goods (ناجائز منافع خوری، ناپ تول میں کمی، ملاوٹ اور غیر میعاری سامان) etc and stop selling of Cigarette, Naswaar and Chew gum.

Nikah (Wedding) Ceremony shall take place in the Community Mosques and discourage and stop Baraat, dowry and wedding lunch/diner except Dawat-e-Waleema. Haq Maher shall be paid to Bride by Bridegroom as Sunnah. We have to stop all other Hindoaana rasoomaat like, Mangni, Mehindi, Mahiyon, Jota Chopai, Dodh Plai, Taqseem-e-Chowara, Aatish Bazi, Music, Dance Mujra, Hawai Firing etc.

A Community Mosque must have attached a Guest House Shelter, Free Food and Health Facilities for poor and needy people in community.
Some of the Functions that shall be Manage/Organize by our Mosques:
All community Mosques shall operate under Government and Juma Speech shall be controlled by Islamic Government.

Today we have built many mosques within our community but only for Prayers. Now we are in need of Mosque which also serve the Community Welfare. Our Mosque shall be served as Community Centers in our Society, this will result as a Welfare State indeed.

Mosque shall Provide/ Manage Food & Shelter to Old Age Persons and Orphans.

The Mosque Committee Shall Manage Zakat Collection and its fare Distribution.

The Mosque Committee shall resolve all Domestic & Family Disputes.

The Mosque shall serve as Islamic Education Center, where not only children learn the Holy Quran reading but also its Translations in local languages, learn to Pray, learn other aspects of our Deen and even Arabic Language Classes may offer for all ages.

Participation of all adult male members of the community shall be made compulsory at Mosques, otherwise there shall be heavy fines.


The Concept of One Central Eid Gah and Central Jamia Mosque for Juma Prayer for a larger Communities shall be revived for the Unity among Muslim Communities.

All Utility Bills Shall be waived off for the all the Community Mosques.

Salaries of Khateeb, Moazan and other Staff of the Mosque shall be responsibility of the Government.

List of Reforms/Innovative Ideas