Let's Rebuild & Excel Pakistan
By Zahid Ikram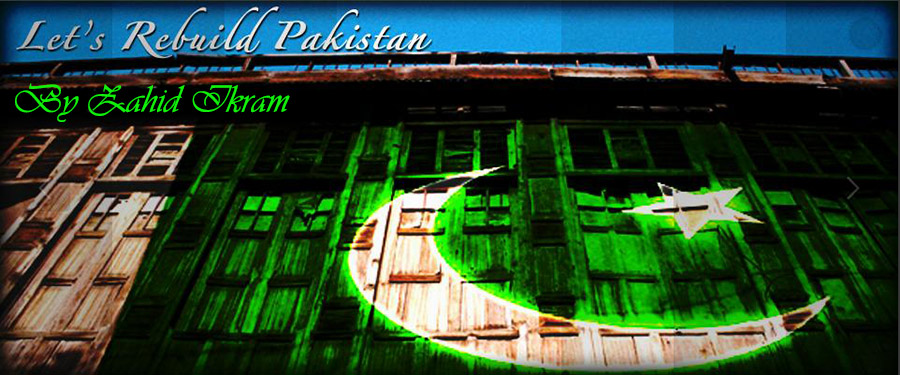 Dear Fellow Pakistanis, Assalam-o-Alikum!
I cordially thank all of you with the utmost sincerity, for the time you have spared for "To Rebuild & Excel Pakistan". To achieve this Goal and Priorities, we need determination not a huge budget.

Once Chinese Nation planned to build The Great Wall of China, they carried out implementation of their plan for next 500 Years, they faced lots of up & down during this period even many Governments changed, but the determination of Chinese Nation Won!

Ladies and Gentlemen,
Beside the lack of true leadership after Allama Iqbal & Quaid-e-Azam, Pakistani Nation has one major drawback behind its failure to Excel, we are not determined yet and we don't try to change ourselves according to plans instead we keep changing the plans.


We are facing many Challenges and yet to Achieve our Goals as a Great Nation and Islamic Society. I would like to share my ideas to Excel Pakistan without spending huge budgets but we need determination and true leadership.
Dear Fellows, I belong to a middle class family. I have been studying on self sponsorship in Malaysia and mostly in Singapore, I have my first Job as Software Engineer in Singapore. I have visited many countries to learn their Art & Culture, Travel & Tourism, Business & Economy, e-Governance, health & Education, Armed Forces, Civil Defense, Agriculture, Energy Resources, Community Policing, Community Centers, Traffic System, Internet & Technologies, Religion & Faith, Media & Social Life, Law & Order, Justice System, etc., etc... Among the many countries that I have visited, Singapore is my best role model. It has the most clean & green environment, Strict Law & Order, Justice equality, state of art technologies, Singaporeans are well educated, well disciplined, well mannered and most peaceful Nation. I have learnt a lot from Singapore and there are so many reasons that Singapore fascinated me a lot.
I have humbly shared some of the possible solutions to our national issues that I have learnt from other advance countries specially Singapore. I sincerely believed that this would be a start of a change in our society. Please contribute your own innovative ideas to rebuild & Excel Pakistan, or simply go through my ideas, give your valuable feedback and suggestions and if you like these ideas Please Support and share my ideas with your Family, Friends and Colleagues.


Thank you so much indeed.


Thank you so much indeed.
Pakistan Zindabad!
Zahid Ikram
Cell: +92 (0) 310 657 7888
+92 (0) 322 515 7887
E-Mail: zee1707@gmail.com
List of Reforms/Innovative Ideas