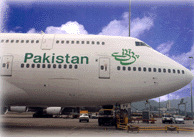 Pakistan is linked to almost all the countries of the world through five international airports; Karachi, Islamabad, Lahore, Peshawar and Quetta. Karachi, the gateway to Asia, has the most modern airport of the country.
For building a strong and dependable air transport infrastructure in Pakistan, which would contribute significantly to improving the region's logistics, the Government of Pakistan in its new National Aviation Policy has explicitly provided for the construction of new airports in the country on BOT basis. The policy also provides for an increase in private sector participation in the construction of airports. To meet the needs of domestic and international air transport, a number of private airlines have been allowed to operate alongside PIA, the national air carrier.
For international operations, conditions will be developed to allow fair and reasonable competition with Pakistani carriers with sufficient encouragement to the foreign airlines to continue to serve Pakistan as much as possible and in the most efficient manner. The policy also provides for selective "open skies" through agreements on the principle of reciprocity and bilateralism with the maximum number of countries. Pakistan has concluded Air Services Agreements with 91 countries. As per the new National Aviation Policy of Pakistan, a number of airlines have been granted access to the northern gateways of Pakistan, namely Lahore, Islamabad and Peshawar, effective January 01,1999. The national airline, Pakistan International Airlines (PIA) now operates services to 45 cities in 36 countries across four continents. It also serves over 30 cities within Pakistan.
The aviation liberalisation policy has also opened up investment opportunities in the privatisation of airports. This will ease the burden on CAA that already has enormous airport development plans and projects besides on going maintenance and upgrading of airports.
Overall, the deregulation of air transport has resulted in phenomenal growth of the sector, with domestic passenger traffic increasing tremendously. On the major trunk routes, in particular Karachi-Islamabad and Karachi-Lahore, lower fares have contributed to the rapid growth.
In recent years, private airlines in Pakistan have flourished. Presently three private airlines namely Aero Asia, Bhoja Air and Shaheen Air International are operating on domestic/international routes. New entrants are expected to enter the aviation market.
35 international airlines operate to Pakistan and there has been a tremendous growth on the cargo side, where the Government's "open sky" policy for exclusive cargo flights is creating growth in this activity. In particular, with the opening of CIS states, charter operations have also increased.
There is a Duty Free Shop located in the Jinnah Terminal Complex, Karachi Airport. It is run by Aer Rianta International Pakistan (Pvt.) Limited. The Duty Free Shop covers an area of 17,000 sq. ft. All outlets of Aer Rianta are in operation and their shops are fully stocked and operational on a 24-hour basis.