Demographics | Tribes | Shrines | Environment | Transport | Media | Irrigation | Industry and Trade | Immunisation | Law and Order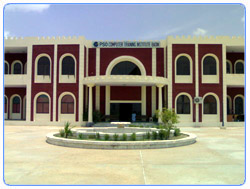 Badin District (Urdu: بدین ) is a district in the Sindh province of Pakistan. The total area of the district is 6,726 square kilometres, according to the 1998 census of Pakistan, it had a population of 1,136,636 of which 16.42% were urban.

Headquartered at the city of Badin the district is situated between 24°-5` to 25°-25` north latitude and 68 21' to 69 20' east longitude and is bounded on the north by Hyderabad District on the east by Mirpurkhas and Tharparker districts, on the south the Arabian Sea and Rann of Kutch, which also forms part of the disputed boundary with India, and on the west it is bounded by Thatta and Hyderabad districts.


Search Badin on Satellite Map
Places of Interest | Parks & Gardens | Educational Institutes | Hospitals | Fuel Stations | Police Stations |

Demographics

The population of the district is mainly Muslim constituting 79.43 percent of the total population, more in urban at 82.17 percent as compared to 78.89 percent in rural areas. Important Muslim tribes include the Halaypotra and Hingora. However Hindus form an important minority at 19.93 percent in the district with larger concentration at 20.67 percent in rural areas compared to 16.16 percent in urban areas. Presence of other minorities in the district (Christians at 0.25% and Qadianis at 0.24%)as well as in rural and urban areas is quite insignificant.

Sindhi is the major mother tongue in the district which is spoken by 89.82 percent of the total population in the district. It is more predominant in rural areas at 92.20 percent as compared to 77.69 percent in urban areas. The next prominent percentage is of Punjabi speakers at 5.62, more than double in urban areas at 11.30 percent as compared to 4.50 percent in rural areas. Urdu speakers are next with 1.21 percent almost completely concentrated in urban areas at 4.65 percent compared to only 0.53 percent in rural areas. Pashto (0.73 percent), Seraiki (0.59 percent) and Balochi (0.21 percent) are other communities in the district


Tribes

The main Muslim tribes of the district are: Memon, Soomra, Jat, Chadhar, Jarwar, Macchi, Syed, Umrani, Lashari, Theba, Rind, Leghari, Lohar, Lund, Lodhi, Sial, Sarna, Chang, Nizamani, Khaskheli, Khawaja, Khosa, Kalhora, Kaloi, Korai, Kori, Bakari, Babar, Bozdar, Bhatti, Bhoot, Khatri, Shaikh, Sirki, Qazi, Jatoi, Lara, Lat, Jiskani, Panhwar, Pathan, Gaha, Dal, Sheedi, Mandhra, Mehri, Gopang, Rahu, Abbasi, Abra, Arain, Malik , Solangi, ((Talpur)) and mallah

Non-Muslim tribes are Kohlis, Bheels, Meghwars, Dewans, Lohanas, Khatris, Bagris (which are called Baras), Kokris, Karias and Rebaris. Most of the non-Muslim tribes are Hindu, while a few follows of Sikhism can be found in both the Muslim, and non-Muslim tribes.


Shrines

Festivals: Mostly festivals are also held annually at most of the shrines of these saintly men. The big annual fairs are held at Saman Shah, Ghulam Shah, Sajan Sawai, Gul Ghaibee, Sawan Fakir, Shah Turail, Mai Bhabee, Shah Gariyo, Raj Shaheen and Shah Deewano. Ahmed Rajo. Shah Qadri and others. These annual fairs, besides being reflective of the local culture are also the great source of the entertainment for people of the district.


Environment

Badin is an agro industrial district. In urban area, ambient air quality, supply of contaminated water, unsafe disposal of municipal waste and solid waste, unsafe disposal of infectious hospital waste and congested houses have created sever environmental degradation. Rural area is badly affected by water logging and salinity and non-availability of pure drinking water


Transport

The district is well linked by roads with its all taluka head quarters. Main roads in the district are Badin to Sajawal road, Badin to Hyderabad road via Tando Muhammad Khan. Badin district consists of five talukas; its total geographical area is 6,726 square kilometres and the total length of roads of both high type and low type is 2019 kilometres. The length of road per square km as per geographical area is 0.30 km, which is insufficient as compared to the rush of motor vehicles and farms to market transportation.

Media

Media is a massive source of communication. It consists of electronic media including radio, television, videocassette recorder, cable system and print media including newspapers, books, pamphlets, brochures, and magazinesc.

3905 television licenses were registered from Badin in 1999-2000. There are 2 cinemas in Badin with 611 seating facility.


Irrigation

The district is irrigated from Sukkur and Kotri barrages. The area being fed by Kotri is further divided in perennial and non-perennial system of irrigation. The irrigation network mainly comprises Guni canal, Phuleli canal, Akram wah and Nasir canal.


Industry and Trade

Being an agricultural area, the industries in Badin are agricultural based. Presently there are six large-scale units engaged in the production of sugar and are providing employment to 6,000 persons. Besides these factories, there are 12 rice-husking mills


Immunisation

The question about immunisation has been included in the 1998 population census for the first time to evaluate the vaccination programme launched by the government from time to time. In all, 44.37 percent of the children below 10 years of age have been reported as vaccinated with a considerably higher percentage at 71.13 in urban areas. The percentages of those not know are quite high at 40.80 in the district, 43.34 percent in the rural and 26.76 percent in the urban areas.


Law and Order

The general Law & Order situation in Badin district remained normal and under control. Though six sugar mills and oil fields are operating within the jurisdiction of Badin district yet the law & order situation remained under control.

The compression of crime figures for the last 03 years reveals that the crime has been decreased due to the day and night patrolling and taking preventive measures to avert the crime and criminal activities