History | Administration | Villages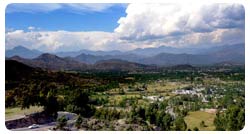 Buner District (Pashto: د بونیر ولسوالی) (pronounced: Boonair) is a district of the North-West Frontier Province of Pakistan.

Search Buner on Satellite View
Places of Interest | Hotels | Eating & Dining | Parks & Gardens | Educational Institutes | Hospitals | Sport Centers | Banks | ATM | Fuel Stations | CNG Stations | Police Stations | Shopping /Trade

History

The Buner Valley lies on the Peshawar valley border of the North-West Frontier Province. It is a small mountain valley,

dotted with villages and divided into seven sub-divisions. The Mora Hills and the Ilam range divide it from the Swat

Valley, the Sinawar range from Yusafzai, the Guru mountains from the Chamla valley, and the Duma range from the Puran

Valley. Until the year 2000 it was a part of Malakand Division - until this division was abolished.

In April 2009, the Taliban seized control of Buner, after a brief battle with local residents, who were unsupported by

the Pakistani army. Strict rules were reportedly being enforced, including the elimination of video stores, bans on cutting

beards, and the prevention of women from appearing in many public places. On 29 April the government responded to the


Taliban by sending the army to the region and dropping parachuters by helicopter. By the end of May 2009, almost all of

Buner was cleared of the Taliban.
Find more about History of Pakistan

Administration

The district is divided into two tehsils, which are:
The capital of the district is Daggar

Villages

Buner contains a village named Pir Baba. It is in a green valley, surrounded by high and green mountains. The famous two

mountains are Elum Ghar and Dua Saray Ghar. This is the land of many great saints. Pir Baba, Dewanababa and Shalbandi

Baba are the famous among the locals and outsiders.citation needed Kinger Gali is the last border of district Buner

which shares borders with Mardan and Malakand Agency.