History | Demography | Government | Education | Transport links | Problems | Economy | Culture | Major Tribes | Food & Beverage | Media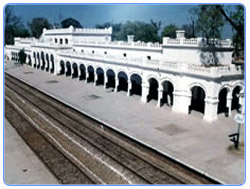 Gujranwala is a district in Punjab, Pakistan

Gujranwala is a city in the north east of the Punjab province. It is the seventh largest city in Pakistan with a population of 1,132,509 (1998 census) Gujranwala is located at 32.16° North, 74.18° East and is 226 metres (744 feet) above sea-level. It borders with Ghakhar Mandi and some small towns and villages. Punjabi is the local language, however English and Urdu are also common, particularly in schools and offices.

Due to extensive road and rail links the city has flourished within the manufacturing and agricultural markets. The city is on the Grand Trunk Road which allows logistical connections to the provincial capitals such as Peshawar and Lahore. Gujranwala is known for its extensive production of sugarcanes, melons and grains for exporting internationally. The city also has set up several commercial and industrial centres allowing the manufacturing of ceramics, iron safes,metal utensils, textiles, sanitary as well as tannery production. The city is also known for its wrestlers & bodybuilders. It has produced some of the finest wrestlers & bodybuilders of the sub-continent, which has resulted in the city to be called the "City of Wrestlers" or "Phelwana da shehar" in Punjabi. "Gold's Gym" is the most famous gym among all bodybuilders due to its unique and most advanced machinery. The city also arguably has some of the best barbecue food in the Punjab such specialities as Kebabs, Chicken Tikka and Lamb Chops.

Search Gujranwala on Satellite Map
Places of Interest | Hotels | Eating & Dining | Parks & Gardens | Educational Institutes | Hospitals | Sport Centers | Banks | ATM | Fuel Stations | CNG Stations | Police Stations | Shopping /Trade


History

The village of Asarur which has been identified as the location of Taki, an ancient town, visited by the Chinese pilgrim Hiuen Tsiang contains immense ruins of Buddhist origin. After the time of Tsiang little is know about Gujranwala til the Islamic conquests, by this time however Taki had fallen into oblivion while Lahore had become the chief city of Punjab. The district flourished during Mughal rule, from the days of Akbar to those of Aurangzeb, wells were scattered over the whole country, and villages lay thickly dotted about the southern plateau, now a barren waste of grass land and scrub jungle. Their remains may still be found in the wildest and most solitary reaches of the Bar.

Eminabad and Hafizabad were the chief towns (the later now part of a separate district), while the country was divided into six well-tilled parganas. But before the close of the Islamic period the tract was mysteriously depopulated. The tribes at present occupying the District are all immigrants of recent date, and before their advent the whole region seems for a time to have been almost entirely abandoned. The only plausible conjecture to account for this sudden and disastrous change is that it resulted from the constant wars by which the Punjab was convulsed during the last years of Mughal rule.

During the rise of Sikh power, the waste plains of Gujranwala were seized by the military adventurers who then sprang up. Charat Singh, the grandfather of Maharaja Ranjit Singh,took possession of the village of Gujranwala, then an inconsiderable hamlet, and made it the headquarters of himself and of his son and grandson. Minor Sikh chieftains settled at Wazirabad Sheikhupura, and other towns; while in the western portion of the District the Rajput Bhattis and Chathas maintained a sturdy independence. In the end, however, Ranjit Singh succeeded in bringing all the scattered portions of the District under his own power.

The Maharaja himself was born at Gujranwala, and the town continued to be his capital up to his occupation of Lahore. The mausoleum of his father is still to be seen there, and a lofty cupola close by covers a portion of the ashes of Ranjit Singh himself. The Sikh rule, which brought prosperity elsewhere, also appears to have been an unmitigated benefit to Gujranwala. Ranjit Singh settled large colonies in the various villages, and was very successful in encouraging cultivation throughout the depopulated plain of the Bar. In the Degh valley, especially,he planted a body of hard-working Hindus, the Labanas, to whom he granted the land at a nominal rent.

In 1847 the District came under British influence and two years later, in 1849, it was included in the territory annexed after the second Sikh War. A cantonment was established at Wazirabad, which was abolished in 1855. The District formed a part originally of the extensive District of Wazirabad, which comprised the whole upper portion of the Rechna Doab.

In 1852 this unwieldy territory was divided between Gujranwala and Sialkot. The District, as then constituted, stretched across the entire plateau, from the Chenab to the Ravi ; but in 1853 the south-eastern fringe, consisting of 303 villages, was transferred to Lahore, and three years later a second batch of 324 villages was handed over to the same District. There was no outbreak during the Indian Rebellion of 1857 and the Sikh Sardars and people rallied to the side of Government with the greatest enthusiasm.

According to the 1901 census the District had a population of 890,577 and contained 8 towns and 1,331 villages. Its population according to the 1881 census was 616,892 rising to 690,169 in 1891. The population increased by 29 per cent between 1891 and 1901 - the increase being greatest in the Hafizabad and Khangah Dogran tahsils, owing to the extension of canal-irrigation and the colonisation of the Bar.

At the time the district was divided into four tehsils namely: Gujranwala, Wazirabad, Hafizabad and Khangah Dogran (the headquarters of each being at the place from which it is named).

The chief towns during British rule were the municipalities of Gujranwala, the head-quarters of the District, Wazirabad, Ramnagar, Akalgarh, Eminabad, Kila Didar Singh, and the notified area of Sodhra.

During the British era the district of Gujranwala was part of Lahore Division.
Find more about History of Pakistan


Demography

According to the 1998 census of Pakistan the population of district was 3,400,940 of which 50.17% were urban. It is thus the third-most advanced district in Punjab,the population now stands at 4,308,905.



Government

Since the introduction of the local government system in 2001 the city has been governed by a Nazim (Mayor). In 2007, Gujranwala was reorganised as a City-District composed of seven autonomous towns:
Khiali Shah Pur Town

Qilah Dedar Singh Town

Aroop Town

Nandi Pur Town

Wazirabad Town

Kamoki Town

Noshehra Virkan Town
Education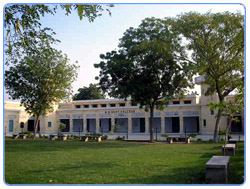 There are several colleges affiliated with the University of the Punjab which also operates a main campus offering courses such as LLB, BCom, MCom, and MBA. Another higher education institute is the GIFT University which also offer courses such as BBA, MBA, Computer Science, MBA, MSc Accounting & Finance, Textile and Design, M.A. English. There is also the Rachna Engineering University in Gujranwala.Punjab College of Commerce & Information Technology is one of the best college in Gujranwala which has grabbed 15 out of 18 positions in Gujranwala board, offering courses such as FSc, ICS, ICom, BCom, MCom, and MBA. Other colleges include Elite College of Commerce,
National college of Science, Superior College of Science, Government College for boys, Government College for girls, Government Islamia college,Workers Welfare School & College and Crescent College of Science. Quaid-e-Azam Divisional Public College is the biggest institution in the District. It has its own cricket oval and numerous buildings and is currently run by semi-Government and Board of Trustees.

Islamia college has started Msc. Chemistry in Gujranwala. It is affiliated with The University of Punjab. Another institute is the SOFT Solutions College. SOFT Solutions College is well rated among the private colleges in Gujranwala division. At the Community Development front, Gujranwala is also home to the Roshni Homes Trust, an orphanage that provides a home, a family and an education to orphaned and abandoned children. Beaconhouse School System Gujranwala is the only school in Gujranwala which offers both GCE O and A Level. It has achieved admirable results in both examinations, with its Alumni students currently studying in privileged institutions in Pakistan and abroad, such as Lahore University of Management Sciences and the Aga Khan University. Once there was also an Institution named Dublin Institute of Information Technology. Army Public School & College is one of the leading institution of Gujranwala which has produced many engineers, doctors, scientist in the past 30 years of excellence. Currently governed by Lt Col Atta-ur-Rehman it is making a variety of new techniques for skillful learnings. Swedish Group of Technical Institutes, Punjab is the Largest Technical Training Institutes in Pakistan which is providing the (Three Years Diploma of Associate Engineering DAE) Technical Education in nine(9) major cities of the Punjab like Gujranwala, Gujrat, Rawalpindi,Multan, Wah Cantt, Chakwal, Rahim Yaar Khan, Muzaffar Garh, Layyah and Bagh (AJK), in different Technologies like Electrical, Electronics, Mechanical,Chemical, Civil, Achitecture, Computer Hardware, Computer Information Technology, Telecommunication and Automation. Swedish Institute of Technology, Gujranwala is the Mother Institute of Swedish Group. This Institute is run by Al-Asar Technical Education Society, Gujranwala. St. Joseph's English High School was the first English medium school in the city, established in 1954. Future Vision School at Shaheenabad Gujranwala is another state of the art purpose build English Medium school
Find more about Worldwide Education


Transport links

The district has metalled road-length of 1413 Kilometres and is linked with Sialkot, Gujrat, Sheikhupura, Narowal, Hafizabad and Mandi Bahauddin districts through metalled roads.

The main Peshawar-Karachi railway line passes through Gujranwala district. The district is linked with Sialkot, Hafizabad and Gujrat districts through railway network.


Problems

There are many hospitals, clinics and NGOs in Gujranwala, such as the Sundas Foundation, Maa Foundation, Roshni Homes, Al-Rae Hospitals and Chatha Hospital on DC road (biggest private hospital in Gujranwala). The city hospitals are not designed to cope with huge amount of people which now reside in the city. Gujranwala still lacks cheap and proper medical treatment hence most people visit the hospitals in Lahore. Gujarnwala has only one decent Government hospital called DHQ (civil hospital) which is burdened by the patients from the city.

Broken Roads, trash, bad sewerage system and the habibs are one of the main problems.


Economy

Gujranwala is a major agricultural and industrial city of Punjab, Pakistan. The rural areas around Gujranwala produce a large variety of agricultural goods, the main crops are rice, wheat, cotton, potatoes, barley, grains, melons, sugarcane and pearl millet. Cultivation in the surrounding area are dependent upon canal irrigation provided by the River Chenab. The rice grown in the city is regarded as one of the best in Asia. The Gujranwala Chamber of Commerce and Industry (GCCI) shares a building with the zonal and circle offices of Habib Bank Limited, United Bank Limited, Allied Bank Limited and State Bank of Pakistan.

Gujranwala's industrial areas have numerous textile mills, cutlery manufacturing and large agricultural processing plants, Ceramics industries, electronic equipments and auto industry. Master Industries (which makes tiles, ceramics, sanitary, baby diapers and ballpoints and other stationery products) and Super Asia Industry (makers of electronic equipment like air conditioner, washing machines, fans, heat geysers etc) are two major industries of Gujranwala.Gujranwala is also famous for its plastic products, the big names are Boss, Citizen and Toyo.

Nowadays there are many industries which are making motorcycles like Toyo Industries, Super Asia and others.The major exports include rice, sugar, textiles, carpets, glass goods, medical equipment, leather products, metal utensils, agricultural equipment, and automotive machinery parts as well as producing machinery for military uses. The main source of energy is a hydro-electric project on the Chenab River. The city also has a dry port that has contributed a major part of the export growth for the city.
Find more about Worldwide Business & Economy

Culture

Gujranwala is a historical and cultural city situated north east region of the Punjab province. Gujranwala offers a number of sights and activities which the city has given the city its name. Since the city is known as the "City of Wrestlers", the city hosts a number of bodybuilding tournaments, Kabaddi matches as well as weightlifting. Food is the second most famous thing Gujranwala is known for. The city has developed a very distinct kind of barbecue foods ranging to suit every style and budget. People from all over Punjab travel to the city just to taste the different types of cuisine that the city is proud of. There are a range of recreational spots and landmarks in Gujranwala, the following are some of the most significant attractions.

Nishan E Manzil - It is one of the famous picnic spots in Gujranwala. It attracts a big crowd not only from Gujranwala but also from many other parts of Pakistan. The park has a memorial listing people that lost their lives for the country.

Gulshan Park - It is the central park for the city of Gujranwala with playgrounds, picnic spots, boat/train rides and a large lake.

Food Street, Gujranwala - A street dedicated to Pakistani cuisine reflecting the culture and traditions of the city.

Jinnah Stadium - An international cricket stadium which hosts international/domestic tests and ODIs.

Gold's Gym - It is one of the most famous gym in Pakistan with its unique and most advanced machinery.

Nishat Cinema - A famous entertainment center with shows Pakistani and Indian movies as well as recreational and musical events.

Jinnah Park - A newly built park at G. T. Road, Lahore Side from center of the city facilitate the citizens of Gujranwala.

Pace Shopping Center - A large chain shopping center. There are hundreds of shops and restaurants in Pace. Here you can purchase virtually everything of the world.

Jinnah Library - A historical library located at the Trust Plaza.

Rail Bazaar - One of the oldest bazaars in the city. It is fulfilled with many garment, arts and crafts and clothing shops to suit all tastes.

Other Bazaars/Markets: Satellite Town Market, Model Town Market, Wapda Town Market, Bank More Cantt Market, Butta Plaza and Sialkoti Gate.

Liaqat Bagh - one of the old park in the city. Newly renovated by the city government to meet international standards.

Other Parks: Dhobi Ghat Ground, 4 Park, Toti Bus wali Ground and Gol Park also famous.

Other Cinema Halls: Zinco and Kasmir Mehal
Find more about Culture of Pakistan , People, Art & Culture


Major Tribes

The Jats are a major tribe. The principal clans are Chadhari, Bhatti ,Virk, Assoun, Chattha, Cheema,Sandhu, Dhariwal, Dhotar,Ghumman, Gill, Goraya, and Tarar. The foregoing Jat clans are mostly found in rural areas. However the urban area has a different picture.Urban area is filled with the casts which are in local language called Kami's. Lohars(Blacksmiths),Kamhars and other artisan casts i.e.Sheikh and Insari(Jolahay) are in the majority. Kashmiri muhajirs as a caste also have a big share. Jats are fewer in the city.

Mughal

Principal clan of Gujranwala


Food & Beverage

No trip to Gujranwala can be complete without visiting at least one of its many enticing restaurants.During our research we saw each and every eatery places of Gujranwala. Fortunately I was appointed again for food research by Smeda in Gujranwala after Lahore for food and restarent research. Gujranwala is foremost name in kabab & Bar-b-Q, Gujranwala is located on G.T road, which can be manipulated properly to give a boost to food industry, People use G.T road for traveling from Islamabad to Lahore and vise verse. One of the most unique aspect of this city is bar-b-q ,

Lone Palace is a marriage and banquet hall. It enjoys tremedous welcome from the citizens after its inauguration on November 6, 2009. The gorgeous and suplended outlook of the building combines ever celebrated Mughal architecture with the modern one. The building,in reality, is a notable addition to the beauty of the city... the most dignified building of the city. Its food flavours traditional taste and freshness. However, general serving is awaited yet. They serve only parties.

Food Street A small food street with name of Liberty Market is also established in Gujranwala. Renowned restaurants like Hot Grill restaurant (Closed), Quick Pizza Hut and Fry Master are providing high services. After Shebaz Tikka Shop it's the busiest food area in Gujranwala.

Shelton Hotel besides these traditional spots, Shelton Hotel has been providing % different types of cuisine since 1987 in Gujranwala, and also providing banquet and other horteling services.

Royal Garden In 2002, Royal Garden Hotel started its operations in Gujranwala. This restaurent also provides variety of cuisine aling with restaurantservices.

Marian Hotel Marian hotel was brought a great change in tradintional and continental cuisine in Oct. 2006, This restaurant also provides the same services as Royal Garden Hotel does but it has created different through its environment which is modern but with a traditional artistic touch.

Hotel Global Village Hotel Global Village is also a great name in traditional and continental cuisine. It has facilities of restaurant as well as Marriage Hall along with a beautiful Marriage Lawn. Hotel Global Village situated near Rahwali Cantt opposite DC Colony, a famous modern housing colony at G T road N5.

Fast Junk Food Many small restaurant have also started their operations in Gujranwala in last five years. Among those restaurants famous names are Salva Restaurant,Chanab Rutt, Usmania Restaurant, etc, there are also many fast food outlets in fried chicken such as HFC, AFC and in pizza KIng Pizzaetc, whose branches are spread all over the city.

Picking Restaurant Picking Restaurant is new addition in cuisine market of gujranwala, and other sea food specialist, it is located in downtown area of the city, Model Town. It has been serving their Chinese and local stuff to their customers. Their Pakistani continental also grabing market share.


Ghanni kay Pai Ganni kay pai once in a life time u should eat, from across the Pakistan, families come to eat here Shabaz Tika you 'll find variety of dishes, including grilled foods, Batair, Tikka, Chiray(sparrow), rice dishes, curry, and everyone's favorite, desserts here.we visited this place with Trade development authorities of Pakistan's directors,its menu offers a combination of continental food, local cuisine and dessert. The focus being the main entrées on the desi menu; curries, kebabs, barbecue dishes, naans chicken dishes. The upside is the manner in which the waiters dealt with it once the complaint made its way to their very distracted ears: eager to solve the issue at hand, the waiter presented us with a light shade ala napkin. Points down for the lack of elegance but the round went to the house for good service.


Allah Rakha. Allah Rakha is famous for its chiken karahi & Seekh Kabab(Ground beef grilled on skewers marinated with aromatic herbs and succulent spices). Chops(Goat chops grilled).Dal Fry with fresh cilantro, green peppers.

Briyani Express is new addition in Gujranwala traditional food, when we started research it was first place where we went. rice was fluffy and tempting blended with saucy chiken.

Pizza Hot is a new arrival in the food choieces in the limits of Gujranwala Cantt. offering the best quality of pizza in gujranwala.also offering the best quality of services at the site and free home delivery with buy one get one free.


Media

Gujranwala TV (GTV) is the first community based TV channel started in 1999, just with the motive to upgrading minds through media, in the channels 10 years history it covers almost all aspects of Gujranwala life, sports, Industry news, educational debates, showbiz and social activities.TVR is an upcoming project of The Renaissance group expected to be launched in 2010.
Find more about Worldwide Media & News