Demographics | History | Sites of Interest | Agriculture | Tribes | Notable People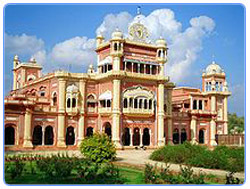 Khairpur District (Urdu: خیر پور) is a district in the Sindh province of Pakistan. The district has an area of 15,910 square kilometres and is headquartered at the city of Khairpur

Khairpur is the twelfth largest city in the province of Sindh in southeast Pakistan. It is the capital of the modern Khairpur District and was the capital of the former princely state of Khayrpur. This city produced hundreds of great leaders, folk singers, artists and scholars. The great mystic Sufi Sachal Sarmast, who was from this city. This city is famous for its dates, known in the Sindhi language "Khark", and in Urdu as "Khajoor".

Location
Khairpur District is located in northern Sindh and is bounded on the north by Shikarpur and Sukkur, on the east by India, on the south by Sanghar and Nawabshah and on the west by Larkana and Naushahro Feroz and derives its name from the town


Search Khairpur on Satellite Map
Places of Interest | Hotels | Eating & Dining | Parks & Gardens | Educational Institutes | Hospitals | Sport Centers | Banks | ATM | Fuel Stations | CNG Stations | Police Stations | Shopping /Trade

Demographics

According to the 1998 census of Pakistan, the district had a population of 1,546,587 of which 23.23% was urban. The average annual growth rate of the population is 2.71%. As per definition of Board of Revenue Sindh, a place of human habitation having at least ten houses is called a settlement. There are 1,709 rural settlements in the district having population of 200 to 1000+ people.

Following are the demographic indicators of the district as per the 1998 census of Pakistan (Hindus and Christians as well as Urdu speakers are mainly concentrated in the urban areas)
Religion

Islam 96.86%
Hinduism 2.93%
Christianity 0.09%
Ahmaddiya 0.07%
Others 0.04%


Languages

Sindhi 93.85%
Punjabi 3.16%
Urdu 1.37%
Baluchi 0.70%
Seraiki 0.34%
Pashto 0.25%
Others 0.33%
Main article, Khayrpur (princely state)

Mir Ali Murad Talpur II in 1953Khairpur State was ruled by Talpur Mirs (ameers) of the Talpur dynasty from 1783 to 1955. In 1947, when Pakistan gained independence, Khairpur Mir's was one of the princely states that opted to join Pakistan. In 1955, the Government of Pakistan announced the abolition of all the princely states and Khairpur Mir's was annexed into the then province of West Pakistan.

6 June 1963 on 2:00 pm: about 600 Shia's were killed by the students of a religious Maderassa at Theri village during a religious procession (Ashura, the tenth day of the Muslim month of Muharram)

Sites of Interest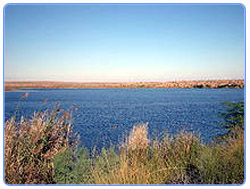 Khairpur is dotted with historical sites. The Kot Diji Fort, said to be built by the Talpurs, stands on a high hill with massive walls surrounding an elaborate complex of exquisite homes, ornate canopies, marbled courtyards, promenades and long corridors with arched entryways. The corridors run along deep rooms which now lay dark and can get infested with bats. Another architectural classic is the Faiz Mahal, built in 1798 as the palace of the Talpur family in Khairpur Mirs. Besides, there are other palaces, tomb sites in Kot Diji and the surrounding areas. The present successor of the Talpur Dynasty, Mir Ali Murad Khan Talpur, who acceded to the Pakistani state in 1956, is a conservationist and has to his credit an impressive wildlife sanctuary called the Mehrano, known for its black buck, and hog deer, both of which have become rare in Sindh.

The north-western part of Thar Desert lies in Khairpur district. Rohri Hills are a tourist attraction for the tombs of Pir Ubhan Shah near Kotdiji, Shadi Shaheed near Layari, Tehsil Kotdiji and Pir Baqir Shah near Choondko. Mehrano, Nara, Kalmi Quran, Thar Dhani, shah jee machine at solangi and many other sites also draw tourist traffic.

Tomb of Jamal Shah is located on the bank of Jamal Shah lake. Water of this lake is popular for the treatment of skin diseases. Many people come to take bath from this lake and they get healthy.

Bachal Shah Jo Pawrho, the neighbourhood of Bachal Shah, is one of the oldest settlements of the town of Khairpur. It is named after the Sufi Saint Bachchal Shah whose shrine is located in the neighbourhood. A three-day festival is celebrated every year at the shrine. The neighbourhood sits by Khairpur's main irrigation artery, Mirwah, meaning the Mir canal


Agriculture

Khairpur is noted for its bountiful harvest of dates. However, the soil is suitable for many cash crops including cotton and wheat. The dry, hot climate makes the fruit very sweet, supple and juicy. It is very hot and sunny during the summer and cold in winter. Humidity is low. Khairpur gets its water through a web of canals coming out of River Indus. Mir Wah is the main source of irrigation and drinking water.



Economy

Khairpur trades in wheat, cotton, and dates and is linked by road and rail to Karachi. Manufactures include refined sugar. Prior to the annexation of the state in to Pakistan in 1955, Khairpur was an industrially much more advanced than Pakistan producing leather goods, carpets, silk clothing, matches, soap, shoes, cigarettes to name a few. It also had the largest factories in textiles, tobacco redrying, and silk weaving in the sub-continent.

It has some fine historic buildings notably the Faiz Mahal


Tribes

Major Tribes Are :_ Talpur, Jamali, Thebo, Gajani, Shah, Tagar, Jillani, Khuwaja, Abro, Memon, Shaikh, Phulpoto, Wassan, Rind, Leghari, Jagirani, Jatoi, Lashari.
Ali Murad Talpur - former ruler of the princely state of Khairpur

Qaim Ali Shah - current Chief Minister of Sindh province

Ghous Ali Shah - former defence minister of Pakistan and former Chief Minister of Sindh province

Abdul Hameed Dogar - former Justice of the High Court of Sindh and former Justice of the Supreme Court of Pakistan

Sachal Sarmast - eighteenth-century Sufi poet

Babar Ali Jamali - Next Leader Of Sindh.