History | Geography | Language | Tribes & Clans | Infrastructure | Industry and Agriculture | Landmarks | Cricket Players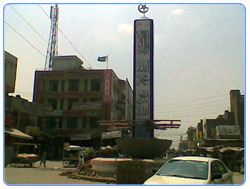 Khanewal is district in the province of Punjab, Pakistan. It most widely known for being the host city to the second largest Train Station in Pakistan. The largest Train Station in Lahore, which is the capital of Punjab. It is also the home town of two Pakistan's national cricket team's players: Shabbir Ahmed and Iftikhar Anjum, Well known great cricketer Amir Gujjar also belongs to khanewal.

According to the 1998 census of Pakistan, the district had a population of 2,068,490 of which
17.42% were urban



Search Khanewal on Satellite Map
Places of Interest | Hotels | Eating & Dining | Parks & Gardens | Educational Institutes | Hospitals | Sport Centers | Banks | ATM | Fuel Stations | CNG Stations | Police Stations | Shopping /Trade

History

The district of Khanewal was created in 1985 out of the two tehsils of Multan District, namely Kabirwala and Mian Channu. Its boundaries meet the districts of Jhang and Toba Tek Singh on the North, Sahiwal on the East, Vehari District on South and with Multan on the West.


Historically Khanewal is an old city having its earliest foundations laid by the British Empire owing to its importance as a railway junction. The city was a junction of the Wazirabad -Khanewal railway line and provided a connection to the city of Karachi via Multan. Its straight roads show that it is a well planned town by the British people. The earliest settlers are said to be the Dahas like Khan Haibat Khan Daha,and Khatters like sardar Iftikhar Ahmed Khan Khatter who have the 'Khan' in their names and the city was named after them as Khan-e-wal. Khanewal was declared district in 1985.
Find more about History of Pakistan


Geography

Underground water resources are generally adequate throughout the district. The subsoil water is sweet throughout the district and suitable for industrial purposes. There is no mentionable nullah available in the district. However, effluent of industry can be disposed of in the rivers,namely Chenab and Ravi,after pretreatment, with permission from Irrigation and Power Department, Government of the Punjab. There are 26 telephone exchanges operating in the district (ranging in capacity from 200 lines to 7200 lines). Cellular phone services are also available in the district. 20 National Bank Branches, 24 Post Offices, Toatal Area 1058641 Acres, 7 Textile Mills, 1 Sugar Mill, 71 Cotton ginnign Factories, 17 Police Stations,


Language

About 63% of population of district speak Punjabi language. Saraiki is the second most widely spoken language by 26% of population.Others languages spoken are urdu,pushto & hindko.

Tribes & Clans

The district is home to a variety of clans, the principal ones being the Kamboh, Arian, jatt, Hiraj, jat, Niazi, Utra, Gujar, pathan, Chadhrar,Rajput, Sahu,and Rehmani, Khiarah


Infrastructure

The district has a total metalled road-length of 1208 kilometres. The district is linked with Multan, Lodhran, Sahiwal, Vehari, Toba Tak Singh, and Jhang districts through metalled roads.The main Peshawar-Karachi railway line passes through Khanewal district. The district is linked with Multan, Lodhran, Sahiwal and Jhang districts through railway network.


Industry and Agriculture

Khanewal is an agricultural city and is located in Pakistan's 'Cotton belt' - an area covering Khanewal, Multan and Bahawalnagar. It is known to produce the finest cotton in the World. However over the last 40 to 50 years industry has also been established in and around the city. Sir
William Roberts established cotton trading and ginning installations in the area known as Brooke Bond which is now called Unilever, a company that specialises in making tea. There are over 900 workers employed by Unilever. The people of Khanewal are hard working and mostly committed to agricultural activities which is the main source of income for the people of the district. Other industries in Khanewal include chemical production and oil extraction. This has added to Khanewal's economy, growth and prosperity


Landmarks

One of the most famous landmarks in Khanewal is the Jangle Wali Kothi, the foundation stone of which was laid in 1913 by a Railway Engineer posted to Khanewal Railway Junction during the colonial period.Another place which is regarded as the oldest in suburbs of Khanewal is Kothi of Amir Baksh Khan Bhutta. The Khanewal junction is also a landmark as some parts of it have remained unchanged for over 130 years. Khanewal also has some other colonial landmarks dating back from the early 20th century, all private properties, but truly historic. A few of these properties were built and used by Sir William Roberts who is considered along with several others as one of the founding fathers of Khanewal and the famous farms outside Khanewal.


Notable Cricket Players from Khanewal

Masood Anwar is a former Pakistani cricketer who played in one Test in 1990.he is still serving cricket in karachi for ubl. he has got a brother called awais anwar also playing first class cricket.faboulous talented familyRana Shabbir Ahmad is a line-and-length pace bowler who took eight wickets for 109 runs on his Test debut against Bangladesh. Rao Iftikhar Anjum was selected for the Pakistani squad to play in the 2007 Cricket World Cup.