By Zahid Ikram
Science in Quran :  Communication & Transportation
<![if !supportLists]>§ <![endif]>Communication By Ants & Hoopoe
<![if !supportLists]>§ <![endif]>Means Of Transport
COMMUNICATION BY ANTS & HOOPOE
سُوۡرَةُ النَّمل
بِسۡمِ ٱللهِ ٱلرَّحۡمَـٰنِ ٱلرَّحِيمِ
حَتَّىٰٓ إِذَآ أَتَوۡاْ عَلَىٰ وَادِ ٱلنَّمۡلِ قَالَتۡ نَمۡلَةٌ۬ يَـٰٓأَيُّهَا ٱلنَّمۡلُ ٱدۡخُلُواْ مَسَـٰكِنَڪُمۡ لَا يَحۡطِمَنَّكُمۡ سُلَيۡمَـٰنُ وَجُنُودُهُ ۥ وَهُمۡ لَا يَشۡعُرُونَ (١٨)
Then, when they reached the Valley of the Ants, an ant said: "Ants! Enter your dwellings, so that Sulayman and his troops do not crush you unwittingly." (Quran, 27: 18)
یہاں تک کہ جب چیونٹیوں کے میدان میں پہنچے تو ایک چیونٹی نے کہا کہ چیونٹیوں اپنے اپنے بلوں میں داخل ہو جاؤ ایسا نہ ہو کہ سلیمان اور اس کے لشکر تم کو کچل ڈالیں اور ان کو خبر بھی نہ ہو (۱۸)
فَمَكَثَ غَيۡرَ بَعِيدٍ۬ فَقَالَ أَحَطتُ بِمَا لَمۡ تُحِطۡ بِهِۦ وَجِئۡتُكَ مِن سَبَإِۭ بِنَبَإٍ۬ يَقِينٍ (٢٢)
But he (the hoopoe) was not long in coming, and he (the hoopoe) said: I have found out (a thing) that thou apprehends not, and I come unto thee from Sheba with sure tidings. (22
ابھی تھوڑی ہی دیر ہوئی تھی کہ ہُدہُد آ موجود ہوا اور کہنے لگا کہ مجھے ایک ایسی چیز معلوم ہوئی ہے جس کی آپ کو خبر نہیں اور میں آپ کے پاس (شہر) سبا سے ایک سچی خبر لے کر آیا ہوں (۲۲)
<![if !vml]>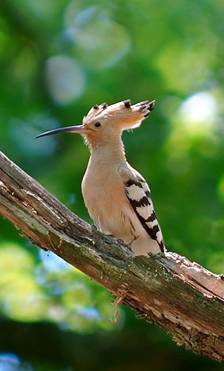 <![endif]>The Quran indicates, when recounting Prophet Sulayman's (as) life, that ants and hoopoe (bird) have a communication system:
Scientific research into ants has revealed that these tiny animals have very organised social lives and that, as a requirement of that organisation, they also have a very complex communication network. <![if !vml]>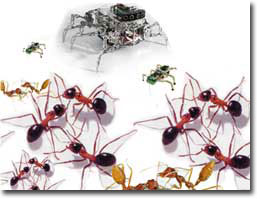 <![endif]>For example, National Geographic reports that:
Huge and tiny, an ant carries in her head multiple sensory organs to pick up chemical and visual signals vital to colonies that may contain a million or more workers, all of which are female. The brain contains half a million nerve cells; eyes are compound; antennae act as nose and fingertips. Projections below the mouth sense taste; hairs respond to touch.
Even if we are not aware of it, ants use a variety of methods to communicate, thanks to their very sensitive sensory organs. They use these organs at all times, from finding prey to following one another, and from building their nests to waging war. With 500,000 nerve cells squeezed into their 2-3 mm bodies, they possess a communications system that astonishes human beings.
<![if !vml]>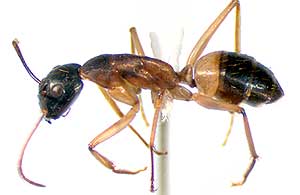 <![endif]>The reactions in their communications have been divided into several specific categories: alarm, recruitment, grooming, exchange of oral and anal liquid, group effect, recognition, caste determination…
Ants, which establish an ordered society by means of these reactions, live a life based on the mutual exchange of information. To bring about this exchange, they sometimes exhibit more flawless communication in areas that human beings often cannot resolve through speech, such as coming together, sharing, cleaning, and defense.
Ants mainly communicate on the chemical level. These semi chemicals, known as pheromones, are chemical compounds that are perceived by smell and secreted by internal glands. In addition, they play the most important role in organizing ant societies. When an ant secretes a pheromone, the other ants receive it by means of smell or taste and duly respond. Research into ant pheromones has revealed that all signals are emitted according to the needs of the colony. Moreover, the intensity of the pheromone emitted also varies according to the urgency of the situation at hand.
As we have seen, ants require a profound knowledge of chemistry to do what they do. The fact that the Quran emphasized this fact 1,400 years ago, a time when there was no such knowledge about ants, is another one of its scientific miracles.
Space scientists are looking for other living/ intelligent creature in the outer space, Quran is emphasizing on communication with creatures on earth before we can speak to aliens.
سُوۡرَةُ یسٓ
بِسمِ ٱللهِ ٱلرَّحمَـٰنِ ٱلرَّحِيمِ
وَءَايَةٌ۬ لَّهُمۡ أَنَّا حَمَلۡنَا ذُرِّيَّتَہُمۡ فِى ٱلۡفُلۡكِ ٱلۡمَشۡحُونِ (٤١) وَخَلَقۡنَا لَهُم مِّن مِّثۡلِهِۦ مَا يَرۡكَبُونَ (٤٢)
Ya-Seen , 36:41-42
In the name of Allah, the Beneficent, the Merciful
A Sign for them is that We carried their families in the laden ship. And We have created for them the like of it, in which they sail.
سورة یسٓ
شروع الله کے نام سے جو بڑا مہربان نہایت رحم والا ہے
اور ایک نشانی ان کے لئے یہ ہے کہ ہم نے ان کی اولاد کو بھری ہوئی کشتی میں سوار کیا (۴۱) اور ان کے لئے ویسی ہی اور چیزیں پیدا کیں جن پر وہ سوار ہوتے ہیں (۴۲)
سُوۡرَةُ الشّوریٰ
بِسۡمِ ٱللهِ ٱلرَّحۡمَـٰنِ ٱلرَّحِيمِ
(٣١) وَمِنۡ ءَايَـٰتِهِ ٱلۡجَوَارِ فِى ٱلۡبَحۡرِ كَٱلۡأَعۡلَـٰمِ (٣٢) إِن يَشَأۡ يُسۡكِنِ ٱلرِّيحَ فَيَظۡلَلۡنَ رَوَاكِدَ عَلَىٰ ظَهۡرِهِۦۤ‌ۚ إِنَّ فِى ذَٲلِكَ لَأَيَـٰتٍ۬ لِّكُلِّ صَبَّارٍ۬ شَكُورٍ (٣٣)
Ash-Shura
In the name of Allah, the Beneficent, the Merciful
And of His portents are the ships, like banners on the sea; (32) If He will He calmeth the wind so that they keep still upon its surface - Lo! herein verily are signs for every steadfast grateful (heart). - (33)
سورة الشّوریٰ
شروع الله کے نام سے جو بڑا مہربان نہایت رحم والا ہے
اور اسی کی نشانیوں میں سے سمندر کے جہاز ہیں (جو) گویا پہاڑ (ہیں) (۳۲) اگر خدا چاہے تو ہوا کو ٹھیرا دے اور جہاز اس کی سطح پر کھڑے رہ جائیں۔ تمام صبر اور شکر کرنے والوں کے لئے ان (باتوں) میں قدرت خدا کے نمونے ہیں (۳۳)
سُوۡرَةُ الرَّحمٰن
بِسۡمِ ٱللهِ ٱلرَّحۡمَـٰنِ ٱلرَّحِيمِ
وَلَهُ ٱلۡجَوَارِ ٱلۡمُنشَـَٔاتُ فِى ٱلۡبَحۡرِ كَٱلۡأَعۡلَـٰمِ (٢٤)
Ar-Rahman 55:24
In the name of Allah, the Beneficent, the Merciful
His are the ships displayed upon the sea, like banners. (24)
سورة الرَّحمٰن
شروع الله کے نام سے جو بڑا مہربان نہایت رحم والا ہے
اور جہاز بھی اسی کے ہیں جو دریا میں پہاڑوں کی طرح اونچے کھڑے ہوتے ہیں (۲۴)
<![if !vml]>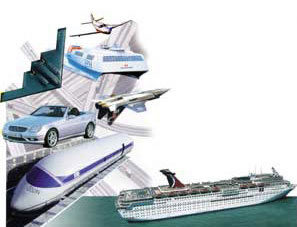 <![endif]>The above verses indicate that in addition to the animals and ships, people will have various unknown (to them) means of transport. The following verse points to the fact that there will be such mass modes of transport as ships:
سُوۡرَةُ النّحل
بِسۡمِ ٱللهِ ٱلرَّحۡمَـٰنِ ٱلرَّحِيمِ
وَٱلۡخَيۡلَ وَٱلۡبِغَالَ وَٱلۡحَمِيرَ لِتَرۡڪَبُوهَا وَزِينَةً۬‌ۚ وَيَخۡلُقُ مَا لَا تَعۡلَمُونَ (٨)
An-Nahl 16:8
In the name of Allah, the Beneficent, the Merciful
And horses, mules, and donkeys both to ride and for adornment. And He creates other things you do not know.
سورة النّحل
شروع الله کے نام سے جو بڑا مہربان نہایت رحم والا ہے
اور اسی نے گھوڑے اور خچر اور گدھے پیدا کئے تاکہ تم ان پر سوار ہو اور (وہ تمہارے لیے) رونق وزینت (بھی ہیں) اور وہ (اور چیزیں بھی) پیدا کرتا ہے جن کی تم کو خبر نہیں (۸)