AZAD KASHMIR
A PARADISE ON EARTH
A Fascination Yet Unexplored
The territory of Azad Kashmir is dotted with a vast chain of scenic and natural beauty spots amidst flowing streams, gushing springs and flowering plants. The mountain tops over the valley look like circular and rectangular caps. The panorama is really enchanting.

The valley rivals those of Kaghan and Swat in beauty and boasts of remarkable alpine scenery. It is bounded to the east by the line of control or (ceasefire line) with Indian held Kashmir.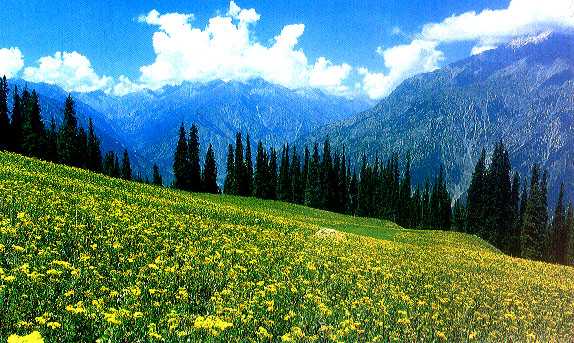 Azad Kashmir extends from the plains of Mirpur at the northern edge of the Punjab through the outlying foothills of the Himalayas, to the mountains in the north at 6,000 meters above sea level. It is drained by three major rivers, the Jhelum, the Neelam and the Poonch whose valleys are very beautiful.

There are four districts of Azad Kashmir namely Muzaffarabad, Poonch, Kotli and Mirpur. These districts abound in natural beauty and rivers and streams flow throughout Azad Kashmir. All the four districts have lush green forests which provide cool breeze and foliage to the visitors.

Roads are the only means of transport in Azad Kashmir and play a basic role in the development of the territory. The area of Azad Kashmir is 8214 square kilometers land strip in the shape of a crescent moon, 400 km in length with width varying from 15 to 60 km.

The terrain is mostly rugged and mountainous with 15,000 feet high mountains in north-west touching the Punjab plains. The area is criss-crossed with rivers and numerous nullahs.

The total length of roads in Azad Kashmir is 1170 km of metalled and 850 km of fair-weather roads in addition to 1330 km miles of link roads.