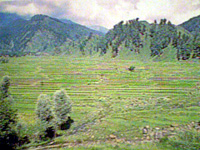 The hill station of Chikar, 43 km from Muzaffarabad has grown into a fairly large township. Three miles from Chikar is the hill station known as Loonbagla which is situated in the middle of a vast range of densely grown forests.

The outstanding features of this hill station are its healthy climate and picturesque surroundings.

Chikar is linked with Muzaffarabad by a motorable road and is connected with Bagh in Poonch district via Sudhan Gali.