Languages | History | District Boundaries | Tribes and Clans | Population and Literacy Rate | Industry | Development Projects | Enjoyment Places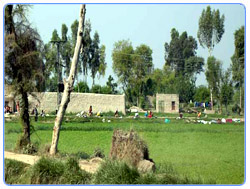 Bahawalnagar District is a district of Punjab province in Pakistan. The district is situated on the border, before the independence of Pakistan, Bahawal Nagar was a part of Bahawalpur state governed by the Nawab of Bahawalpur. The town of Bahawalnagar is the capital of the district.

Search Bahawalnagar on Satellite Map
Hotels | Eating & Dining | Parks & Gardens | Educational Institutes | Hospitals | Sport Centers | Banks | ATM
Fuel Stations | CNG Stations | Police Stations | Shopping /Trade


Languages

Punjabi is main language of the people. Urdu is after Punjabi.Siraiki is also a very well spoken language in maroot area.The Bahawalnagar city is names as SHAHR-e-WAFA as people are very loving and caring here.Beautiful grassy fields,ongoing canals and revir sutluj put the city into a marvellous piece of earth where canal sings sweet songs and trees dancing with them. And Imtsal Ahmad famous poet is also the citizen of bahawalnagar.


History

The Nawab of Bahawalpur announced the affiliation with Pakistan because 99% of the population was Muslim. Later on, the whole state became part of the Punjab province. The city is known as Shaher-e-Wafa. The old name of Bahawalnagar was Rojhan Waali". The people are very hospitable and friendly.
Find more about History of Pakistan


District Boundaries

The boundaries of Bahawalnagar District in the East and South shares boundaries with Ferozpur district of Indian Punjab and Shriganaganagar district of Rajsthan state of India.the river Sutlej flows on its Northern side from the disputed claimed area of Ferozepur across which are situated Okara, Pakpattan and Vehari districts.


Tribes and Clans

Bahawal Nagar is an old district and even before partition it was the biggest district areawise in South Asia. People living here are settled since ages with rich culture and heritage. Basically people are agriculturists and during Nawab Bahawalpur rule the irrigation system was one of the largest fed by River Sutluj. Main tribes with various subtribes are; WattooKhokhar,', Malik, MUSLAH (BRAVE TRIBE IN BWN )'Bhatti' Mahar,Lodhi(Pathan),Rajput, Arain, and Mohal, Gorgani, Joyias, Sukheras, Khakwani, Chishti and many other small clans. Most progressive are Arain, Jatt, Wattoo and Gorgani.Famous political persons are Malik Qasim,Mian Khadim Hussain Wattoo CH. Mushtaq Ahmed Khan Gujar and his brother Haji Ikhlaaq Ahmed(BahawalNagar: Syed Mumtaz Gillani (MNA PPP), Mian Manzoor Mohal(Deputy Speaker),Mian Mohd Khan Mohal(Deputy Commissioner), Abdul Qadir Shaheen, S.D.Shad, Rana Abdul Rauf, (Haroon Abad: ...Afzal Sindhu (MNA PPP), Abdul Sattar Lalaika, Shaukat Basra, (Chishtian: Chaudhary Abdul Ghaffoor, Tahir Bashir Cheema, Mumtaz Maharvi, (Fortabas:Ijaz Ul Haq Ex. Fedral Minister, Ch. Arshad Leader, Shahid Anjum MPA, Ch. Nazir Ahmad, M bashir,Mian Iftikhar Ahmad, Rauf Khalid (Minchinabad: Main Sardar Khan Wattoo, Shaukat Lalaika. Mian Muhammad Akram Sarhu(Minchin Abad). Mian Maqbool Sarhu(Hasil Sarhu).


Population and Literacy Rate

The population of Bahawalnagar, according to the 1998 Census of Pakistan, is 2,061,447 of which 18.80%. The sub-Campus of Islamia University is also located here. The literacy rate of Bahawalnagar is LESS THAN 25% and unemployment rate is much HIGHER THAN 25%.".

Presently the MBA, BBA, M.Com. B.Com. (Honors and IT), MA English, MA Education, MA Urdu, MA Islamiyat, MA Economics, MSc Psychology, MA Punjabi, M.Ed, B.Ed and much more programmes are provided by government owned institutions.

The Government College of Commerce Bahawalnagar offers M.Com, B.Com, D.Com, and CCA programmes . The college normally occupies positions in Top 10 positions in IUB and Punjab Board of Technical Exams.


Industry

Main Towns: Mecload Gunj ,Ratteka, shah kram ,Neza Jodheka, 240khokran wali, Kharajpura, Donga Bonga, Takhat Mehal, Mandi Sadiq Gunj, Mandi Gorgan, Faqirwali, Madrisa, Dahranwala, Yateemwala, Maroot, Qaziwala and Bukhshan Khan, Bala Arain, Fateh Kot, Maharwali, Jenjeranwali and madina town.

Main Crops:
Sugarcane
Cotton
Wheat
Rice
Tobacco
Mustard Seed
Main Fruits
Citrus
Guavas
Mangoes
Dates
Main Vegetables
Cauliflower
Onion
Turnip
Carrot
Potatoes
Tomatoes
Forest Area in Acres: 24,195

Major Industries
Cotton Ginning & Pressing
Flour Mills
Marble Industry
Oil Mills
Paper & Paper Board
Rice Mills
Sugar
Tea Blending
Textile Spinning.
In The Bahwalnagar New fm Channel Super fm90.Its Working So Heard For Civlisation Of city. Town Meclod Gunj is very progressive city of the BWN. There are lot of Educational Institution such as The , Pakistan public school and Kargel public school.


Development Projects

Now a days many projects like sewerage, gas, construction of roads e.t.c are under process but due to paradox in the policies of the govt departments, the whole system is in a state of debacle. No proper law and order is present, traffic sargents standing on busy roads take bribes openly, they enjoy tea with jalabian(a type of sweet)while teenagers perforM dangerous stunts like onewheeling with silencers off,carts run parallel to cars n trucks. nazim and other higher officials are busy in embezzlement, trying their level best to push the area towardsdebacle.

Kawish Welfare Trust Projects

Kawish Welfare Trust has successfully established and running several schools under the name of IQRA PROJECT in District Bahawalnagar. Students are taken in for a period of three years, during which they are provided free education under a structured and rigorous plan. Further support is made available in the form of free books, stationary and uniforms. After the completion of the period of three years the students appear in the board level exams. Special care is taken in the case of Orphans and they are also supported by a monthly stipend. Schools which complete tenure of 03 years, appear in the primary board examination and considered as passed out. These passed out schools are replaced with a new school. Alhamdulillah, IQRA Schools have 100% results so far in primary board examination.

Kawish Welfare Trust has expanded its Education Project beyond the provision of primary education with the name of IQRA PLUS MIDDLE SCHOOL. Students are being taught courses upto Class 8th along with Computer Basic Education, so that they become proficient in computer usage and data entry. In this way the students will be able to get jobs based on their skills and thus,they will be able to stand on their own feet.

Kawish Welfare Trust started its course of actions in the medical field by establishing a dispensary twenty kilometers away from the Bahawalnagar city in the Budhanwala Settlement, which is eight kilometers of the main highway. Over time it has been upgraded to an extended dispensary or basic level hospital. Till date it has treated twenty six thousand plus patients. Along with this multiple eye camp have been held on the site during which over three hundred surgeries were conducted for lens transplant and three times as many patients were treated in OPD. All of these services are provided at subsidized rates to the patients. Since 1st January 2006, keeping in mind the need of local women Kawish Welfare Trust has established the Gynae Section in the hospital. For this purpose arrangements have been made with the Bahawalnagar CMH in case of any complication in delivery. To assist in this an ambulance has also been recently procured. At present expansion of the hospital is under progress and efforts are being made to acquire further equipment and facilities for the hospital. In November, 2007 an operation theater for Eye Surgeries with all necessary equipment has been established to conduct eye surgeries on the last Sunday of every month.



Enjoyment Places

There are many enjoyment places in this city. For teenager boys most popular amonst them are KASHIF FAMILY PARK and the road of EDUCARE SCIENCE ACADMEY where they enjoy feminine beauty sitting on their bikes and showing off trying to impress girls, throwing their mobile numbers in the hope for friendship. For old people there is a Zoo(mostly monkies) where they take their grand kids and spend a hell of a boring time.