History | Climate | Government | Economy | Arts and Culture | Architecture | Fashion, Shopping and- Entertainment | Sports | Education | Media | Infrastructure | Health and Medicine | Popular Culture | Crime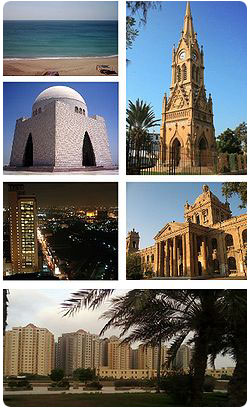 Karachi (Urdu: کراچی, Sindhi: ڪراچي) is the largest city, main seaport and the financial capital of Pakistan, and the capital of the province of Sindh. With a city population of 15.5 million, Karachi is one of the world's largest cities,13th largest urban agglomeration and the 20th largest metropolitan area in the world. It is Pakistan's premier centre of banking, industry, and trade. Karachi is home to Pakistan's largest corporations, including those that are involved in textiles, shipping, automotive industry, entertainment, the arts, fashion, advertising, publishing, software development and medical research. The city is a major hub of higher education in South Asia and the wider Islamic world. Karachi is ranked as a Beta world city.

Karachi enjoys its prominent position because of its geographical location on a bay, making it the financial capital of the country. It is one of the fastest growing cities in the world. It was the original capital of Pakistan until the construction of Islamabad and is the location of the Port of Karachi and Port Bin Qasim , one of the region's largest and busiest ports. After the partition of India and the independence of Pakistan, the city's population increased dramatically when hundreds of thousands of migrants from India, East Pakistan (later Bangladesh) and other parts of South Asia came to settle in the city.

Karachi city is spread over 3,530 km2 (1,360 sq mi) in area, almost five times bigger than Singapore. It is locally known as the "City of Lights" (روشنیوں کا شهر) and "The bride of the cities" (عروس البلاد) for its liveliness, and the "City of the Quaid " (شهرِ قائد), having been the birth and burial place of Quaid-e-Azam (Muhammad Ali Jinnah), the founder of Pakistan, who made the city his home after Pakistan's independence.


Search Karachi on Satellite Maps
Places of Interest | Hotels | Eating & Dining | Parks & Gardens | Educational Institutes | Hospitals | Sport Centers | Banks | ATM | Fuel Stations | CNG Stations | Police Stations | Shopping /Trade
History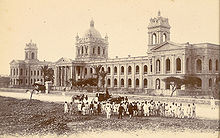 The area of Karachi was known to the ancient Greeks by many names: Krokola, the place where Alexander the Great camped to prepare a fleet for Babylonia after his campaign in the Indus Valley; 'Morontobara' (probably Manora island near Karachi harbour), from whence Alexander's admiral Nearchus set sail; and Barbarikon, a port of the Indo-Greek Bactrian kingdom. It was later known to the Arabs as Debal, the starting point for Muhammad bin Qasim and his army in 712 AD. Karachi was founded as "Kolachi" by Baloch tribes from Balochistan and Makran, who established a small fishing community in the area.Descendants of the original community still live in the area on the small island of Abdullah Goth, which is located near the Karachi Port. The original name "Kolachi" survives in the name of a well-known Karachi locality named "Mai Kolachi". The city was visited by Ottoman Admiral Seydi Ali Reis in 1550s and mentioned in his book Mirat ul Memalik (The Mirror of Countries), 1557 AD.The present city started life as a fishing settlement when a Balochi fisherwoman called Mai Kolachi took up residence and started a family. The village that later grew out of this settlement was known as Kolachi-jo-Goth (Village of Kolachi in Sindhi). By the late 1720s, the village was trading across the Arabian Sea with Muscat and the Persian Gulf region. A small fort was constructed for its protection, armed with cannons imported from Muscat. The fort had two main gateways: one facing the sea, known as Kharra Darwaaza (Brackish Gate) (Kharadar) and the other facing the Lyari River known as the Meet'ha Darwaaza (Sweet Gate) (Mithadar) .The location of these gates correspond to the modern areas of Kharadar (Khārā Dar) and Mithadar

After sending a couple of exploratory missions to the area, the British East India Company conquered the town when HMS Wellesley anchored off Manora island on 1 February 1839. Two days later, the little fort surrendered .The town was later annexed to the British Indian Empire when Sindh was conquered by Charles James Napier in Battle of Miani on 17 February 1843. On his departure in 1847, he is said to have remarked, "Would that I could come again to see you in your grandeur!" Karachi was made the capital of Sindh in the 1840s. On Napier's departure, it was added along with the rest of Sindh to the Bombay Presidency, a move that caused considerable resentment among the native Sindhis. The British realised the importance of the city as a military cantonment and as a port for exporting the produce of the Indus River basin, and rapidly developed its harbour for shipping. The foundations of a city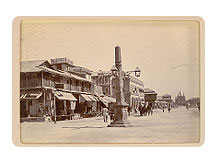 municipal government were laid down and infrastructure development was undertaken. New businesses started opening up and the population of the town began rising rapidly. The arrival of the troops of the Kumpany Bahadur in 1839 spawned the foundation of the new section, the military cantonment. The cantonment formed the basis of the 'white' city, where the Indians were not allowed free access. The 'white' town was modeled after English industrial parent-cities, where work and residential spaces were separated, as were residential from recreational places. Karachi was divided into two major poles. The 'black' town in the northwest, now enlarged to accommodate the burgeoning Indian mercantile population. In 1857, the First Indian War for Independence broke out in South Asia and the 21st Native Infantry stationed in Karachi declared allegiance to rebels, joining their cause on 10 September 1857. Nevertheless, the British were able to quickly reassert control over Karachi and defeat the uprising.

In 1864, the first telegraphic message was sent from India to England, when a direct telegraph connection was laid between Karachi and London.In 1878, the city was connected to the rest of British India by rail. Public building projects, such as Frere Hall (1865) and the Empress Market (1890), were undertaken. In 1876, Muhammad Ali Jinnah, the founder of Pakistan, was born in the city, which by now had become a bustling city with mosques, churches, courthouses, kota, paved streets and a magnificent harbour. By 1899, Karachi had become the largest wheat exporting port in the East.The population of the city was about 105,000 inhabitants by the end of the 19th century, with a cosmopolitan mix of Muslims, Hindus, Zoroastrians, Christians and Jews. There were various linguistic groups, such as Urdu speakers, Punjabis as well as Pashtuns and Balochis. The multi-ethnic mix can be imagined from the fact that there are more Pashtuns in Karachi than in any city of the North-West Frontier Province. In addition to local groups, there were immigrants of Persian, Lebanese, and European backgrounds. By the turn of the century, the city faced street congestion, which led to Southwest Asia's first tramway system being laid down in 1900. British colonialists embarked on a number of public works of sanitation and transportation — such as gravel paved streets, proper drains, street sweepers, and a network of trams and horse-drawn trolleys. Colonial administrators set up military camps, a European inhabited quarter, and organised marketplaces, of which the Empress Market is most notable.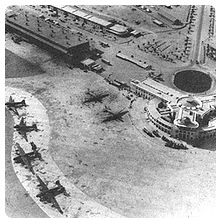 By the time the new country of Pakistan was formed in 1947 Karachi had become a bustling metropolis with beautiful classical and colonial European styled buildings, lining the city's thoroughfares. Karachi was chosen as the capital of Pakistan, which at the time included modern day Bangladesh, a region located more than 1,000 km (620 mi) away, and not physically connected to Pakistan. In 1947, Karachi was the focus for settlement by Muslim migrants from India, who drastically expanded the city's population and transformed the demographics and economy. In 1958, the capital of Pakistan was moved from Karachi to Rawalpindi and then in 1960, to the newly built Islamabad. This marked the start of a long period of decline in the city, marked by a lack of development. Karachi had both a municipal corporation and a Karachi Divisional Council in the 1960s, which developed plans for schools, colleges, roads, municipal gardens, and parks. The Karachi Divisional Council had separate working committees for education, roads, and residential societies development and planning. During the 1960s, Karachi was seen as an economic role model around the world. Many countries sought to emulate Pakistan's economic planning strategy and one of them, South Korea, copied the city's second "Five-Year Plan" and World Financial Centre in Seoul is designed and modeled after Karachi.

The 1970s saw major labour struggles in Karachi's industrial estates, (see: Karachi labour unrest of 1972). The 1980s and 1990s saw an influx of refugees from the Soviet war in Afghanistan into Karachi, they were followed in smaller numbers by refugees escaping from Iran. Political tensions between the Muhajir and other native groups (e.g. Sindhis, Punjabis, Pashtuns, and others), erupted and the city was wracked with political and racial violence. The period from 1992 to 1994 is regarded as the bloodiest period in the history of the city, when the Army commenced its Operation Clean-up against the Muttahida Qaumi Movement. Most of these tensions have now simmered down. Today, Karachi continues to be an important financial and industrial centre and handles most of the overseas trade of Pakistan and the other Central Asian countries. It accounts for a lion's share of the GDP of Pakistan,and a large proportion of the country's white collar workers
Find more about History of Pakistan
Climate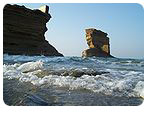 Located on the coast, Karachi tends to have a relatively mild, arid climate with low average precipitation levels (approximately 250 mm per annum), the bulk of which occurs during the July-August monsoon season. Winters are mild and the summers are hot; the proximity to the sea maintains humidity levels at a near-constant high and cool sea breezes relieve the heat of the summer months. Because of high temperatures during the summer (ranging from 30 to 44 degrees Celsius from April to August), the winter months (November to February) are generally considered the best times to visit Karachi. December and January have pleasant and cloudy weather.


Evening scene on Clifton beach.In 2003, 2006, 2007 and 2009 Karachi was affected by heavy to extremely heavy rainfall. On June 23, 2007, Cyclone Yemyin lashed the city with heavy downpours and strong windstorms. On July 18, 2009, there was severe flooding, in which a record-breaking rainfall of 235 mm occurred in just 14 hours, killing 20 and injuring 150 people. The city's highest monthly rainfall—711.5 mm (28.0) inches—occurred in July 1869.[citation needed] Karachi's highest recorded temperature is 48 °C (118 °F) and its lowest is 0.0 °C (32°F)
Government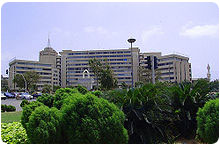 The City of Karachi Municipal Act was promulgated in 1933. Initially the Municipal Corporation comprised the mayor, the deputy mayor and 57 councillors. The Karachi Municipal Corporation was changed to a Metropolitan Corporation in 1976. The administrative area of Karachi was a second-level subdivision known as Karachi Division, which was subdivided into five districts: Karachi Central, Karachi East, Karachi South, Karachi West and Malir. In 2000, the national government implemented a new devolution plan which abolished the second-tier divisions and merged the five districts of Karachi into a new City District, structured as a three-tiered federation, with the two lower tiers composed of 18 towns and 178 union councils (UC).

The towns are governed by elected municipal administrations responsible for infrastructure and spatial planning, development facilitation, and municipal services (water, sanitation, solid waste, repairing roads, parks, street lights, and traffic engineering), with some functions being retained by the City-District Government (CDG). The third-tier 178 union councils are each composed of thirteen directly elected members including a Nazim (mayor) and a Naib Nazim (deputy mayor). The UC Nazim heads the union administration and is responsible for facilitating the CDG to plan and execute municipal services, as well as for informing higher authorities about public concerns and complaints. Naimatullah Khan was the first Nazim of Karachi and Shafiq-Ur-Rehman Paracha was the first DCO of Karachi, Paracha even served as the last Commissioner of Karachi. Naimatullah Khan focused on building new parks, providing entertainment outlets to the youth (to celebrate events like Valentine's Day) and families (to celebrate events like Eid).

In the elections of 2005, Mustafa Kamal was elected City Nazim of Karachi to succeed Naimatullah Khan, and Nasreen Jalil was elected as the City Naib Nazim. Mustafa Kamal was previously the provincial minister for information technology in Sindh. Mustafa Kamal is advancing the development trail and has been actively involved in maintaining care of the city's municipal systems
Economy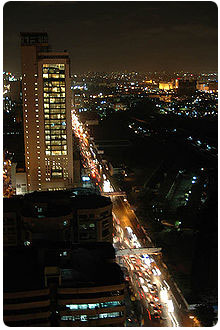 Karachi is the financial and commercial capital of Pakistan. In line with its status as a major port and the country's largest metropolis, it accounts for a lion's share of Pakistan's revenue. According to the Federal Board of Revenue's 2006-2007 year book, tax and customs units in Karachi were responsible for 46.75% of direct taxes, 33.65% of federal excise tax, and 23.38% of domestic sales tax.Karachi accounts for 75.14% of customs duty and 79% of sales tax on imports.Therefore, Karachi collects a significant 53.38% of the total collections of the Federal Board of Revenue (since renamed as the Central Board of Revenue), out of which 53.33% are customs duty and sales tax on imports.(Note: Revenue collected from Karachi includes revenue from some other areas since the Large Tax Unit (LTU) Karachi and Regional Tax Offices (RTOs) Karachi, Hyderabad, Sukkur & Quetta cover the entire province of Sindh and Balochistan).Karachi's indigenous contribution to national revenue is 25%. Karachi's contribution to Pakistan's manufacturing sector amounts to approximately 30 percent.A substantial chunk of Sindh's gross domestic product (GDP) is attributed to Karachi(the GDP of Sindh as a percentage of Pakistan's total GDP has traditionally hovered around 28%-30%).Karachi's GDP is around 20% of the total GDP of Pakistan. A PricewaterhouseCoopers study released in 2009, which surveyed the 2008 GDP of the top cities in the world, calculated Karachi's GDP (PPP) to be $78 billion(projected to be $193 billion in 2025 at a growth rate of 5.5%).It confirmed Karachi's status as Pakistan's largest economy, well ahead of the next two biggest cities Lahore and Faisalabad, which had a reported GDP (PPP) in 2008 of $40 billion and $14 billion, respectively.Karachi's high GDP is based on its mega-industrial base, with a high dependency on the financial sector. Textiles, cement, steel, heavy machinery, chemicals, food, banking and insurance are the major segments contributing to Karachi's GDP. In February 2007, the World Bank identified Karachi as the most business-friendly city in Pakistan.Karachi is the nerve center of Pakistan's economy. The economic stagnation caused by political anarchy, ethnic strife and resultant military operation during late 80s and 90s led to efflux of industry from Karachi. Most of Pakistan's public and private banks are headquartered on Karachi's I. I. Chundrigar Road; according to a 2001 report, nearly 60% of the cashflow of the Pakistani economy takes place on I. I. Chundrigar Road. Most major foreign multinational corporations operating in Pakistan have their headquarters in Karachi. The Karachi Stock Exchange is the largest stock exchange in Pakistan, and is considered by many economists to be one of the prime reasons for Pakistan's 8% GDP growth across 2005. A recent report by Credit Suisse on Pakistan's stock market is a testimonial to its strong fundamentals, estimating Pakistan's relative return on equities at 26.7 percent, compared to Asia's 11 percent.
Recently, Karachi has seen an expansion of information and communications technology and electronic media and has become the software outsourcing hub of Pakistan. Call centres for foreign companies have been targeted as a significant area of growth, with the government making efforts to reduce taxes by as much as 10% in order to gain foreign investments in the IT sector. Many of Pakistan's independent television and radio stations are based in Karachi, including world-popular Business Plus, AAJ News, Geo TV, KTN,Sindh TV,CNBC Pakistan, TV ONE, ARY Digital, Indus Television Network, Samaa TV and Dawn News, as well as several local stations.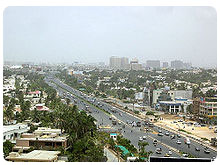 Karachi has several large industrial zones such as Karachi Export Processing Zone, SITE, Korangi, Northern Bypass Industrial Zone, Bin Qasim and North Karachi, located on the fringes of the main city.Its primary areas of industry are textiles, pharmaceuticals, steel, and automobiles. In addition, Karachi has a vibrant cottage industry and there is a rapidly flourishing Free Zone with an annual growth rate of nearly 6.5%. The Karachi Expo Centre hosts many regional and international exhibitions.There are many development projects proposed, approved and under construction in Karachi. Among projects of note, Emaar Properties is proposing to invest $43bn (£22.8bn) in Karachi to develop Bundal Island, which is a 12,000 acre (49 km²) island just off the coast of Karachi.The Karachi Port Trust is planning a Rs. 20 billion, 1,947 feet (593 m) high Port Tower Complex on the Clifton shoreline.It will comprise a hotel, a shopping center, an exhibition center and a revolving restaurant with a viewing gallery offering a panoramic view of the coastline and the city
Find more about worldwide Bussiness & Economy
Arts and Culture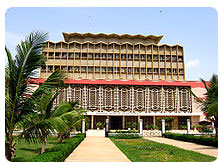 Karachi is home to some of Pakistan's important cultural institutions. The National Academy of Performing Arts,located in the newly renovated Hindu Gymkhana, offers a two-year diploma course in performing arts that includes classical music and contemporary theatre. The All Pakistan Music Conference, linked to the 45-year-old similar institution in Lahore, has been holding its Annual Music Festival since its inception in 2004. The Festival is now a well-established feature of the city life of Karachi that is attended by more than 3000 citizens of Karachi as well as people from other cities.The National Arts Council (Koocha-e-Saqafat) has musical performances and mushaira (poetry recitations). The Kara Film Festival annually showcases independent Pakistani and international films and documentaries.

Karachi has many museums that present exhibitions on a regular basis, including the Mohatta Palace and the National Museum of Pakistan. Karachi Expo Centre hosts many regional and international exhibitions.

The everyday lifestyle of Karachi differs substantially from that of other Pakistani cities and towns. The culture of Karachi is characterized by the blending of South Asian, Middle Eastern, Central Asian and Western influences, as well as its status as a major international business centre. After the partition of Indian subcontinent, Karachi received a large number of refugees from all over India, whose influence is now evident in the city's different sub-cultures. Karachi hosts the largest middle class stratum of the country
Find more about Culture of Pakistan , People, Art & Culture
Architecture

Karachi has a rich collection of buildings and structures of various architectural styles and many modern style high rise buildings are under construction. The downtown districts of Saddar and Clifton contain a rich collection of early 20th century architecture, ranging in style from neo-classical KPT building to the Sindh High Court Building. During the British rule, Britishers wanted to model their Empire along the lines of ancient Rome and classical architecture was considered most appropriate for built monuments of the Raj.[citation needed] Karachi acquired its first neo-Gothic or Indo-Gothic building when Frere Hall, Empress Market and St. Patrick's Cathedral were completed. English Tudor style was introduced in Karachi Gymkhana and the Boat Club. Italian Renaissance was very popular and was the language for St. Joseph's Convent (1870) and the Sind Club (1883).Classical style made a comeback in the late nineteenth century as seen in Lady Dufferin Hospital (1898) and the Cantt. Railway Station. While 'Italianate' buildings remained popular, an eclectic blend termed Indo-Saracenic or Anglo-Mughal began to emerge in some locations.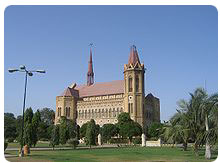 The local mercantile community began acquiring impressive mercantile structures. Zaibunnisa Street in Saddar area (known as Elphinstone Street in British days) is an example where the mercantile groups adopted the 'Italianate' and Indo-Saracenic style to demonstrate their familiarity with western culture and their own. The Hindu Gymkhana (1925) and Mohatta Palace are the example of Mughal revival buildings.The Sindh Wildlife Conservation Building, located in Saddar, served as a Freemasonic Lodge until the time it was taken over by the government. There are talks of it being taken away from this custody and being renovated and the Lodge being preserved with its original woodwork and ornate wooden staircase.

In recent years, a large number of architecturally distinctive, even eccentric, buildings have sprung up throughout Karachi. Notable examples of contemporary architecture include the Pakistan State Oil Headquarters building and the Karachi Financial Towers. The city has numerous examples of modern Islamic architecture, including the Aga Khan University hospital, Masjid e Tooba, Faran Mosque, Bait-ul Mukarram Mosque and Quaid's Mausoleum. One of the unique cultural elements of Karachi is that the residences, which are two- or three-story townhouses, are built with the front yard protected by a high brick wall. Ibrahim Ismail Chundrigar Road displays a wide range of supertall buildings. The most prominent examples include the Habib Bank Plaza, PRC Towers and the MCB Tower which is the tallest skyscraper in Pakistan.Perhaps one of the most spectacular buildings of modern times, Port Tower Complex, a supertall skyscraper is proposed in the Clifton District of the metropolis. At 593 metres, the building will comprise a hotel, a shopping centre, an exhibition centre and a revolving restaurant with a viewing gallery offering a panoramic view of the coastline and the city.

Many more high rise buildings are under construction, such as Centre Point near Korangi Industrial Area, IT Tower, Sofitel Tower Karachi and Emerald Tower. The Government of Sindh recently approved the construction of two high-density zones, which will host the new city skyline
Fashion, Shopping and Entertainment

Karachi has always been proactive in organizing large events but because of the political and economic crisis in the country, activities have recently been slowed down. Karachi continues to host many different cultural and fashion shows. In 2009 a four-day-long fashion show was organized in Karachi's luxury Marriott hotel.Karachi has many glitzy shopping malls in the Clifton area, Tariq Road, Gulshan-e-Iqbal and Hyderi shopping area, such as Park Towers, The Forum, Dolmen Mall and Millenium Mall. Zamzama Boulevard is known for its designer stores and many cafes. Almost all foreign brands along with famous Pakistani fashion labels such as Amir Adnan, Aijazz, Rizwan Beyg, Deepak Perwani, Shayanne Malik, Maria B, Khaadi, Sputnik Footwear, Metro Shoes, English Boot House, Cotton & Cotton, Men's store and Junaid Jamshed are present in various major shopping districts of the city
Sports View Sports Centers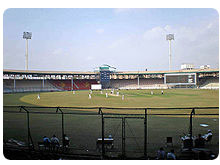 Cricket is the most popular sport of the city and is usually played in many small grounds around the city. Gully cricket is played in the narrow by-lanes of the city. Nighttime cricket, popularly called 'night match', can be seen at weekends when people play brightly lit, late night matches on less traversed city streets and the game continues till dawn. Karachi has one world-class cricket stadium, named National Stadium. The National Stadium (NSK), the largest cricket stadium in Pakistan, became Karachi's fifth and Pakistan's 11th first-class ground. The inaugural first-class match was played at NSK between Pakistan and India on April 21–24, 1955. In 34 Tests between that first match and December 2000, Pakistan won 17 and were never beaten. Their only Test defeat on the ground came in the gloom against England in 2000-01. Since then, major terrorist activity, mainly bombings, have meant that non-Asian sides have refused to play in the city, and in five years only Bangladesh and Sri Lanka have visited.

The first One Day International at the National Stadium was against West Indies on November 21, 1980, and it went down to the last ball as Gordon Greenidge drove Imran Khan imperiously to the cover boundary with three needed. It has been a far less successful limited-overs venue, with defeats outnumbering victories. In fact, in a little under five years from the start of 1996, Pakistan failed to win on the ground. It staged a quarter-final match in the 1996-97 World Cup.

Other popular sports in the city are hockey, boxing, association football, golf, table tennis, snooker, squash, and horse racing. Sports like badminton, volleyball and basketball are popular in schools and colleges. Football is especially popular in Lyari Town, which has a large Afro-Balochi community and has always been a football-mad locality in Karachi. The Peoples Football Stadium is perhaps the largest football stadium in Pakistan with respect to capacity, easily accommodating around 40,000 people. In 2005, the city hosted the SAFF Championship at this ground, as well as the Geo Super Football League 2007, which attracted capacity crowds during the games.

The city has facilities for hockey (the Hockey Club of Pakistan, UBL Hockey Ground), boxing (KPT Sports Complex), squash (Jahangir Khan Squash Complex) and polo. Marinas and boating clubs add to the diverse sporting activities in Karachi
Education Satellite View of Educational Institutes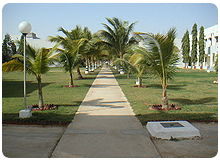 In 2008-09, the city's literacy rate was estimated at 65.26%,the highest in Pakistan,with a gross enrolment ratio of 111%, the highest in Sindh.
Education in Karachi is divided into five levels: primary (grades one through five); middle (grades six through eight); high (grades nine and ten, leading to the Secondary School Certificate); intermediate (grades eleven and twelve, leading to a Higher Secondary School Certificate); and university programs leading to graduate and advanced degrees. Karachi has both public and private educational institutions. Most educational institutions are gender-based, from primary to university level.

Karachi Grammar School is the oldest school in Pakistan and has educated many Pakistani businessmen and politicians. The Narayan Jagannath High School in Karachi, which opened in 1855, was the first government school established in Sindh. Other well-known schools include L'ecole for Advanced Studies, the CAS School, Bay View High School, Bay View Academy, Karachi American School, The Paradise School and College, Little Folks Secondary School, Habib Public School, Mama Parsi Girls Secondary School, B.V.S. Parsi Grammer School, Civilizations Public School, The Oasys School, Avicenna, Lyceum, Ladybird Grammar School, The City School, Beaconhouse School System, The Educators schools, Shahwilayat Public School, St Patrick's High School, St Paul's English High School, St Joseph's Convent School, and St Michael's Convent School.

The University of Karachi, known as KU, is Pakistan's largest university, with a student population of 24,000 and one of the largest faculties in the world. It is located next to the NED University of Engineering and Technology, the country's oldest engineering institute. In the private sector, Sir Syed University of Engineering and Technology (SSUET) provides reputable training in biomedical engineering, civil engineering, electronics engineering, telecom engineering and computer engineering. Dawood College of Engineering and Technology offers degree programmes in electronic engineering, chemical engineering, industrial engineering, materials engineering and architecture. Karachi Institute of Economics & Technology (KIET) has two campuses in Karachi and has been growing rapidly since its inception in 1997. The Plastics Technology Center (PTC), located in Karachi's Korangi Industrial Area, is at present Pakistan's only educational institution providing training in the field of polymer engineering and plastics testing services.The Institute of Business Administration (IBA), founded in 1955, is the oldest business school outside of North America. The Shaheed Zulfiqar Ali Bhutto Institute of Science and Technology (SZABIST), founded in 1995 by Benazir Bhutto, is located in Karachi, with its other campuses in Islamabad, Larkana and Dubai. Pakistan Navy Engineering College (PNEC) is a part of the National University of Sciences and Technology (NUST), offering a wide range of engineering programs, including electrical engineering and mechanical engineering. Hamdard University is the largest private university in Pakistan. Karachi is home of the head offices of the Institute of Chartered Accountants of Pakistan (ICAP) (established in 1961) and the Institute of Cost and Management Accountants of Pakistan (ICMAP). Among the many other institutions providing business education are the College of Business Management (CBM), SZABIST, Iqra University and the Institute of Business and Technology (Biztek). Leading medical schools of Pakistan like The Aga Khan University and Dow University of Health Sciences have their campuses in Karachi. The National University of Computer and Emerging Sciences (NUCES-FAST), one of Pakistan's top universities in computer education, operates two campuses in Karachi. Bahria University also has a purpose-built campus in Karachi.

For religious education, one of the largest Islamic education centers of Asia, the Jamia Uloom ul Islamia, Banori Town, Karachi, is located in Karachi
Find more about Worldwide Education
Media Media & News in Pakistan

Many of Pakistan's independent television and radio channels are based in Karachi, including Dawn News, Business Plus, Geo TV, CNBC Pakistan, Hum TV, TV ONE, AAJ TV, ARY Digital, Express News, Indus Television Network, Kawish Television Network (KTN), Good News TV, and Sindh TV as well as several local stations. Local channels include Metro One.

Pakistan's premier news television networks are based in Karachi, including News One, GEO News, ARY One World and AAJ News. AAG TV and MTV Pakistan are the main music television channels and Business Plus and CNBC Pakistan are the main business television channels based in the city. The bulk of Pakistan's periodical publishing industry is centred in Karachi, including magazines such as Spider, The Herald, Humsay, The Cricketer, Moorad Shipping News, and The Internet.

Major advertising companies like Interflow Communications and Orient McCann Erickson have their head offices in Karachi
Find more about World Wide Media & News

Infrastructure

Transportation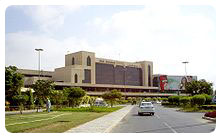 The Jinnah International Airport is located in Karachi. It is the largest and busiest airport of Pakistan. It handles 10 million passengers a year. The airport receives the largest number of foreign airlines, a total of 35 airlines and cargo operators fly to Jinnah International predominantly from the Middle East and Southeast Asia. All of Pakistan's airlines use Karachi as their primary transport hub including PIA - Pakistan International Airlines, Airblue, and Shaheen Air International.

The city's old airport terminals are now used for Hajj flights, offices, cargo facilities, and ceremonial visits from heads of state. U.S. Coalition forces used the old terminals for their logistic supply operations as well. The city has two other airstrips, used primarily by the armed forces.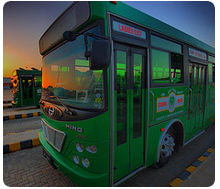 The largest shipping ports in Pakistan are the Port of Karachi and the nearby Port Qasim. These seaports have modern facilities and not only handle trade for Pakistan, but serve as ports for Afghanistan and the landlocked Central Asian countries. Plans have been announced for new passenger facilities at the Port of Karachi. Karachi is linked by rail to the rest of the country by Pakistan Railways. The Karachi City Station and Karachi Cantonment Railway Station are the city's two major railway stations. The railway system handles a large amount of freight to and from the Karachi port and provides passenger services to people traveling up country.

A project to transform the existing, but non-operational, Karachi Circular Railway into a modern mass transit system has recently been approved by the government. The $1.6 billion project will be financed by the Japan Bank for International Cooperation and will be completed by 2013. The city government has introduced an initiative to alleviate the transport pains by introducing new CNG buses.
Health and Medicine Satellite View Of Hospital

Karachi district is a centre of research in biomedicine. The city is home to at least 30 public hospitals and more than 80 private hospitals, including the Karachi Institute of Heart Diseases, Spencer Eye Hospital, Civil Hospital, PNS Rahat , Abbasi Shaheed Hospital, Aga Khan University Hospital, Holy Family Hospital and Liaquat National Hospital, as well as Jinnah Postgraduate Medical Centre, Ziauddin Hospital, South City Hospital, Kidney Centre, Institute of Child Health, Karachi Institute of Radiology and Nuclear Medicine (KIRAN), Haji Rang Elahi Eye Hospital, Tabba Cardiac Medical Center, Patel Hospital, Layton Benevolent Trust Eye Hospital, Lady Dufferin Hospital, and National Medical Centre.
In Sindhi Popular Culture
Karachi has been sung in many Sindhi songs, notably the folk songs sung in Sindhi marriages, called Sehra (سهرا) and Ladda (لاڏا), such as:

آيلڙي مون ته سُئي وڃائي ڪراچيءَ جي شهر مان مون سُئي گھُرائي

sung by Zarina Baloch and

ڪراچيءَ جي شهر مان منڊيون جوڙايم سونا گل ڪراچيءَ جي موٽر ڀرجي آيا

Karachi is known for the legend of Morirro Mirbahar, whose bravery has been praised and sung by Shah Abdul Latif Bhitai in his poetry. The legend has been depicted in the Sindhi movie Ghatoo Ghar na Ayaa (Sindhi: گھاتُو گھر نه آيا).

Karachi jaa ddeeha' aee' raatioo' (Sindhi: ڪراچيءَ جا ڏينهن ۽ راتيون, English: Days and Nights of Karachi) is a novel written by Muhammad Bakhsh Johar.
Find more about Culture of Pakistan
Crime
Al-Qaeda has a history of using safe houses in Karachi. Ramzi Binalshibh, an al-Qaeda operative described as a "key facilitator for the terrorist attacks on September 11, 2001,"was captured after a gunfight in the city in 2002. Mullah Abdul Ghani Baradar, described as the number two official of the Afghan Taliban, was captured in a "joint" CIA-Pakistani intelligence operation in Karachi in February 2010. Mullah Mohammad Younis, a former Taliban shadow governor in Afghanistan,and Agha Jan Mohtasim, another "Afghan Taliban leader,"were both arrested in the city in early 2010. The Washington Times reported in November 2009 that Mullah Mohammed Omar, the head of the Afghan Taliban, had recently moved to Karachi.Taliban fighters are increasingly using the city to raise money and for vacation.Recent Pakistani media reports even claim Osama bin Laden is hiding in Karachi