History | Geography | Demographics | Sites of Interest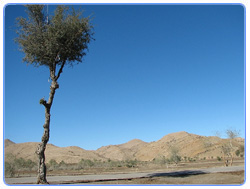 Lasbela (Urdu: لسبيله ) is a coastal district of Balochistan province of Pakistan. It became a separate district in Kalat Division on 30 June 1954. The name is derived from the words Las which signifies a plain, the greater part of the area being a flat plain, and Bela which means "jungle" and is also the name of the principal town of the district. Uthal is the district headquarters. The district is divided into 9 Tehsil and 21 union councils.




Search Lasbela on Satellite Map
Places of Interest | Fuel Stations

History

Alexander the Great passed through Lasbela on his way back to Babylon after conquering Northwestern India. In 711 CE, the Arab general, Muhammad bin Qasim passed through Lasbela on his way to Sindh.

The area of the district was formerly a princely state of British India (Las – with Bela as capital), which later merged with Pakistan.

Geography

The main river is the Porali with its tributaries, Winder and Wirhab rivers. Other rivers are the Phor and Hingol which rise in Awaran District before flowing through Lasbela on their way to the Arabian Sea.

Demographics

The population of Lasbela was estimated to be over 700,000 in 2005. In 1998, the overall population was 98.33% Muslim. Of the remaining, 1.37% were Hindus and 0.14% Christian, with the rest belonging to various other religions. In 1998, about 37% of the population resided in the urban areas. In 1998, 22.3% of the population was literate with 32.16% of the males and 10.46% of the females. The majority of population speaks either Sindhi or Baluchi. Much of the population also speaks a language called Lasi, which is derived from Sindhi or Jadgali.

Sites of Interest

Shrines
Historical Buildings and Archaeological Sites
Shah Jamai Mosque

Tomb of General Muhammad ibn Haroon

Tomb of Colonel Robert Sandeman

Karia Pir

Others


Sassi Waro-Chodo (Sassi's Spring), near Paboni Naka, about 68 km from Karachi.

Bakkar Buthi, a small Harappan site located in the remote mountainous area to the east of the Las Bela plain.