Boundaries | Demography | Etymology | History | Famous Personalities |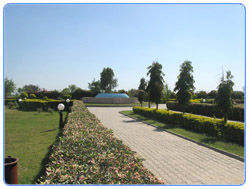 Narowal is a district in the province of Punjab of Pakistan.Narowal city is the capital of the district. Narowal District is divided into three tehsils, Narowal and Shakargarh. Zafarwal. Before the independence of Pakistan in 1947, Shakargarh town was the headquarters of Shakargarh Tehsil, which was a subdivision of the Gurdaspur District of British India. Under the Radcliffe Award, the tehsil of Shakargarh was transferred to Pakistan and attached to Sialkot District. In July 1, 1991 Narowal and Shakargarh were removed from Sialkot District to form Narowal District.


Search Narowal on Satellite Map
Hotels | Eating & Dining | Parks & Gardens | Educational Institutes | Hospitals | Sport Centers | Banks | ATM | Fuel Stations | CNG Stations | Police Stations | Shopping /Trade

Boundaries

The district is bounded on the northwest by Sialkot District, on the north of the working boundary of Kathua district of Jammu and Kashmir in India, on the southeast by the Pathankot of Gurdaspur district (India), on the south by Amritsar district (India) and on the southwest by Sheikhupura district.


Demography

The total area of the district is approximately 2,337 square kilometres. Narowal Tehsil occupies 1,065 square kilometres while remaining area 1,272 square kilometres falls in Shakargarh Tehsil. According to the 1998 census of Pakistan, Narowal District's population was 1,256,097 of which only 12.11% were urban


Etymology

There are several theories as to the origin of the name. The most famous of them quotes that it was named after a Sikh landlord Naro Singh who was the owner of this land before the partition of sub-continent in 1947. This city is situated about 50 km away from Indian part of Kashmir. This city is famous for the production of rice,cereal and for the local dish Dahi Barry.


History

District Narowal came into existence on 1 July 1991. Although no documentary background of the districtis available in the history yet certain indications as well as guideline regarding its creation as per aphorism of the eminent of the area is available. About 500 years ago in the era of Sikandar Lodhi in the year 1488, Hindus belonging to the Aror tribe of District Multan embraced Islam in the hands of Habibullah Shah, a saint of the area. Nar Singh of the said tribe met Shah Shamash Tabraiz as per direction of the said saint. Nar Singh being desirous to build a new city requested Shah Shamash Tabraiz to pray for the completion of his desire and noble task. Shah Shamash Tabraiz sent his own son along with said Nar Singh towards Narowal. The tribe of said Nar Singh stationed permanently in the vicinity of Narowal. Later on the city was gradually known as Narowal. During British Rule Narowal was a town of the Raya Tehsil of Sialkot District, after independence from Britain in 1947 Narowal became tehsil headquarters - in 1991 the district of Sialkot was bifurcated, Narowal then became the capital of the newly formed Narowal District.

This is the historical place where Jagat Guru Nanak Ji departed from this world on 23rd Assu, Samvat 1596 (22 September 1529 AD). It is also called Dera Nanak Baba. Dera Sahib railway station, on Lahore-Narowal section,serves this place. The Shrine is located by the River Ravi within a distance of nine kilometers from the railway station. The present building was built at a cost of Rs.1,35,600, donated by Sardar Popindar Singh,the Maharaja of Patiala. It was repaired by the Govt of Pakistan in 1995 incurring expenditure in lakhs of rupees. It has a spacious and beautiful building. Its location beside a forest and River Ravi makes its care difficult.
Baqar Raza Saint, Spiritual Figure,Companion of Quaid-e-Azam, Leader of Pakistan Monvement.

Yasir Ali, Urdu Poet, belongs to Narowal.

Mr.Abrar-Ul-Haq Famous singer in subcontinent in Punjabi and urdu.Now running a famous and UNO registerd welfare organization "Sahara For Life Trust" working in healthcare and education sector.Bigachievement is establishment of Sugra Shafi Medical Complex in Narowal.

Faiz Ahmed Faiz. He is one of the most famous Urdu poets of south Asia.

Choudhry Noor Ahmed.A very young CEO of "BALLIHOO" a marketing and esourcing company having very vast network in Pakistn.He born in Bodo Kot in 1987 and got MBA Marketing degree in 2007.

Chaudhry Naseer Ahmad Malhi, former law and education minister who played an instrumental role in hosting the famous Sialkot Convention hails from Narowal.

Ahsan Iqbal MNA, Secretary Information PMLN.

Lieutenant (retd) Karam ud Din

Chaudhry Abdul Rahim, Village Maingri, Tehsil Shakargarh MPA, MLA, MNA

Chaudhry Muhammad Sarwar Khan.Sulehria former MNA and Chairman Parliamentary Special Committee on Kashmir.He was the longest serving Parliamentarian in the history of Pakistan from 1951-1999.

Mirza Amjad Ali.Architect One of the renowned architect of Pakistan, practicing at Lahore. He has in his credit numerous outstanding buildings and building complexes, such as Central Park Medical College,Lahore and Leaders Inn Hotel, Lahore.

He is the person who has earned double degree in the profession of Architecture and Fine Arts. He is writer, painter and practicing architect. He is the one, who has visited different parts of world in the interest of his professional needs to fulfill the internal thirst for knowledge of architecture, built environment and cultural impacts on socio-built structure.