History | Transport | Educational Institutions | Flora and Fauna | Culture | Demography | Notable People Sports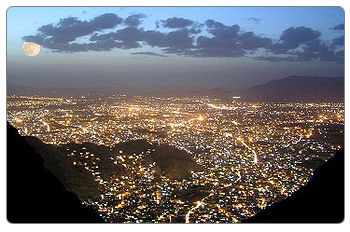 Quetta (Pashto: کوټه Urdu: کوئٹہ) is the largest city and the provincial capital of the Balochistan Province of Pakistan. It is known as the "Fruit Garden of Pakistan", due to its diversity in plant and animals wildlife. The city has been a major stronghold along the western frontier of the country. It is situated at an average elevation of 1,654 metres (5,429 feet) metres above sea level.The city is also home to the Hazarganji Chiltan National Park, a national park containing some of the rarest species of wildlife in the world. The city is also home to the research institute, Geological Survey of Pakistan.

Quetta sits near the Durand Line border with Afganistan which makes the city an important marketing and communications centre for Pakistan with the neighbouring country. The city is an important military installation within the country occupying a vital and strategic position for the Pakistan Armed Forces. The city also lies on the Bolan Pass route which was once the only gateway to and from South Asia. The city was also the closest city to the 1935 and the 2008 earthquakes which had left a great deal of damage to the city on both instances
Etymology

Quetta is also spelled Kuwatah which is a variation of Kuatta, a Pashto word meaning "fort".It is believed the city received its name due to imposing hills on all sides of the city. The hills which act as a natural fort are called Chiltan, Takatu, Mehrdar

Search Quetta on Satellite Map
Places of Interest | Hotels | Eating & Dining | Parks & Gardens | Educational Institutes | Hospitals | Sport- Centers | Banks | ATM | Fuel Stations | CNG Stations | Police Stations | Shopping /Trade

History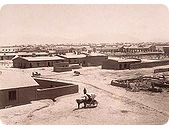 The area was inhabited by the Kasi (Pashtun) Tribe. Being on the outskirts of Kandahar, it was not mush developed. With the arrival of British troops, doors of development were opened. Very soon people saw roads, trains and Schools in the area. The British made the largely Pashtun area part of British Balochistan - which was resented by many of the Pashtun tribes. It remained part of the Umayyadand Abassid Empires. However, the first detailed account of Quetta was in the 11th century when it was captured by Mahmud of Ghazni during one of his invasions of the Indian subcontinent. In 1543 the Mughal emperor Humayun rested in Quetta on his retreat to Persia, leaving his one-year-old son Akbar in the city until his return two years later. The Mughals ruled Quetta until 1556, when the Persians conquered the city, only to have it retaken by Akbar in 1595.. In April 1883 it was combined with Pishin into a single administrative unit. In 1828 the first westerner to visit Quetta described it as a mud-walled fort surrounded by three hundred mud houses. Although occupied briefly by the British during the First Afghan War in 1839, it was not until 1876 that Quetta came under the British Empire with Robert Sandeman being made the political leader within Baluchistan. Before the devastating 1935 earthquake on 31 May, Quetta was a bright and bustling city with multi-storey buildings. The British were building the city due to its importance and beauty over the years. However, due to the close proximity of the earthquake it completely destroyed most of the city infrastructure. The earthquake virtually razed the city to the ground in the early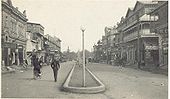 hours of the morning, when about 40,000 people also perished. Even with limited funds and lack of government support the houses were rebuilt over the years and the city once again started to rebuild. Today, houses are generally single storey and quake proof, built with bricks and reinforced concrete. The preferred structure is generally of lighter material In 1947 the grand Jirga of Trible leaders of Pashtoon in the leadership of Nawab Muhammad Khan Jogizai, Malak Wazeer Khan Kasi and Malak Umar khan Kasi calls Jirga meeting in Quetta Municipal Committee Hall and decided to be remain as a separate state but the English Government did allowed the to be separate state, British give them to choice either join Pakistan or India. So in this way the British government announced the affiliation of chief commissioner's province with Pakistan.Quetta was made as the capital city of newly created province of Balochistan.before combining with Balochi states (Kalat, Makran, Lasbela and Kharan), Quetta was the capital of chief commissioner's province(Pashtoon province) till 1971.The population was 90% Pashtoon in the chief commissioner's province
Find more about History of Pakistan
Transport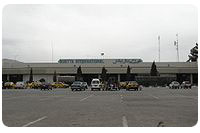 Quetta is on the western edge of Pakistan and is well connected with the country by a wide network of roads, railways and airways.

At an altitude of 1605 meters above sea level, Quetta Airport is the second highest airport of Pakistan. Pakistan International Airlines, Shaheen Air International and Airblue all have regular flights between Quetta and the other major cities of Pakistan including Islamabad, Gwadar, Karachi, Lahore and Peshawar. Pakistan International Airlines operates direct flights to Manchester, Dubai, New York and other major international airports from Quetta.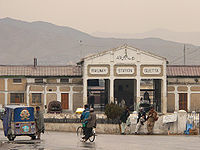 Quetta Railway Station is one of the highest railway station of Pakistan, at the height of 1676 meters above sea level. The railway track was lined in 1890s during the British era to link Quetta with rest of the country. The extensive network of Pakistan Railways connects Quetta to Karachi in south, by a 863 km (536 miles) track, Lahore in northeast (1,170 km or 727 miles) and Peshawar further northeast (1587 km or 986 miles). A metalled road is also present along the railroad that connects Quetta to Karachi via Sibi, Jacobabad and Rohri. A track from the Iranian city of Zahedan links to Quetta via Taftan, but the train service was temporarily disabled in 2006 due to unrest in Balochistan.

Recently a new project has been proposed for constructing a railway track that will link Gawadar to China, this will also link Gawadar with Quetta via Kalat. Even though the linear distance from Quetta to Lahore is merely 700 km, there is no direct railroad track on this route because of the Sulaiman Range that lies in the east of Quetta. So all northeast-bound trains for Punjab or the North-West Frontier Province must go 350+ km south down to Rohri, Sindh (near Sukkur) first, before continuing north to Punjab and/or North-West Frontier Province. Recently Railway is under attack by the Balochs specially in the Bolan Pass area. Some innocent passengers have been killed and wounded. This has created a great sense of insecurity amongst the travellers.


Quetta is connected by roads to the rest of the country. A recently built road connects it with Karachi through Mastung, Kalat, Khuzdar and Lasbela. Another road connecting Quetta to Karachi follows the Sibi, Jacobabad, Sukkur and Hyderabad route. Quetta and Lahore are also connected through two routes. The older route is the Sibi, Sukkur, Rahim Yar Khan, Bahawalpur and Multan route. Another route is via Khanozai, muslimbagh Loralai, Fort Mondro, Dera Ghazi Khan and Multan. Quetta is also connected with Afghanistan through Chaman and to Iran through the Mastung, Nushki, Dalbandin and Taftan route.
Educational Institutions Satellite View of Educational Institutes

Quetta has many higher education institutions. The prestigious military Command and Staff College, which was founded by the British, recently celebrated its hundredth anniversary. University of Balochistan was established in 1974. The Balochistan University of Information Technology, Engineering and Management Sciences is also located in Quetta. The city is the home of a geophysical institute, the Geological Survey of Pakistan, Sandeman Library, and two government colleges affiliated with the University of Peshawar. In 1970, with the creation of the University of Balochistan.
Find more about Worldwide Education
Flora and Fauna

A wide variety of Mammals like Markhor, "Gad" (wild sheep), leopards, wolves, hyena, rabbits, wild cats and porcupines can be found in the Quetta region. While Birds may contain species of partridge, warblers, shikra, blue rock pigeon, rock nuthatch, golden eagle, sparrows, hawks, falcons and bearded vultures. For Flora of Quetta, one may find about 225 species of some pretty exotic plants like; pistachios, juniper, wild olives, wild ash and wild almonds. Also found amongst such Flora are wide range of shrubs like; wild fig, barbery, wild cherry, makhi and herbs like; Ephedra intermadia, as well as gerardiana.
Find more about Fauna & Flora in Pakistan
Culture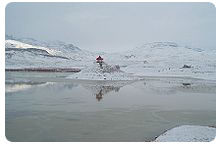 Quetta is a tourist attraction for foreigners from abroad. It is advertised as a thrilling location, full of adventure and enjoyment. Some prominent bazaars of Quetta are located on the roads Shahrah-e-Iqbal (Kandahari Bazaar) and Shahrah-e-Liaquat (Liaquat Bazaar and Suraj Gang Bazaar). Here, tourists can find colourful handicrafts, particularly Balochi mirror work and Pashtun embroidery which is admired all over the world. The Pashtun workers are prominently expert in making fine Afghan rugs, with their pleasing and intricate designs, fur coats, embroidered jackets, waist-coats, sandals and other creations of traditional Pashtun skills.

Balochi carpets are made by the nomadic tribes of this area. They are generally not nearly as fine or expensive as the Persian city products, or even the Turkoman tribal rugs from further North, but they are generally more authentic than the inferior copies of Turkoman and Persian designs sometimes found in the major cities of Pakistan. The rugs can range in price, starting from relatively crude rugs that can, with some bargaining, be had at very reasonable prices to quite fine and valuable pieces. Many are small enough to be fairly portable.

For those interested in local cuisine, there are many sumptuous dishes to feast upon. The famous Pashtun tribal cuisine "Roash" whch non-locals call "Namkin" is very famous in the city restaurants as well as in the interior areas. Another Pashtun tribal dish is "Landhi" which is made of a whole lamb, which is dried and kept fresh during the cold winters. "Khadi Kebab" is a lamb BBQ. The "Sajji" (leg of lamb) is said to be very good by locals. The best restaurants are Green Hotel, Gulab Hotel, Lal Kabab, Tabaq, Usmania and Abasin Hotel. They serve Pakistani and Continental food, while Cafe China is one of the oldest and most reputable Chinese restaurant that specializes in Chinese cuisine. Some of the finest mutton in the country is raised around Quetta. It has a delicious smell which can be sampled in the "Pulao" that most of the eating houses offer. Small and clean hotels in Alamdar road provide real comfort for tourists in peaceful environments.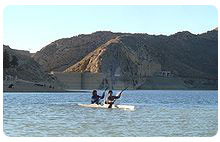 Hanna Lake nestles in the hills ten kilometres (six miles) east of Quetta, a startling turquoise pool within bare brown surroundings. There is a lakeside restaurant with picnic tables shaded by pine trees. At one end, the irrigation dam rises out of the depths like battlements of a fort, and on the eastern part the well known Hayat Durrani Water Sports Academy (HDWSA) is the only rowing, canoing, kayaking and sailing training center in the Balochistan Province. Hanna Lake is very attractive for holidaymakers, and is crowded with hikers and campers in holidays. You can hire a boat and paddle on the lake and round the island. The Hana Lake Development Authority,Hayat Durrani Water Sports Academy and Merck Marker (Pvt.) Ltd has planted various trees for the beautification and protection of the environment in Hanna Lake Mountains. Askari Park is the biggest park of Quetta with a children's playground, toys and entertainment. It is located on Airport Road near Custom House Quetta. It is administered by the Army. Built in mid 1990s, Askari Park is equipped with modern rides with "Dragon" being the main attraction.



The Hazarganji Chiltan National Park, 20 km south-west of Quetta, Markhors have been given protection. The park is spread over 32500 acres, altitude ranging from 2021 to 3264 meters. Hazarganji literally means "Of a thousand treasures". In the folds of these mountains, legend has it, there are over a thousand treasures buried, reminders of the passage of great armies down the corridors of history. The Bactrains, Scythians, Muslims, Mongols passed this way.[citation needed] Pir Ghaib is a waterfall and picnic point located 70 km from the City Center on Sibi Road. Kharkhasa is located 10 km west of Quetta which 16 km long narrow valley which shows a variety of flora and fauna species of the region. The Chiltan Hill Viewpoint is a spot to get a panoramic view of the city. A visit to the nearby cities of Kirani and Ziarat have always been a popular stop travelling to and from Quetta.

The Quetta Geological Museum, Sariab Road (near Balochistan University) has a collection of rocks and fossils found in Balochistan. The Command and Staff College Museum is a museum dedicated to the British military history. It is housed in the former bungalow of Field Marshal Montgomery. The Quetta Archaeological Museum, Fifa Road has a collection of rare antique guns, swords and manuscripts. It has a display of Stone Age tools, prehistoric pottery and articles found from Mehrgarh. There are also coins, manuscripts and photos of Quetta before 1935 earthquake. The Balochistan Arts Council Library is a newly inaugurated library that houses a variety of arts and carts of the Balochistan province.

There are also cultural and religious festivals held in the city every year. The two Eid festivals which mark the end of fasting and the end of the Hajj allow the majority Muslim community to put on musical shows, distribute sweets and presents. The Sibi festival is a cultural festival celebrating the history of the Balochi people with folk music performance, cultural dances, handicrafts stalls and cattle and horse shows. Buzkashi is a peculiar festival celebrated by the Pashtun people. It is celebrated on horse-back by two teams that use their skills to snatch a goat from each other.
Find more about Culture of Pakistan , People, Art & Culture
Demography

Quetta has been historically at the outskirts of the Pashtun-dominated Hotaki and Durrani (Afghan empires) until captured by the British in the mid-19th century, during the Second Anglo-Afghan War. The city in general is dominated by Pashtun people followed by Baloch people, with Brahuis, Hazaras, Punjabi and others as the minority groups. Most of the Baloch people in Quetta arrived after 1970, when a new province with the name of Balochistan was created. The notable Pashtun tribes which live in Quetta are Gharghasht, Kakar, Daavi, and others.[citation needed]

Pashto is the main language spoken throughout the city. Other languages include Urdu, Balochi, Hazaragi, Brahui, Sindhi, and Punjabi. Quetta has expanded at a very slow pace it population was recorded to be 11,000 in 1891. According to the 1998 census Quetta was the ninth biggest city of Pakistan with a population between 565,137 to 676,941. Although majority of them were repatriated back to Afghanistan through the UNHCR, a small number of registered Afghan refugees may still be found in and around the city but are not counted in the national census of Pakistan because they are citizens of Afghanistan remaining in the country temporarily.

About 99% of the people are Muslims, which include the majority Sunni sect and the minority Shias most of whom are the Hazaras. There is also a Christian, Hindu, and Sikh population living in the city
Notable people

Pashtuns
General Abdul Waheed Kakar, Former Chief of Army Staff

Mahmood Khan Achakzai, Chairman of Pashtunkhwa Milli Awami Party

Khan Abdul Ghafoor Khan Durrani, known for Pakistan Movement, Chief of Durrani tribes

Shahzada Rehmatullah Khan Saddozai, Chief of Sadozai Durrani tribe also Known for Pakistan movement

Kader Khan, popular Indian film actor, comedian, script and dialogue writer. Acted in over 300 films

Jamal Shah, famous actor, director, painter and social worker

Dur Mohammad Kassi, PTV producer and director

Qamar Zaman, British Open Squash winner

Hiddy Jahan, legendary Squash player

Hayatullah Khan Durrani, caver and mountain climber of international repute, known personality of Sadozai Durrani tribe

Khan Muhammad Sarwar Khan Kakar, politician and leader of the Kakar tribe

Aimal Kasi, executed on Nov 14, 2002 in Virginia, USA, after admitting to killing two CIA agents


Baloch
Ayoob Khoso, actor

Hameed Sheikh, TV artist

Hazaras

General Musa Khan, Former Chief of Army Staff

Hussain Ali Yousafi Shaheed, famous Hazara politician, who was killed in Jinnah Road Quetta.


Others
Iftikhar Muhammad Chaudhry, Chief Justice of Pakistan

Justice Javaid Iqbal (Jr.), Senior Justice of the Supreme Court of Pakistan

Suresh Oberoi, Indian actor who is also the father of Bollywood actor Vivek Oberoi, and is a recipient of 1987 National Film Award for Best Supporting Actor

James Cassels (British Army officer), Chief of the General Staff, the professional head of the British Army and served as a Brigadier on the General Staff of 21st Army Group during World War II

Chris Keeble, a Colonel in the British Army, most noted for his service in the Falklands War of 1982.
Sports Satellite view of Sports Centers

The city is mad about the different types of sports. Unlike in most of Pakistan, cricket is not the most popular sport of the city. Football is the most popular sport in Quetta. Teams in Quetta include Quetta Zorawar, Afghan Football, Hazara Green Football, Baluch Football and Quetta Bazigars Club. Among the famous footballers of Quetta are Abdul Wahid Durrani (Wahido) Taj Senior; Taj Junior, Qayyum Changezi, Agha Gul, Mohammad Younas Changezi; Mohammad Ismaeel Durrani (famous goal keeper) in the Indian subcontinent and his son Dawood Durrani of PIA football team, and Kazim Ali Sheralyat, the former captain of Pakistan. in Body building Shoukat Ali Changezi - Mr.Norway; Din Mohammad Brohvi - Mr. Pakistan; and Noorullah Khan Durrani,(Mr. Pakistan Runner-up). The city has also produced minor cricket players for the national team such as Shoaib Khan who played for the Pakistan national cricket team. The Ayub National Stadium is the prime stadium which hosts many international cricket and football matches.

In field hockey, Quetta has produced Zeeshan Ashraf and Shakeel Abbasi who are still representing the Pakistan national field hockey team. In Mountain climbing and caving, Hayatullah Khan Durrani (Pride of Performance), chief executive of Hayat Durrani Water Sports Academy (HDWSA) at Hanna Lake Quetta. In Kayaking, Muhammad Abubakar Durrani, National Junior Champion selected for world Junior Canoeing Championship 2009 Moscow (Russia). In Boxing Olympians from Quetta include: Abdul Salam Khan Kakar; Syed Ibrar Ali Shah; Asghar Ali Changezi; and Haider Ali Changezi.

In squash Hiddy Jahan Khan was ranked among the top-6 players in the world from 1970 through to 1986. British Open champion Qamer Zaman also hails from Quetta. Other famous squash players include: Zarak Jahan Khan; Abdul Wali Khan Khilji; Hamayoon Khan Khilji; Zubair Jahan Khan; Shams ul Islam Khan Kakar; Tariq Rahim Khan Kakar; and Shaied Zaman Khan.