History | Location | Industry | Sahiwal District Jail | Agriculture | Harappa | Sahiwal Dairy Cattle Breed | Education | Demography | Notable Residents | Broadcast Media | Internet | Information Super Highway | Hospitals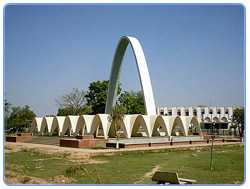 Sahiwal is a district in the Punjab province of Pakistan. As of 1998, it had a population of 1,843,194 people, 16.27% of which were located in urban areas.The city of Sahiwal is the capital of this district.

This city was a small village on the Karachi-Lahore railway line in 1865 when it was named Montgomery after Sir Robert Montgomery, then Lieutenant-Governor of Punjab.[1] It took its current name in 1966.It is theadministrative centre of Sahiwal District and Sahiwal Division.The districts of Okara and Pakpattan are under Sahiwal division. Sahiwal lies approximately 180 km from the major city of Lahore. And it is the biggest city between Lahore and Multan. The population is 207,388 (1998 Pakistan Census). Sahiwal District is included in the former Multan Division and lies between 30-39 north latitude and 73-06 longitude. The city lies in the densely populated region between the Sutlej and Ravi rivers. Irrigation in the region is provided by the Bari Doab Canal system. The principal crops are wheat, cotton, tobacco, legumes, and oilseeds. Cotton goods and lacquered woodwork are manufactured. About 18 miles Southwest of Sahiwal is Harappa, an ancient city of the world, oldest urban center of Harappan or Indus civilization in South Asia. About 28 miles (45 km) west of Sahiwal, at Kamalia, is the site of a Malli city captured by Alexander the Great in 325 bc. Pop. (1998) city, 207,388. The people of Sahiwal are known as Sahiwalians. This city got his name from the first inhibitors of this city the sahis (a jutt sub-tribe or cast). Sahiwal was named as Montgomery city before 1966. In 1966 a famous legendary politician Mufti Zia-ul-Hasan changed its name to Sahiwal.

Search Sahiwal On Satellite Map
Places of Interest | Hotels | Eating & Dining | Parks & Gardens | Educational Institutes | Hospitals | Sport Centers | Banks | ATM | Fuel Stations | CNG Stations | Police Stations | Shopping /Trade

History

The city and district was known as Montgomery as the city of Sahiwal was founded in 1865 by Sir Robert Montgomery, then Lieutenant-Governor of Punjab. It took its current name in 1966. Montgomery name was changed to Sahiwal by a famous legendary politician of Sahiwal Mr.Mufti Zia-ul-Hasan. Prior to this, Sahiwal was known by its native name shaiwal, derived from the Sahi tribe which lived in the area.


Location

Sahiwal Division is located in the southeast of Punjab, from Multan Division it lies between 30-40 north latitude and 73-06 longitude. It is 500 ft (150 m) above sea level. It forms a parallelogram lying NE-SW along the River Ravi. It is 100 km from east to west and 45 km from the northwestern boundary of the Division of Sahiwal, Division Faisalabad, District Toba Tek Singh. The dry River Khushak Bias separates it from the District Pakpattan. Okara District is east of the division. District Khanewal and District Vehari form boundaries with the division, and on the southern side is District Pakpattan, where there is a shrine of the Sufi Hazrat Baba Fareed Shaker Gunj.


Industry

Sahiwal's industries include cotton ginning and pressing, tanning, textile (City cloth palace, City Fashion Center), textile spinning, weaving, leather products, garments, pharmaceuticals,flour mills, food processing, oil mills, cold storage, potato, tobacco, vegetable ghee/cooking oil, biscuits, chip board, confectionery, and woollen textile spinning and weaving. The Sahiwal breed of cattle, recognised as productive among Zebu dairy breeds, originated here; they are now found throughout the tropics. The main crops of the Sahiwal district are wheat, cotton, sugarcane, maize and rice. Main fruits are citrus, mangoes and guava. Sahiwal is a green and fertile town with 11,522 acres (46.63 km2) under naturally grown forests. KSC is an electrical industry in Sahiwal, producing water heaters, water coolers, air coolers, fans and washing machines.


Sahiwal District Jail

The Sahiwal Division Jail is one of the ancient jails in Punjab. It was depicted in one of the famous Pakistan Television Corporation (PTV Drama) Jangloos. A famous Urdu poet, Faiz Ahmad Faiz, wrote a major part of his poetry while he was in Sahiwal Jail as a political prisoner.A new high security jail is under construction next to the central jail.


Agriculture

Agriculture is important to the local economy, particularly the growing of cotton and grain exported all over Pakistan and around the world. Cattles and sheep are also for which the Division is famous for Water Buffalo milk all over the world. One of the ancient civilization on archaeological evidence dated 3000 to 5000 B.C. 15 miles (24 km) southwest from downtown in suburb of Harapa which was the northern city of Indus Valley Civilization.


Harappa

Harrapa is a large village in the Sahiwal Division of Punjab, 15 miles (24 km) southwest of the district capital. Archaeologists think that in ancient times Harappa was the urban centre in the upper Indus region, much like Mohenjo-daro dominated the lower Indus Valley and Ganweriwala might have been the urban centre for what is now Rajasthan. The site at Harappa was first excavated by Sir Alexander
Cunningham in 1872-73, two decades after Brick Robbers carried off the visible remains of the city. He found an Indus Seal of an unknown origin.

The first extensive excavations at Harappa were started by Rai Bahadur Daya Ram Sahni in 1920. His excavations at Mohenjo-daro called attention to the Indus Valley civilization as the earliest urban culture in the Indian Sub-Continent. His work was followed later in the decade by that of Madho Sarup Vats, also of the Archaeological Survey of India. Excavations continued in the 1930s, and later in 1946, Sir Mortimer Wheeler excavated the fortification walls and found the first pre-Indus Valley civilization (Kot Dijian) deposits. After Independence in 1947, Harappa was excavated by Mohammed Rafique Mughal of the Archaeological Survey Department of Pakistan in 1966. In 1986, the first systematic, multi-disciplinary excavations of an Indus Valley city were begun by the Harappa Archaeological Project (HARP), under the direction of George F. Dales and Jonathan Mark Kenoyer. The main features of the plan, the citadel on the west and the mounds of the 'lower city' towards the east and southeast have already been indicated. To the north, a hollowed belt containing green crops marks an old bed of the River Ravi, which today flows six miles (10 km) further north between the citadel and the riverbed, Mound F contains much of the town planning; to the south of the citadel lie the outlying hills, the Harappan cemetery and the post Harappan cemetery. To the southeast, sporadic
digging has been carried out in Area G, but the ragged Mound E and its surroundings unexplored. Most of the site remains unexcavated. The earliest deposits on the site go back to 5300 B.C. and the area seems to have been continuously inhabitated ever since.


Sahiwal Dairy Cattle Breed

The Sahiwal Cattle breed is the best dairy breed of zebu or humped cattle (Bos Indicus), followed by the very similar Red Sindhi and Butana breeds. It originated in the dry Punjab region which lies along the Indian-Pakistani Border, and was once kept in large herds by professional herdsmen called "Jaanglees". With the introduction of irrigation to the region their numbers dripped, and farmers used them as draft and dairy animals. The Division Sahiwal has one of the best dairy breeds in India and Pakistan. It is thick-resistant, heat-tolerant and resistant to parasites, both internal and external. Cows average 2270 kilograms of milk while suckling a calf and much higher milk yields have been recorded. Due to their heat tolerance and high milk production they have been exported to other Asian countries, Africa, Caribbean and around the world. As oxen, they are docile but slow, making them more useful for slow work. Their colour can range from reddish brown to red, with varying amounts of white on the neck, and the underline. In males, the colour darkens towards the extremities, such as the head, legs and tails. Sahiwal breed arrived in Australia via New Guinea in the early 1950s. In Australia, the Sahiwal breed was initially selected as a dual-purpose breed. It played a valuable role in the development of the two Australian tropical dairy breeds, the Australian milking zebu and the Australian Fresian Sahiwal. Sahiwal breeds are now used in Australia for beef production, as crossing high-grade Sahiwal sires with Bos taurus animals produced a carcass of lean quality with desirable fat cover.

The Sahiwal breed is the heaviest milker of all zebu breeds and displays a well-developed udder. It sires small, fast-growing calves and is noted for its hardiness under unfavourable climatic conditions.


Education

Sahiwal has several educational institutes of quality. But unfortunately the literacy rate is still very low: about 30% overall and 51% in the city of Sahiwal. The Divisional Public School (DPS) and St. Mary's Convent High School are the leading schools of the city. Other notable schools are Government High School, Comprehensive High School, Government Pilot Higher Secondary School and Junior Model High School. Government Immamia College, Government Postgraduate College (GPGC) and Government College for Men and Women. Baha-u-Deen Zikria University (BZU) sub-campus is also working there. Virtual University has opened a campus in Sahiwal, and offers distance learning programmes. It is situated near the Government College Sahiwal.

The sub-campus of COMSATS Institute of Information and Technology (CIIT) is under construction at Sahiwal due to the efforts of then Minister of Science and Technology from Sahiwal. The private sector is playing a major role in education system. Renowned schools in this regard are The Educators, The Beaconhouse School System, Bloom Field Hall, The City School and Pre-Forces Cadet School. A new building of The City School is under construction in front of the Comprehensive School of Sahiwal. After completion, it will be the largest private school campus in Sahiwal. Another new school established in 2007 is the Dare-Aqram Model School, Government College Of Technology, Muhammadan Law College Sahiwal and Multan Law College Sahiwal is also imparting quality education in the field of law for the people of Sahiwal since 1992/1998 and AL SAHI SPECIAL EDUCATION CENTER is here for disable children.


Demography

The Sahiwal Division was historically home to various clans of bar nomads. In Sahiwal majority of People are Rajput and Arrian The main ones were the "Rai", "RAO" and Chaudhary Rajputs, Afzal Bhattis, Jatts, Khaggas, Chatthas, Farooqis, Kharals, Zaidis, Johiyas, Kathias, Bhagwans, Hans, Sials, Dhakus, Langrials, Wattus, Dhudhis, Balochs, Mughals and Bodlas. Punjabi Language is the most commonly spoken language in the division. After the start of the building of canals, tribes from East Punjab such as the [Kamboohs], Arains, Dogars,Gujjars and Chatthas also settled in the division. suyahThe most brave nation.They live here since partition.


Notable Residents

Abdus Salam, Pakistan's only Nobel Prize winner was born in Santokdas, District Sahiwal, according to his elder sister and his obituary although he grew up in Jhang. He was awarded the Nobel Prize for his achievements in the field of Theoretical Physics in 1979. He is buried in Rabwah, in the Jhang district.

Majeed Amjad, one of the founding forefathers of modern Urdu literature, was born in Sahiwal and received his education from GovernmentCollege Lahore. He was inspired by the greenery of Sahiwal and wrote about the trees and greenery of Sahiwal. There is a park named for him.

Fateh Shair Colony, Sahiwal

Fateh shair colony is also the oldest colony of Sahiwal whose famous personality were Malik Iqbal Langrial & Rao Mohammad Aslam Khan (Late) living in "Langrial House" & "Rao Mohammad Aslam House". They both are the renowned politician of Sahiwal and as well as Punjab. This colony is located near by Pakistan Television broad casting centre. This colony is well organised and in permoting this colony's standard all credit goes to Rao Mohammad Aslam Khan(Late). Kot Khadim Ali Shah is near by Fateh Shair colony. District Head Quarters Hospital is located near by Fateh Shair Colony.A campus of "Baha-u-Deen Zikria university to be constructed near by DHQ Hospital,vit have a Sub Campus of BZU.

Farid Town, Sahiwal

Farid Town, Sahiwal is a new development that started in the late 1950s. The Government College for boys was built at the "entrance" of this town. The town grew overnight when the well-to-do of the city wanted to enjoy the suburban lifestyle. There is a mosque, surrounded by shops and houses and its Map Planed by Mohammad Rasheed Khan (Late)

Kot Khadim Ali Shah, Sahiwal

Kot Khadim Ali Shah is the oldest colony of Sahiwal. It is located on the main Sahiwal-Faisalabad road. This colony is distributed into eleven streets and each street is long enough even up to 30 blocks each. Kot Khadim Ali Shah has the largest Wood Market named as "Lakkar Mandi Sahiwal" Ch.Sheraz Habib bhagwan jee owns 3 arra(wood cutting factory)in this market . This market is trading timber and furniture woods all over the Pakistan. District Head Quarters Hospital is located in this area. A campus of "Baha-u-Deen Zikria university to be constructed near this colony.But unfortunately this colony is facing very bad condition of severage problems. It have a Sub Campus of BZU.very Beautiful Town. Jinnah Crecket Stadium is also nearby this colony.

Tariq Bin Ziad (TBZ) Colony, Sahiwal

Tariq Bin Ziad colony is one of the beautiful housing schemes in Sahiwal. It is located beside Bilal colony. Faridia Park is also situated there. Mostly Arain (the descendants of Ummayad Arabs from Areeha who entered in the sub-continent in 711 AD with Muhammad Bin Qasim and were known as Areehai which chaged to Arain) families are inhabiting in the colony. the famous school of sahiwal is also here. Its name is Ali Cadet School. Another colony was attached with it which name is Labour Colony Developed by th Punjab Worker Welfare Board. Another small colony is attached with TBZ is Islam Nagar. It is famous for its milk production. It is connected with a small canal and industry of tannery.


Broadcast Media

There are various radio and cable networks broadcasting in the city, such as Sun Rise FM 96 Sahiwal radio and cable networks like Voltas Cable Network, GEO Cable Network and Galaxy Cable. The main companies providing dial-up internet facility such are BrainNet and CyberNet. World Call Wireless provides wireless telephones and wireless internet. Wateen Telecom offers landline telephone, cellular phone, HQ television,high-speed internet and WiMax. On every main crossing of Sahiwal, there is a closed circuit TV camera monitoring 24 days a week for security purposes.


Internet

Now Sahiwal is also on Information Super Highway after getting High Speed DSL Internet Facility by Multi net. A lot more development is being done in the field of IT and Telecoms. Sahiwal is also connected with backbone fiber that connects all major cities of Pakistan. All Government Schools in Sahiwal have latest PIV Based Computer Lab from IT and Computer Labs Project Government of Punjab. Roughly one million rupees is spent on each lab. The Government hoped that this project will defiantly improve the IT Education Standard in Sahiwal.


Information Super Highway

Sahiwal is on the Information superhighway after getting a High Speed DSL Internet Facility by Multi Net. Multi Net offer 256kb, 512kb, 1mb & 2mb shared speed & there is also Wateen Telecom who have started their service with high speed DSL via WIFI. A lot more development is being done in the field of IT and telecoms. Sahiwal is connected with backbone fiber that connects all the major cities of Pakistan. All Govt. Schools in Sahiwal have the latest PIV Based Computer Lab from the Government of Punjab IT and Computer Labs Project. Roughly one million rupees is spent on each lab; these furnished labs contain 16 of the latest PIV (Core 2 Duo) computers, air conditioner, printer and Internet facility. Each lab has dedicated IT staff including an IT Teacher, working on 17 Scale and Lab In charge. The government hopes that this project will improve the IT education standard in Sahiwal. Asia's biggest television broadcaster is located in the city.


Hospitals

The District Hospital commonly known as the Civil Hospital is the largest hospital of Sahiwal. It has a nursing school and also offers different laboratory courses. Many well known doctors of the city have served their House Jobs here. However adequate medical facilities, especially emergency specialist equipment, are often not available and patients are referred to Lahore (the capital city of the Punjab), which is inconvenient and risky.

Other notable and renowned hospitals include the Christian Hospital, Bhagwan jee Children Hospital, the Mir Wilayat Hussain Zaidi MaternityHospital and the Sadiq Medical care Hospital at faride town. Shaukat Khanam Lab, Agha Khan Lab, Bhagwan Lab, Shafqat Lab and numerousother private laboratories are functioning in the city. Private clinics of doctors are numerous.