STOP Wasting Your Fortune over TV, Radio, News Papers, Magazines, Brochures, Leaf Lets, Banners and Costly Sign Boards for marketing your products & services while you can reach highly desirable audience through innovative advertising opportunities with a small size of advertising budgets. Step into e-marketing with the right partner today!
Sell something that people want to buy
Sounds simple enough, right?
Actually, this is one of the biggest hurdles facing internet businesses. The market is so glutted with products, it takes something special to get people interested enough to hand their money over to you. You need as many competitive edges as you can get, and the first is your product.
There's an old quote that goes: "If you're going to do something, do it right or not at all." You want to do right by your customers, and that means giving them something worth every penny they paid for it and then some.
The difference between success and failure
To become a successful internet entrepreneur, you need planning. Most people think you can just slap up a web site, hang out a shingle and name your price, but the truth is this: there are hundreds of millions of web sites out there, and drawing attention to just one is a challenge. The good news is: you can meet that challenge and win the marketing game! Attract more customers, find buyers for what you sell...
How can Findpk accelerate your business?

People from all over the world turn to findpk.com Yellow Pages as their One Stop Destination and Premier Online Source for information on Pakistan in 14 International Languages such as English, French, Spanish, German, Italian, Portuguese, Japanese, Korean, Dutch, Greek, Russian, Chinese Simple and Chinese Traditional.
Whether you're a typically importer, manufacturer, trader, business professional, business
executive, investor, business analyst, researcher, technologist, industrialist, doctor, engineer, tourists, working professional, sportsman, home users, student, parent, cyber kid or hobbyist, our Online Yellow Pages has something for you! We've collected and built the best Information Directories and Portals in various categories…
Promote Your Business, Products & Services
Advertising at Findpk helps you boost your Web site traffic or build brand awareness with exclusive ad positioning on our high traffic network. There are a number of advertising options included Flash Animated Skyscrapers, Banners, Box Posters and Text ads. Unlike online directory advertising, a customer doesn't have to search to find your business ad. Depending on what type of ad you choose, your ad appears directly on the home, intermediate or search results pages of our highly visited search directories and Guides... Find more


Why Yellow Pages Network?
Advance Search Facilities
Largest Worldwide Directories

Exclusive Guides of Pakistan
Entertainment Services
Daily Updates
Jobs & Career
Religion
Check our Pages Strength at Google

Google Search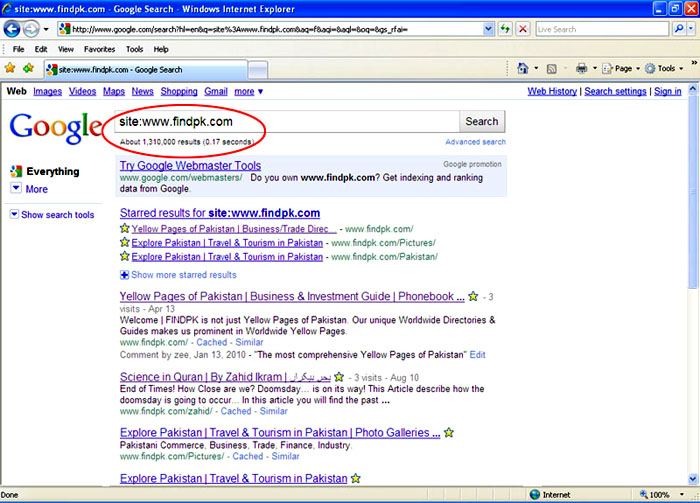 Findpk.com Keywords Search on Google.com & Google.com.pk

Yellow Pages site:www.findpk.com
Pakistan site:www.findpk.com

You may search other keywords & compare other yellow pages websites.
Findpk.com Keywords Pie & Analytics By SmartViper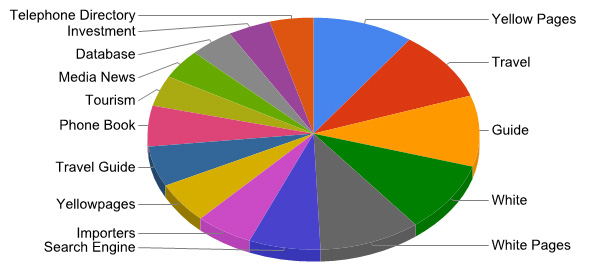 FINDPK.COM Ad Affinity at Google Ad Planner
A numeric score assigned to sites and keywords in Google DoubleClick Ad Planner.
The affinity score, which appears on a site's profile page, shows the relationship between audiences of two sites or between a site and a keyword. That is, the affinity score estimates how many times more likely you are to reach an audience who visits a specific site or searches for specific keywords versus an audience on the internet overall.
Our e-Marketing Solutions combine extensive Internet reach, unique ad placement technology and innovative campaign development to maximize the effectiveness of your marketing message.
Google Search (Worldwide) Reports about findpk.com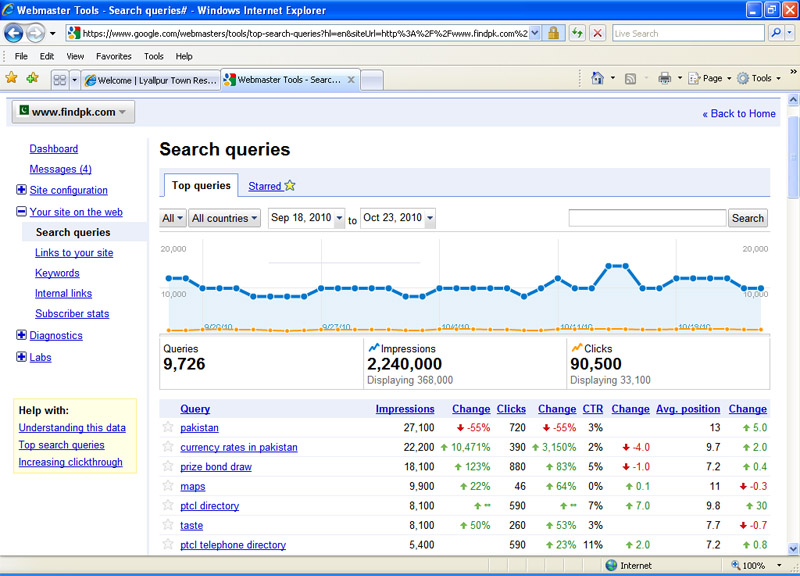 Google Search (Worldwide) Reports about findpk.com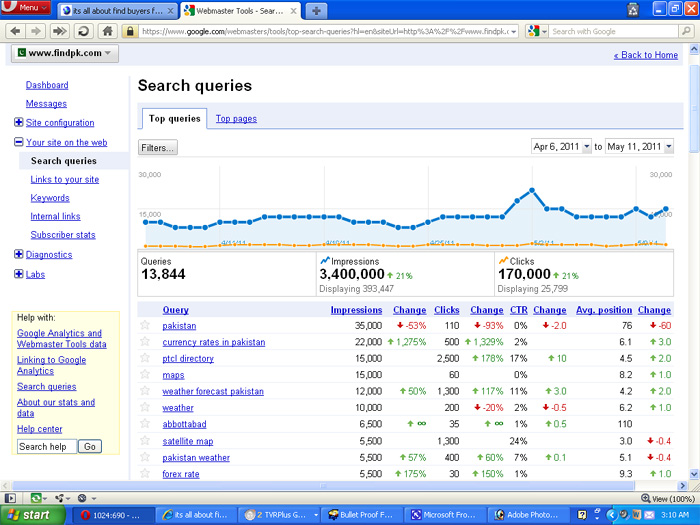 The Above 2 reports show the comparison of site progress.

Top Search Quires Sample Data of Google Report
July-Oct 2009 Nov -Feb 2010 Jun-Jul 2010

Reach people when they are actively looking for information about your products and services online, and send targeted visitors directly to what you are offering.
Find us on Other Top Search Engines
FINDPK.COM on www.Bing.com
FINDPK.com on Yahoo.com
Usage Statistics Reports
According to Last 12 Months of Online Web States Reports of www.fndpk.com Generated by Webalizer Version 2.01
Our Target Audience

International & Governmental Bodies
Ministries, Authorities, Embassies, Consulates, Chambers of Commerce, Agricultures & Industry, Unions, Business Groups, Associations, Councils & Confederations, UN & World Organizations, Associations, Agencies & Forums, International Development Organizations, World Trade Centers, Fair Trade Organizations, Trade, Exports, Investment, & Tourism Promotion Authorities, Agencies, Bureaus & Councils, Associations of Exporters, Importers, Manufacturers, Industrialists, Producers &Suppliers, Professional Associations, Business & Foreign Trade Networks, Ministers, Ambassadors, Consuls, Diplomats, Directors, Commercial & Economic Attaches, Trade Specialists & Representatives, Politicians, Members of Parliaments, Senates, Advisory & Peoples Councils, Associations, NGOs, etc…

Law & Regulatory
Ministries of Justice, Commerce, Business, Trade and Economy, Regulatory Supreme Boards and Councils, Transparency Monitoring Bodies, Local & International Law Firms, Consultancy & Legal Services Companies, Intellectual Property, Corporate Governance & Institutional Discipline, Trademarks, International Law, Arbitrators, etc..,

Traders & Investors
Entrepreneurs, Investors, Jewelers, SMEs, CEOs, Presidents, Chairmen, General Managers, General Directors/Directors-General, Producers, Manufacturers, Industrialists, Farmers, Exporters, Importers, Enterprises, Buyers, Vendors, Wholesalers, Retailers, Suppliers, Franchisers, Agents, Distributors, Salesmen, Merchants, Contractors, Subcontractors, Exhibitors, Organizers, Companies, Software Development Houses, IT & Telecom, Gem, Jewelry & Watches, etc…
Education, Training & Publishing
Presidents and Deans of Universities, Academics, Doctors, Engineers, Lawyers, Attorneys, Consultants, Advisers, Experts, Metallurgists, Translators, Trainers, Private and Public Training Institutes & Centers, Research & Development Centers, Publishing Houses, Bookshops, Cultural Association and Organizations…
Banking & Finance
Banks, Funds, Securities, Equities, Commodities, Stocks, Financial Markets & Centers, Bankers, Exchangers, Accountants, Auditors, Brokers, Insurers, Realtors, Dealers, …
Services & Tourism
Translation Agencies, Advertising Agencies, Marketing Companies, Editing & Copy Writing Companies, Events' Management and Organization Agencies (Fairs, Shows, Expos, Exhibitions, Conferences, Conventions & Events), Ministries & Authorities of Tourism, Tourism Schools & Institutes, Travel & Tourism Agencies, Tour Operators, Hotel Chains & Associations, Travel Trade Fairs, Airfreights, Operators, Couriers, Cargo Agents/Freight Forwarders, Airways, Airports, Seaports, Customs, Shipping, Transport & Aviation, etc..

Human Resources
Companies, Managers, Recruitment Agencies, Head Hunters, talent management, etc..

Media
Over 10000 Journalists, Editors, Reporters, Writers, Publishers, Media Specialists, Satellite Channels, Local & International Publications & Periodicals including Newspapers, News Agencies, Magazines, etc..

Miscellaneous
Free Zones, Economic & Energy Cities, Industrial Parks, Oil & Gas Industry, Mines, Iron & Steel Industry, Automotive & Aviation Industry, Plants, Factories & Laboratories, Minerals, Metals & Materials Technology, Electronics & Machinery, Chemicals & Pharmaceuticals, Medical & Healthcare, Fruits, Vegetables & Food Industry, Organic Products, Tea & Coffee, Wheat & Rice, Herbs & Spices, Livestock & Forestry, Crafts, Traditional, Ethical, & Creative Industries, Brokers, Real Estates & Construction, Furniture, Wood & Decor, Clothing & Textiles, Cotton, Wool & Silk, Garments, Toys & Gifts, Fashion & Accessories, Leather & Footwear, Glass, Ceramics, Stones & Porcelain, Plastics & Rubber, Paper, Stationary & Printing, etc...
Countries
1. 194 (22 Arab & 172 Countries, UN Members States).
2. 58 Dependencies & Territories.

By The Grace of Almighty Allah and with the help of supportive audiences Findpk has been attracting visitors from all around the world, more than any other yellow pages in Pakistan!
Why Web Marketing | Advertising Tariff | Terms
Affiliate Programs | Media Partners
We can adjust your ads according to your budget



About us | Our Services | Contact us | Web Hosting | Advertising Programs