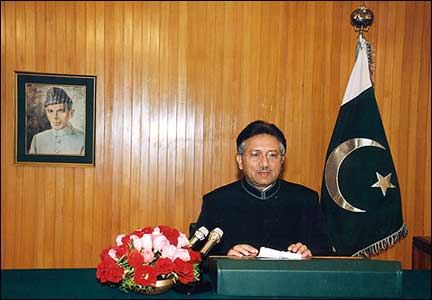 President Musharraf addressing the nation
General Pervez Musharraf, the second of three brothers, was born in Delhi on August 11, 1943. He spent his early childhood in Turkey, from 1949 to 1956, owing to his father's deputation in Ankara.
On return to Pakistan, he received his education from Saint Patrick's High School, Karachi, and Forman Christian College, Lahore. Later in 1961, he joined the Pakistan Military Academy and was commissioned in Artillery Regiment in 1964. He fought in the Indo-Pakistan War of 1965 as a young officer, and was awarded Imtiazi Sanad for gallantry. He volunteered to be a commando, and remained in the Special Services Group for seven years. He also participated in the Indo-Pak War of 1971 as a Company Commander in the Commando Battalion.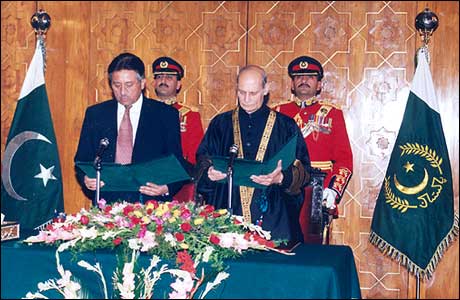 Taking oath from the Chief Justice of Pakistan
A graduate of Command and Staff College, and National Defense College, General Musharraf also distinguished himself at the Royal College of Defense Studies, United Kingdom. During his military career, General Musharraf has accumulated varied experience in different command and instructional appointments. He also served as Director General Military Operations at the General Headquarters from 1993 to 1995.
General Musharraf rose to the rank of General on October 7, 1998, and was appointed as the Chief of Army Staff. He was given additional charge of Chairman Joint Chiefs Staff Committee on April 9, 1999. After October 12, 1999, when the military took over the government in Pakistan, he has assumed the title of the Chief Executive of the country. General Pervez Musharraf assumed the office of President of Pakistan on June 20, 2001. In order to establish legitimacy and to endorse his rule, General Musharraf held a referendum on April 30, 2002. As a result of this referendum he was elected as President of Pakistan for another five years. As as the President of Pakistan, he continues to hold the office of Chief of Army Staff and Chairman Joint Chiefs of Staff Committee.
General Musharraf got married in 1968 and has two children, a son and a daughter.