Have Any Question About Pakistan, Ask Findpk?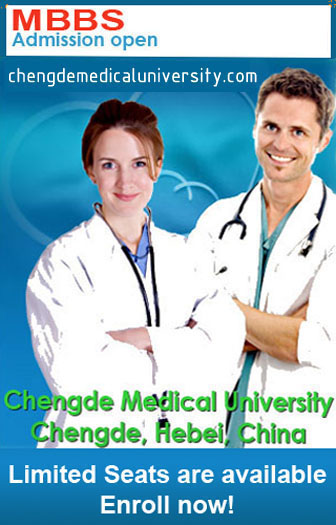 Explore Pakistan | Worldwide Travel & Tourism

[Ethnic Groups] [The Baloch] [People of Sindh] [People of Punjab] [Saraiki People] [Pashtuns People] [Muhajir Urdu-Speaking People] [Mountain Tribes] [Religions] [Languages] [Festivals] [Arts & Culture] [Folktales From Pakistan] [Music & Dance] [Art & Craft] [Art Gallries & Museums] [Cuisine of Pakistan] [National Symbols of Pakistan] [Slide Show]
Festivals in Pakistan
Pakistan's calendar features a great many festivals, both purely cultrual and also religious. Others are in memory of National Heroes or commemorate political events in the nation's recent history. Muslim festivals are celebrated according to Muslim (Lunar) Calendar and may occur some 10 days earlier each successive Christian Year.
There are several folk and festivals held regularly in every part of the country. Exact dates of such festivals are fixed annually by the District Administration of the respective area, at least 01 month in advance, according to the tradition.


Pakistan's main festivals are listed:

1 . Eid-ul-Fitr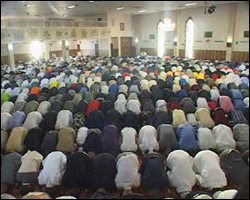 Religious festival celebrating end of fasting month on 1st of Shawwal, the 10th month of Islamic Calendar. Special prayer after sun-rise, exchange of sweet dishes, visits.

2. Eid-ul-Azha

Religious festival commemorating the great sacrifice offered by Prophet Abraham. Celebrated on 10 Zilhaj, 12th month of Islamic Calendar. Collective prayers after sun set, sacrifice of goats, sheep, cows or camels and distribution of meat among relatives, friends and poor.

3. Shab-e-Barat
(24 November 2000, 14 November 2001)

Religious festival celebrated on 14th of Shaaban, the 8th Islamic month. Prayers, fire works, exchange of sweet dishes and visits.


4. Eid-e-Milad-un-Nabi :
(Birthday of Prophet Hazrat Mohammad,p.b.u.h. on 12th of Rabi-ul-Awwal - the 3rd month of Islamic Calendar.


5 Christmas. (25 December)

In Pakistan 25 December is a public holiday it is however in memory of Jinnah the founder of Pakistan.
In christian homes they celebrate christmas with the exchanging of gifts and cards, the wearing of new clothes and the visiting of houses of friends.
They have a chruch service which is packed on Christmas day which is called Bara Din the big day.
6 Quaid Day (25 December)


7 Basant
(Spring festival of Colors and Kite-flying)

The festival is held on the second weekend of February. The skies over Lahore explode in a kaleidoscope of color. As the first kite rises over the horizon, a joust for supremacy begins that brings millions of kites of all shapes and sizes, soaring to challenge it. This is a time for festivities that reflect the true Lahori spirit of good-natured competition and appetite for celebration. .......

For a visitor, Basant is the ideal time to appreciate the mood and magic of Lahore. From the floodlit skies, the manic beat of the 'dhol' and cries of 'Bo kata!' each time the opposition loses a kite, to a constant feast that lasts an entire week. Lahore displays a charm and hospitality unmatched and unrivalled by any other city in the world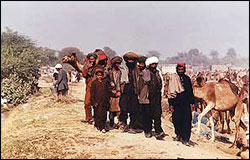 8 . Sibi Festival :
(Last week of February)
At Sibi (Balochistan). Traditional sports, handicrafts exhibition, folk music and dances.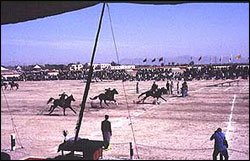 9 . Sindhh Horse & Cattle Show
(Last week of February)
At Jacobabad (Sindhh). Similar activities as in Sibi Festival.



10 . Jashan-e-Larkana
(Last week of February)
At Larkana (Sindhh). Traditional sports, exhibition of handicrafts, folk music and dances.

11. Nauroze
(21-23 March)
Celebrated only in Gilgit, Hunza, Skardu and Chitral. Polo, foot-ball, volley-ball and hockey matches, folk dances and music.

12. Mela Chiraghan
(Festival of lamps in memory of sufi-poet Madhu La'l Hussein in March)
Held for 01 week outside Shalimar Gardens, Lahore.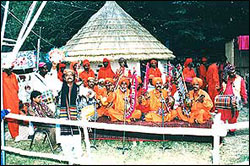 13. Horse & Cattle Show :
(End of March till 1st week of April)
At Dera Ismail Khan. Local games, folk dances, music, cattle races and exhibition of local handicrafts.


14.Besakhi:(April)
Besakhi festival originally started at the time of Aryans arrival in subcontinent but later on it became very popular in Punjab. The first harvesting of wheat in Punjab is sign of happiness and prosperity among the Punjabi farmers and Besakhi is celebrated as an expression of their joy.
The main event of the Besakhi mela will be held on 13 April, the second day of the festival. Gurdwara, which means a door to Guru, is related to Baba Guru Nanak, the founder of Sikh religion. According to the Sikh religion, the Besakhi festival is celebrated only at the holy city of Hassanabdal, where lies the Gurdwara Punja Sahib. In 1921, it was decided by the Gurus (elders) of the Sikh religion to celebrate the event on the first day of Sunsikrat month of Besakh in memory of the day of the first Besakh in the year 1699 when the 10th Guru of the Sikh religion awarded Punj Kaaf slot and symbol to Guru Goband at the city of Anandpur Sahib (India)

15.Holli:(March) By Hindus .....

16.Dewali: (5 Days Hindu Festival)

17. Jashan-e-Shikarpur : (In April for 01 week)
At Shikarpur, Sindhh. Cultural activities, local sports and handicrafts exhibition.

18. Joshi or Chilimjusht : (14-15 May)
Kalash festival of welcoming spring, held in Kalash Valleys near Chitral. Folk dances, music and exchange of dishes.

19. Shandur Polo Festival : (July 7 - 9, 2001)

The favorite sport in Northern Areas is polo, which originated here. It is a more rugged, free-style version that the sedate variety known in the plains.
Passion for Polo is the highest on the world's highest polo ground. Shandur invites visitors to experience a traditional Polo tournament between the teams of Chitral and Gilgit during the second week of July. The tournament is held on Shandur Pass, the highest Polo ground in the world at 3700 meters. The festival also includes folk music, dancing and a camping village is set up.

20 . Utchal : (15-16 July)

A harvest festival, celebrated by Kalash people in Kalash Valleys, Chitral.

21. Phool : (20-25 September)

Held in Kalash Valleys near Chitral. Reaping grapes and walnuts, dancing and singing.

22. Lok Mela : (1st week of October, for one week)

Folk Festival held at Islamabad. Folk Music, songs, music contests, folk dances, craftsmen at work, exhibition and sale of handicrafts. The festival presents a unique opportunity to watch the culture and craft of the whole country at one place.

23. Chowmas : (18-21 October)

Held in Kalash Valleys near Chitral. Welcoming of winter with first snow-fall. Activities restrict to indoor.

24. Karakoram Car Rally :(3-8 Nov, 2000)

PTDC Rally from Islamabad to Khunjerab Pass (the highest point - 4733 m above sea level). A closing event will be held in Hunza Valley.

25. Pakistan Day : (23 March)

Commemorating the anniversary of Pakistan Resolution passed on March 23, 1940 at Lahore during the public rally of All India Muslim League. Military parade at provincial capitals and Islamabad.



26 . Independence Day : (14 August)
Meeting, processions, rallies, decorations and illustrations all over the country.

27 . Defence Day of Pakistan : (06 September)

Parades and exhibitions of military equipment at Rawalpindi, Lahore, Peshawar, Quetta and Karachi. Visits to the war memorials. (No national holiday except Armed Forces)

28. National Industrial Exhibition Islamabad :
(May 20 - June 10, 2000)

26.Exhibition and sale of Pakistan's industrial products and handicraft items.

29. National Industrial Exhibition Lahore : (3rd week of November for 15 days)

Held at Fortress Stadium, Lahore. Exhibition and sale of industrial products and handicrafts of Pakistan.

30 . National Horse & Cattle Show Lahore :
(3rd week of November for 05 days )

Held at Fortress Stadium, Lahore. Cattle races, cattle dances, tent-pegging, tattoo show, folk music, dances, bands, cultural floats and folk games.
31. Choimus Festival of Kalash
Much dancing in giant circles around bonfires and chanting in mesmerizing repetitions - with just a drum beat accompanying the voices. The girls wear intricate costumes with head- dresses made of cowry shells, coins and beads with intricate hair braiding and headwear. The heavy headdress weighing several pounds is presented to the girl by her uncle. Other jewellery includes necklaces made from apricot kernels, a traditional gift during Choimus. Women often paint their faces with ink (replacing earlier customs of facial tattooing). Single woman are expected to find themselves a husband during these festivals. Just before the main festival, seasonal foods are offered to the ancestral spirits and a kotik, light for the ancestors, is lit. After this ritual the food, considered impure, is offered to the elderly women to be eaten.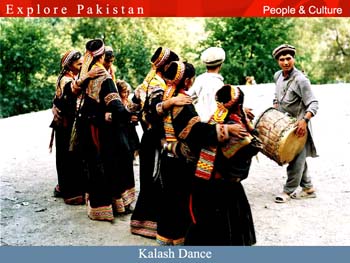 During the festival, purity is paramount and celibacy is enforced throughout the days of the event so all the people will be in pure mind when Balomain visit the valley. All the people must be cleansed in a ritual bathing the week before the festival begins. During the men's purification ceremony, they must not sit down at all during the day and at night the blood of a sacrificed goat is sprinkled on their faces. Special bread is eaten cooked away from the main village which is prepared by men only during the purification ceremony. Other bread called jaou or choimus bread is prepared for the festival which is stuffed with crushed walnuts and goats cheese.
Special dance halls exist for the purpose of dancing at festivals. They are decorated with ornate carved wooden pillars and goat-like figurines. The music and dance is a performance of set songs: the Cha or clapping song is the simplest song with a lilting dance, sung by the elders, with an energetic round dance and the women cry like goats. The drajahilak songs are long and slow, sometimes one song can last up to 2 hours and it is a kind of solo and chorus using improvisation and variation techniques. The Dushak combines the styles of Cha and Drajahilak, presenting both traditional songs and new compositions.The dancing involves side stepping, fast and rhythmical. During the festival prayers, a procession is made to a high plateau outside of the village in Balanguru.
SUFI FESTIVALS
The fairs held at the shrines of Sufi saints are called Urs. They generally mark the death anniversary of the saint. On these occasions devotees assemble in large numbers and pay homage to the memory of the saint. Soul inspiring music is played and devotees dance in ecstasy. The music on these occasions is essentially folk and appealing. It forms a part of the folk music through mystic messages. The most important Urs are: Urs of Data Ganj Bukhsh at Lahore, Urs of Hazrat Mian Mir at Lahore, Urs of Baba Farid Ganj Shakar at Pakpattan, Urs of Hazrat Bahaudin Zakria at Multan, Urs of Sakhi Sarwar Sultan at Dera Ghazi Khan, Urs of Shah Hussain at Lahore, Urs of Hazrat Bullehe Shah at Kasur and Urs of Hazrat Imam Bari (Bari Shah Latif) at Rawalpindi-Islamabad.
A big fair is organized at Jandiala Sher Khan in district Sheikhupura on the Mausoleum of Syed Waris Shah who is the most loved Sufi poet of Punjab due to his work known as Heer Ranjha.