[Ethnic Groups] [The Baloch] [People of Sindh] [People of Punjab] [Saraiki People] [Pashtuns People] [Muhajir Urdu-Speaking People] [Mountain Tribes] [Religions] [Languages] [Festivals] [Arts & Culture] [Folktales From Pakistan] [Music & Dance] [Art & Craft] [Art Gallries & Museums] [Cuisine of Pakistan] [National Symbols of Pakistan] [Slide Show]

PEOPLE OF PUNJAB: THE PUNJABI

The Punjabi people (Punjabi:ਪੰਜਾਬੀ ,پنجابی also Panjabi people) are an Indo-Aryan ethnic group from South Asia. They originate from the Punjab region, which has been host to some of the oldest civilizations in the world including one of the world's first and oldest civilizations, the Indus Valley Civilization. The Punjabi identity is primarily cultural and linguistic, with Punjabis being those whose first language is Punjabi, an Indo-European and Indo-Scythian tongue. In recent times, however, the definition has been broadened to include also emigrants of Punjabi descent who maintain Punjabi cultural traditions, even when they no longer speak the language.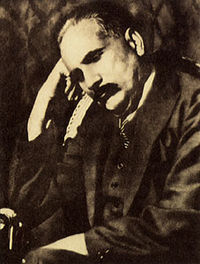 Allama Dr. Sir Mohammad Iqbal
علامہ محمد اقبال
Punjabis are mostly and primarily found in the Punjab region, of India and Pakistan, which forms the present Indian state of Punjab and Pakistan province of Punjab , this is because the Punjab region was divided between the two nations at independence from Britain. In Pakistan, Punjabis comprise the largest ethnic group at roughly 60% of the total population of the country and reside predominantly in the province of Punjab and Azad Kashmir. In India, Punjabis represent about 3% of the population. The majority of Punjabi-speaking people in India can be found across the greater Punjab region which comprises the states of Punjab, Haryana, Himachal Pradesh, Delhi and the Union Territory of Chandigarh. Besides these, large communities are also found in the Jammu region of Jammu and Kashmir and the Indian states of Rajasthan, Uttaranchal and Uttar Pradesh.

Punjabi is the dominant language spoken in Pakistan, and 11th most spoken language in India and 3rd most spoken language in South Asia. According to the Ethnologue 2005 estimate[5], there are 88 million native speakers of the Punjabi language, which makes it approximately the 11th most widely spoken language in the world. According to the 2008 Census of Pakistan[6], there are approximately 76,335,300 native speakers of Punjabi in Pakistan, and according to the Census of India, there are over 29,102,477 Punjabi speakers in India[7]. Punjabi is also spoken as a minority language in several other countries where Punjabis have emigrated in large numbers, such as the United Kingdom (where it is the second most commonly used language[8]) and Canada, where in recent times Punjabi has grown fast and has now become the fourth most spoken language.[9]. Punjabi is the 2nd most common language in the UK after English. The 4th most common spoken language in Canada after English, French and Chinese. There are also sizable communities in United States, Kenya, Tanzania, Uganda, Persian Gulf countries, Hong Kong, Malaysia, Singapore, Australia and New Zealand.

Punjabis are ethno-linguistically and culturally related to the other Indo-Aryan peoples of South Asia. There are an estimated 120 million Punjabis around the world.

Pakistani Punjabis

Punjabis make up almost 45% of the population of Pakistan. The Punjabis found in Pakistan belong to groups known as biradaris, which descend from a common male ancestor. In addition, Punjabi society is divided into two divisions, the zamindar groups or qoums, traditionaly associated with farming and the moeens, who are traditionally artisans. Zamindars are further divided into qoums that claim pre-Islamic ancestry such as the Rajput, Jat, Shaikhs or (Muslim Khatri), Kambohs, Gujjars, Dogars and Rahmani (Muslim Labana). Zamindar groups claiming Central Asian or Middle Eastern ancestry include the Gakhars, Khattar, Awan, Mughal and Arain, comprising the main tribes in the north of the province, while Khagga, Bodla, Jhandir, Daudpota, Gardezi, Syed and Quraishi are found in the south, all of whom claim Arab ancestry. Immigrants from neighbouring regions, such as the Kashmiri, Pashtun and Baluch ,also form important element in the Punjabi population. Pashtun tribes like the Niazis and the Khakwanis, are integrated into Punjabi village life. Especially the members of the Niazi tribe, who see themselves as Punjabis first. They have big communities in Mianwali, Bakkar, Lahore, Faisalabad, Sahiwal and Toba Tek Singh. Major Moeen groups include the Lohar, Khateek, Rawal, Chhimba Darzi, Teli, Julaha, Mallaah, Mirasi and Muslim Shaikhs, who are associated with a particular crafts or occupation.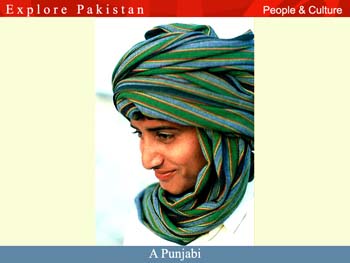 Punjabis have traditionally and historically been farmers and soldiers, which has transferred into modern times with their dominance of agriculture and military fields in Pakistan. In addition, Punjabis in Pakistan have been quite prominent politically, having had many elected Members of Parliament. As the most ardent supporters of a Pakistani state, the Punjabis in Pakistan have shown a strong predilection towards the adoption of the Urdu language but nearly all speak Punjabi, and still identify themselves as ethnic Punjabis for the most part. Religious homogeneity remains elusive as a predominant Islamic Sunni-Shia population and a Christian minority have not completely wiped out diversity since the partition of British India. A variety of related sub-groups exist in Pakistan and are often considered by many Pakistani Punjabis to be simply regional Punjabis including the Seraikis (who overlap and are often considered transitional with the Sindhis) and Punjabi Pathans (which publications like Encyclopędia Britannica consider a transitional group between Punjabis and Pathans.


Language:
Due to vast area of land where Punjabi is spoken, different local variations or dialects have developed.

Majhi: Spoken in the heart of Punjab i.e., Lahore , Sialkot, Gujaranwala, Gurdaspur, Amritsar. Most of the population of Punjab lives in this area and linguists also say that Majhi dialect is the "Tixali boli" i.e., it has been influenced by all other dialects.

Malwi: Spoken in the east Punjab area of Ludhiana, Ambala, Bathinda, Ganganagar, Maleerkotla Fazilka, Ferozepur. This area (Malwa) is the southern and central part of present day Indian Punjab. Also includes the Punjabi speaking areas of Haryana, viz. Ambala, Hissar, Sirsa, Kurukhetra etc. (northern parts of Haryana mainly).

Doabi: Land between the rivers of Beas and Satluj is called Doaba. Do Aaba lierally means "the land between two waters" in Persian. It includes Jalandhar, Hoshiarpur, and large number of Punjabis from this area have gone out to U.K., USA, Canada or elsewhere.

Pothohari: The area where Pothohari is spoken extends in the north from Kashmir to as far south as Jehlum and Gujar Khan and includes the capital of Pakistan, Islamabad. The whole area (i.e. the north-west of Punjab) is beautiful scenic area. It's here that the beautiful hilly resorts of Murree, Ayubia, Nathia-Gali lies. This dialect is similar to some extent to the Hindko dialect of Punjabi which is spoken in Peshawar, Nowshehra, Mansehra all these areas lie in the North West Frontier Province of Pakistan where majority language is Pashto, but Hindko speakers area also found in sizable numbers.

Jhangvi: The region where Jhangvi is spoken stretches from Khanewal to Jhang and includes the cities of Faisalabad, Chiniot. Jhangvi dialect is also called the "Jangli" dialect of Punjabi. This is the land of Heer/Ranjha. Their tomb is located in Jhang city. Sultan Bahu is an important saint of this area.

Multani: The dialect spoken in Multan, Bahawalpur, Khairpur, Daira Ghazi Khan, Muzafar Garh i.e., southern deserts of Punjab is called Multani (also Lehndi by some) and perhaps differs from Punjabi more than any other dialect. This is the land of Muslim Sufis, perhaps "Shah Shams Sabazwari" who came to Multan in 1165 AD was the first in a long series of Sufis to base themselves in Multan.

Clothing: Women's clothing normally consists of a piece of colorful cloth that women wear around their necks. Salwar kameez's and duppattas come in a variety of colors and designs. Many stores specialize and sell only these articles of clothing. Men and boys generally wear loose pants or slacks with a collared shirt or t-shirt. Some males also wear the kurta pajama, a shirt and pant outfit, especially the Punjabi farmer. On their head, many Sikhs also wear bhuggs, or turbins. In winter, both women and men generally wear a woolen shawl, a small blanket, around their necks. Many men wear jackets and woolen caps as well.

Music: There are many different varieties of Punjabi music. Traditional Punjabi music includes instruments such as the dhol drum, flute, dholak, and tumbi. Singers such as Pathanay Khan mainly based his music on the dholak and tumbi. Many other artists use dhol drum as their primary instrument. People generally refer to Punjabi music based on the dhol drum as Bhangra. These days, besides using the traditional instruments, some artists use computers and Western instruments to accompany their Bhangra music. Many races of people and religions made up the cultural heritage of the Punjab. Punjab is the land where spiritual aspirations arose. This heroic land bore numerous invasions, and after all its suffering, did not entirely lose its glory and its strength.