Nishan-e-Haider
نشان حیدر
Major Shabbir Sharif Shaheed
میجر شبیر شریف شہید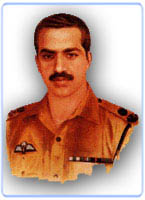 Major Shabbir Sharif Shaheed (born April 28, 1943 in Kunjah, Gujrat District) completed his O Levels from St. Anthony's High School, Lahore and while he was at Government College Lahore that he received a call to join Pakistan Military Academy (PMA) Kakul. He was thus commissioned in Pakistan Army on April 19, 1964 and after successfully completing his training (including a receipt of Sword of Honor) he was posted to the 6th Battalion of the Frontier Force Regiment, This historic battalion was the old 54th Sikhs, the parent unit of Field Marshal Sam Manekshaw MC, Gen K. S. Thimayya, Lt Gen Attiqur Rahman MC, Lt Gen Khalid M Sheikh, Maj Gen Mian Hayauddin HJ, MBE, MC and many other heroic figures of the Indian and Pakistan armies.

Incident Leading to Martyrdom (Shahadat)

It was on December 3, 1971, that he was commanding a company of 6 FF Regiment near Sulemanki Headworks when he was assigned the task of capturing the high bund (ground) overlooking the Gurmukh Khera and Beriwala villages in the Sulemanki sector. These points were defended by more than a company of Indian Army's Assam Regiment which was supported by a squadron of tanks.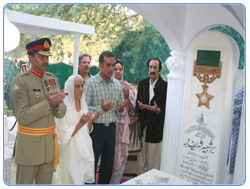 To attain his objective, Major Sharif had to go through an enemy minefield and swim across a 30-feet wide and 10 feet deep defensive canal, which he accomplished under heavy artillery and automatic fire. Leading his company, he launched a frontal attack and succeeded in driving the enemy out of its fortified trenches by dusk on December 3. A total of 43 enemy soldiers were killed in this well-nigh superhuman action, and another 28 were taken prisoners. Moreover, four enemy tanks were also destroyed.


Recipients of Nishan-e-Haider نشان حیدر in Pakistan