Nishan-e-Haider
نشان حیدر

Naik Saif Ali Janjua Shaheed (Hilal-e-Kashmir)
سیف علی جنجوعہ
Naik Saif Ali Janjua was a Pakistan Army engineer officer and a platoon commander during the Indo-Pak war of 1947. He received the Hilal-e-Kashmir from the government of Azad Kashmir, which is equal to Nishan-e-Haider, the highest military award given by Pakistan. He fought in the Kashmir sector during the 1948 War and embraced martyrdom. The valiant soldier hailed from Kashmir. Sauf Ali Janjua belongs to famous Janjua clan of Rajput family.
Early Life and military Career

Naik Saif Ali Khan was born on 25 April 1922 in Khandbaz Tehsil Nakial (Azad Jammu and Kashmir). He was enlisted in the Royal Corps of Engineers in British Indian Army on 18 March 1941. He received his B.Sc. in combat engineering in 1945 from Royal School of Military Engineering.

After completing his service in the British Indian Army in 1947, he came back to his native town and started establishing Haidri Force with the support of Sardar Fateh Muhammad Karailvi. After the creation of Pakistan, he was inherited in Pakistan Army. Due to his engineering background, he was inducted in Pakistan Army Corps of Engineers where he was stationed in Kashmir region. Before starting the war, he served in the Pakistan Army's civil projects that were started in Kashmir region.

Indo-Pakistani War of 1947-1948

On 1 Janaury 1948, Pakistan Army was raised as "Sher-e-Riasti Battalion" under the command of Lt. Col. Muhammad Sher Khan. Due to his unflinching devotion and undaunted courage, on the recognition of his dedication and commitment to the cause, he was accoladed with the rank of Naik and was made platoon commander. He set personal examples of gallantry and inflicted heavy losses on the enemy at Bhudha Khanna where his platoon was given the responsibility to defend Budha Khanna where he faced never-ending frontal and crossfire from machine guns.

Final Phase of War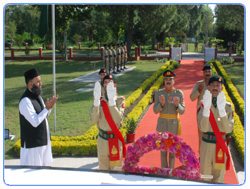 He defended the post with chivalry, which he established with his few jawans and repulsed many aggressive ventures by the enemy and imposed colossal losses on them. The enemy used every mean to capture the post with two companies attack and heavy Arty bombardment but with unwavering determination and passion for Martyrdom bought the enemies on their knees. Despite facing all odds, he led his jawans while setting personal example of bravery and valour and remained steadfast and unmoved on the post. During the course of action, despite being hit on his chest by Arty fire, he retained his position and frustrated the Indian assault. Due to severe injuries he embraced Martyrdom on 26 October 1948.

Honors and Recognitions

On 14 March 1949, the Defence Council of Azad Jammu and Kashmir adorned him with Hilal-e-Kashmir (posthumous) and on 30 November 1995, the Government of Pakistan initiated the gazette notification to declare his Hilal-e-Kashmir equilent to Nishan-e-Haider.

Recipients of Nishan-e-Haider نشان حیدر in Pakistan
Find Pioneers of Freedom of Pakistan