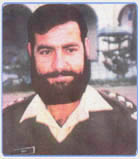 Karnal Sher Khan (1970–1999) (Urdu: کرنال شیر خان) was a Pakistani Army officer and one of only 10 recipients of Pakistan's highest gallantry award, the Nishan-e-Haider. He was a Captain in the 12 Northern Light Infantry (NLI) and, previously in 27 Sindh Regiment of the Pakistan.

Name

Captain Sher Khan was born in Nawan Killi, a village in Swabi District of Khyber-Pakhtunkhwa, Pakistan. His grandfather was very proud of another great warrior from their village and named Sher Khan after him. Karnal is localised form of Colonel. His elder brother, after his death, told in TV interviews that their parents wanted Sher Khan to become a Colonel in Pakistan Army that's why they gave him Karnal as first name. Karnel Sher Khan's home village of Nawan Kali (means: New Village) has now been named after him as Karnal Sher Killi (Village of Karnal Sher Khan).

Kargil Conflict

Captain Karnal Sher was posthumously awarded Pakistan's highest gallantry award, the Nishan-e-Haider, for his actions during the Kargil Conflict with India in 1999, on the recommendation of the Indian Army.

The following is the official statement by the Pakistani Army

"Captain Karnal Sher Khan emerged as the symbol of mettle and courage during the Kargil conflict on the Line of Control (LoC). He set personal examples of bravery and inflicted heavy losses on the enemy. He defended the five strategic posts, which he established with his Jawan's at the height of some 17,000 feet at Gultary, and repulsed many Indian attacks.After many abortive attempts, the enemy on July 5 ringed the post of Capt. Sher Khan with the help of two battalion and unleashed heavy Mortar firing and managed to capture some part of the post. Despite facing all odds, he lead a counter-attack and re- captured the lost parts.But during the course he was hit by the machine-gun fire and embraced Shahadat or martyrdom at the same post. He is the first officer from the NWFP province to be awarded with Nishan-e-Haider."
Recipients of Nishan-e-Haider نشان حیدر in Pakistan