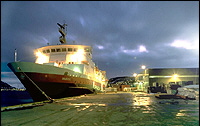 In 1971 the government nationalised the shipping industry, and merged all shipping lines under the Pakistan National Shipping Corporation (PNSC). Later, PNSC went to the public sector also with 90.2% government ownership and 4.9% private sector ownership. PNSC has a fleet of 22 vessels and its subsidiary, the National Tanker Company, owns one tanker.
The Government has issued 35 licenses to private sector companies, but so far only two companies have started up - the Tri-Star Shipping Company with one tanker, and the Millwalla Shipping Company with only one small vessel. Although there are only two companies under the Pakistan national flag in the private sector, a number of companies are operating under flags of their own convenience.
Foreign shipping lines dominate the Pakistan shipping industry. Due to small size and inadequate capacity, the national fleet is presently shipping approximately 10 percent of the regular cargo and 25 percent of the liquid build cargo.
The shipping sector in Pakistan is in its infancy at the present moment. With no sufficient amount of capital invested into the shipping sector, the entire fleet of the nation is left to only 24 ships, 17 of which are held by Pakistan National Shipping Corporation. The rest are owned by Tri-Star Shipping Corporation and a few other shipping lines.
The country has two major seaports viz. Karachi and Bin Qasim. Besides, Gwadar Fish Harbour cum Mini Port has been substantially completed. Feasibility Study to develop Keti Bunder as a Fish Harbour cum Mini Port is currently under process.
All the ports and the shipping lines are not sufficient to meet the growing demands of Pakistan and other countries and regions that these countries cater to. Regions include Kashmir, Western China, Afghanistan and Central Asian Republics like Kazakhstan, Uzbeksitan, Tajikistan and Turkmenistan.